Limited Brands Inc. (LTD), a specialty retailer of women's intimate and other apparel, beauty and personal care products, recently posted stronger-than-expected first quarter results thanks to an improving sales environment, effective inventory management and cost containment efforts.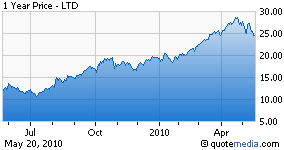 Earnings versus Zacks Consensus

The quarterly earnings of 25 cents a share outpaced the Zacks Consensus Estimate of 19 cents, and rose substantially from a cent delivered in the prior-year quarter. Quarterly earnings topped the Zacks Consensus Estimate by 31.6%. Limited Brands' earnings surprise, compared to the Zacks Consensus Estimate for the preceding 4 quarters (including the reported quarter), varies between 3.1% and 300%, with the average being 88.4%.

On a reported basis, including one-time items, quarterly earnings came in at 34 cents a share.

Management now expects second-quarter earnings in the range of 27 cents to 32 cents a share. The current Zacks Consensus Estimate is 30 cents a share.

Limited Brands also forecasted fiscal year 2010 earnings between $1.60 and $1.80 per share. The current Zacks Consensus Estimate is $1.71 per share.

Quarterly Performance

Limited Brands, the owner of the Victoria's Secret and Bath & BodyWorks chains said that net sales of $1,931.5 million soared 12% from the prior-year quarter, reflecting an increase of 10% in comparable-store sales.

The consumers who cut back their discretionary spending during the recession are now loosening their purses' strings.

Despite a 5.1% increase in cost of goods sold, buying and occupancy, gross profit for the quarter surged 26.6% to $694.3 million, helped by a 12% increase in the top line. Gross margin expanded 410 basis points to 35.9%. Adjusted operating income more than doubled to $185 million from $65.2 million posted in the year-ago quarter, whereas operating margin expanded 580 basis points to 9.6%.

Limited Brands sells its merchandise through specialty retail stores in the United States and Canada , which are primarily mall-based, and its websites, catalogue and other channels. The company currently operates 2,969 specialty stores.