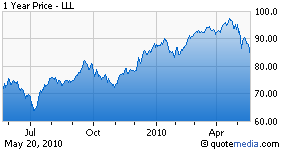 L-3 Communications Holdings Inc. (NYSE:LLL) reported better-than-expected first quarter 2010 (ended Mar 26, 2010) results on April 22, 2010. In the reported quarter, the company achieved earnings of $1.87 per share (excluding a tax provision of $0.04), beating the Zacks Consensus Estimate of $1.77 and the prior-year earnings of $1.66. The upside mainly came from the Command, Control, Communications, Intelligence, Surveillance and Reconnaissance (C3ISR) and Electronic Systems segments.
First Quarter Highlights
L-3 Communications' sales came in at $3.6 billion, a marginal decrease (of 0.3%) from the year-ago quarter and 2.9% below the Zacks Consensus Estimate, as revenues declined in all the company's segments except C3ISR. However, year-over-year comparisons were unfavorably impacted by lower revenues from Linguist, the Army Communication-Electronics Command (CECOM) task orders and the Bradley Fighting Vehicle programs.
L-3 Communications' operating income in the reported quarter increased 9% year over year, while the operating margin was up from 10.3% in the previous-year quarter to 11.3%. Superior contract performance and favorable sales mix for businesses in the C3ISR and the Electronic Systems segments were the primary drivers for the positive comparisons, also supported by a lower pension expense. The fall in pension expense increased operating income by $3 million, or $0.03 per share, and augmented the operating margin by 10 basis points.
L-3 Communications' C3ISR segmental sales rose 11% year-over-year, primarily due to increased demand and new business from the U.S. Department of Defense for airborne ISR and networked communication systems for manned and unmanned platforms, and from foreign ministries of defense for force protection products. The segment operating income was up 35%, while operating margin increased by 240 basis points.
Agreement of Analysts
L-3 Communications, following the earnings release, witnessed mixed estimate revision trends for the short and the long term. Over the past month, only 2 analysts (out of 16) revised estimates positively for the upcoming quarter, while 10 revised their estimates downward. The pessimism stems from expected lower revenues year-over-year from Linguist, CECOM task orders and the Bradley Fighting Vehicle programs.
However the trend reverses from the standpoint of market perception for the company over the longer run. Over the past month, 11 out of 16 analysts revised their estimates upward for fiscal 2010, without a single downward revision. Such an upward revision clearly depicts the analysts' optimism about the company's higher earnings and revenue guidance for the fiscal along with the earnings-accretive Insight technology acquisition and extension of the Special Operations Forces Support Activity contract till January 31, 2011.




Magnitude of Estimate Revisions
L-3 Communications' mixed fortunes for the short term and long term are also reflected in the magnitude of estimate revisions. Near-term road bumps due to lower revenue from major programs led the downtrend for the Zacks Consensus Estimates going forward. The magnitude of revisions from the past month resulted in estimates moving down by five cents to $1.97 for the ongoing quarter.
On the other hand, the current Zacks Consensus Estimates for fiscal 2010 and 2011 are $8.26 and $8.94, respectively. Over the last month, estimates have jumped up by 9 cents and 7 cents for fiscal years 2010 and 2011, respectively.




Our Take
L-3 Communications stands out among pure defense players by virtue of its non-platform focus, broad diversification of programs, strong order bookings and order backlog of more than $10.8 billion at the end of the first quarter of fiscal 2010. Revenue and earnings growth continues to be driven by its strong presence in the current focus areas of C3ISR equipment, precision-guided weapons, unmanned aerial vehicles (UAVs), and other electro-mechanical robotic capabilities, networked information technologies, special operations forces and missile defense.
L-3 Communications' strong balance sheet provides financial flexibility in matters of incremental dividend, ongoing share repurchase and earnings accretive acquisitions. As of first quarter-end of 2010, the company had a low long-term debt-to-capitalization of 37.7% (Zacks industry average was 92.9%) with a total long-term debt of $3.4 billion, along with cash holdings of $1.1 billion and an unutilized credit facility close to $968 million. However, long-term debt solely consists of low-cost bonds with coupon rates ranging between 5.2% – 6.4%. Of this, only $400 million matures in 2013.
L-3 Communications is focused on reducing its interest liability by refinancing its debt with lower cost debt. The company on May 18, 2009 came up with an offering of notes worth $800 million, at a coupon rate of 4.75%. The newly issued notes would be due for redemption in July 2020. The proceeds would be used to pay down dearer debts (coupon rate: 6.13%) worth $800 million due in fiscal years 2013 and 2014.
L-3 Communications' revenue growth is expected to be partially affected in the ongoing quarter due to lower revenues year-over-year from Linguist, CECOM task orders and the Bradley Fighting Vehicle programs. The Zacks Consensus Revenue Estimate for the ongoing quarter stands at a little above $4 billion, up 2.8% year over year.
L-3 Communications topline is spread over a large number of contracts in process. At fiscal-end 2009, the company had 2,358 contracts in process which increased to 2,436 contracts in process in the first quarter of fiscal 2010. Also in fiscal 2009, its largest contract in terms of annual sales was the Special Operations Forces Support Activity contract, which accounted for approximately 3% of its sales. A diversified revenue base insulates the financial performance of the company from any contract-specific risk.
L-3 Communications is currently trading at a discount to both the peer group and the S&P 500, based on forward earnings estimates. Thus, we maintain our short-term Buy recommendation on the Zacks #2 stock.