Notwithstanding their reputation as "Masters of the Universe," hedge funds aren't exactly setting the investment world on fire. As a recent Bloomberg article, pointed out, hedge funds have underperformed the S&P 500 by an eye-popping 97 percentage points since the start of 2009.
Warren Buffett is not surprised.
In 2008, The "Oracle of Omaha" made a $1-million wager against the proverbial "masters of the universe" with hedge fund Protégé Partners. The terms were straightforward. Protégé Partners chose a group of hedge funds that it anticipated would exceed the performance of an S&P 500 index fund over a ten-year period. Thanks to the big jump in the S&P 500 over the last couple of years, hedge funds are losing badly, according to Fortune.
A couple of factors explain hedge funds' poor showing.
First, if you are concentrating on managing your downside, it can be tough to beat a booming bull market. There are times - and the last five years is one of them - when being "dumb and long" is the single best approach to winning big.
Secondly, there is no such thing as a typical "typical" hedge fund. They are a wide array of arcane hedge-fund investment strategies, and each one attempts to cut-and-dice the markets in a different way. Global macro funds bet on changes in interest rate currencies and commodities. Long-short funds purchase high-quality stocks and sell bad ones. So-called "activist" hedge funds - the approach that made Carl Icahn richer than George Soros - create huge gains by pressuring businesses to get their financial house in order.
A "New" Hedge-Fund Approach
Hedge funds account for 15% of the "Ivy Plus" Investment Program, offered by my firm Global Guru Capital. This program mirrors the asset allocation of the Harvard University endowment. And, although the program has returned gains as advertised, it has not been due to outstanding returns by hedge fund index-tracking exchange-traded funds (ETFs).
That's why, in 2014, I replaced the "Ivy Plus" Investment Program's hedge fund ETFs, in part, with the Global X Guru Index ETF (NYSEARCA:GURU), which invests in stocks favored by of the leading hedge fund managers.
All hedge funds with more than $100 million in U.S. equity investments must divulge their holdings through a public document called the "13F" each financial quarter.
The Global X Guru Index ETF utilizes a proprietary approach to put together the highest conviction investment concepts from a choice pool of hedge funds where the 13F information is most valuable. It then invests in these concepts using the transparent, cost-effective, and easily accessible medium of an ETF. This approach produced a gain of 47.27% through 2013. GURU is also a recommendation in my regular monthly newsletter, The Alpha Investor Letter.
Some critics believe that the 13F information is too dated, and provides no edge. I'm not so sure. Compare the one-year charts of three leading stock picks in Global X Guru Index ETF and decide for yourself.
1. NXP Semiconductors NV (NASDAQ:NXPI)
Netherlands-based NXP Semiconductors creates, designs, and builds high-performance, mixed-signal solutions for radio frequency, analog, power management, interface, security, and digital processing. It lists Apple (NASDAQ:AAPL) as one of its largest clients.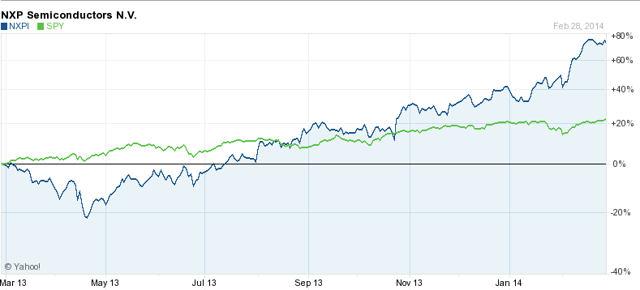 Click to enlarge
NVXP has gained over 76% for the past 12-month period, and it is up over 20% for 2014. NXPI is presently trading at a low 11.77 times forward earnings, while the stock is anticipated to grow by almost 36% each year over the next five years. That puts its Price Earnings to Growth (PEG) ratio at a very low 0.38, confirming that it trades at a high discount to its growth rate. Keep in mind the stock has a beta of 2.55, so it is much more volatile than the overall market.
2. Micron Technology Inc. (NASDAQ:MU)
Likewise, Micron Technology is also in the semiconductor sector, with its primary products consisting of DRAM, NAND flash, and NOR flash memory. Its clients consist of businesses in the computing, consumer, networking and the automobile, industrial, embedded, and mobile industries.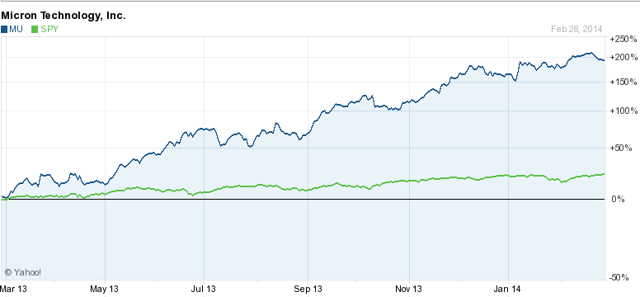 Click to enlarge
Micron is up over 200% for the past 12-month period, and gained over 13% for 2014. Micron still looks inexpensive, with the stock presently trading at a forward price-to-earnings (P/E) ratio of just 9.74, compared with 12.53 for competitor Sandisk. The firm also anticipates additional earnings growth going forward after its strategic acquisition of Elpida. The stock has a beta of 1.86.
3. Thermo Fisher Scientific, Inc. (NYSE:TMO)
Thermo Fisher Scientific offers analytical instruments, equipment, reagents and consumables, software and services for research, manufacture, analysis, discovery, and diagnostics.
Thermo Fisher is up over 69% for the past 12-month period, and up over 10% for 2014. The Federal Trade Commission recently gave approval for TMO's $13.6 billion acquisition of Life Technologies Corp (NASDAQ:LIFE). That business likewise reported earnings of $1.43 per share (EPS) for the last quarter, beating consensus estimates. With the integration of Life Technologies in 2014, Thermo released 2014 guidance for both revenue and earnings that is well above present market expectations.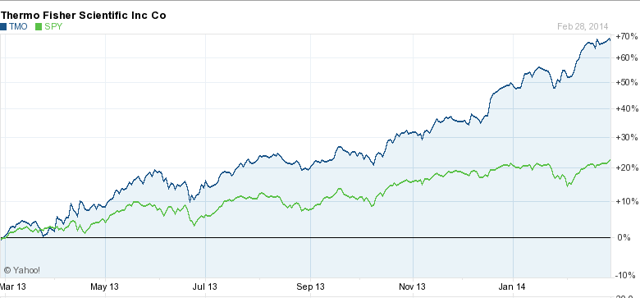 Click to enlarge
Goldman Sachs also recently upgraded Thermo Fisher based upon better-than-expected organic growth and earnings, improving end-markets, and valuation. It also raised its price target to $153 from $114 - nearly 24% above the current stock price. Thermo Fisher is also a current recommendation in my trading service Bull Market Alert.
Disclosure: I am long GURU and hold GURU on behalf of my clients at Global Guru Capital. I wrote this article myself, and it expresses my own opinions. I am not receiving compensation for it. I have no business relationship with any company whose stock is mentioned in this article.