Lately, the investors of AT&T (NYSE:T) have very little to cheer for apart from the company's high dividend yield. Last week, the company's share price touched 52-week low and it is currently down 18% since last April. Many investors are wondering if the company's share price is bottoming as the P/E ratio reached single digits and dividend yield passed 5.75% as of last Friday.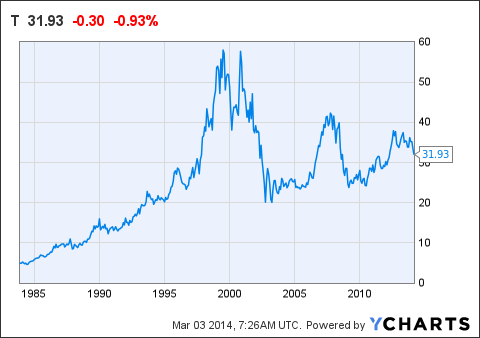 If we look at AT&T's valuation from a price to earnings standpoint, we see that there has been very little fluctuation in this metric with the exception of a period between early 2012 and late 2013. During this period, AT&T's P/E ratio was exceptionally high due to some one-time items in the company's earnings statement; however, for the most of recent history, the company's P/E fluctuated between 10 to 20. Currently, the P/E ratio is 9.61 and this figure falls to 9.18 excluding cash, which presents some upside and very limited downside to the company's share price if its earnings don't fluctuate much from here.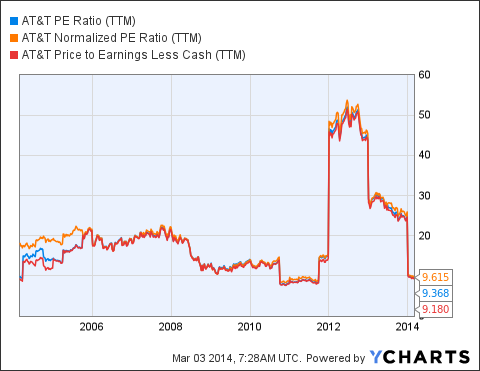 If we look at AT&T's revenue growth over the years, we see some slowdown but there is still some growth in the company. If you look at the chart below, you will notice a trend in the company's growth. It looks like there is limited to no growth for a while, then the company launches a new product or enters into a new market and the revenues jump shortly after. In the mid-to-late 1990s, AT&T's revenues jumped from teens to $50 billions due to the internet boom as the company offered internet connection to many residential and commercial customers and between 2007 and 2010, the company's revenues jumped again due to the "smartphone revolution" as Americans converted from basic phones to smartphones using lots of data. We don't know what the next big thing in communication will be yet, but we can be sure that AT&T will find a way to take advantage of it as it always does. The company's current price reflects to growth, so any growth will be beneficial to the shareholders in the long term.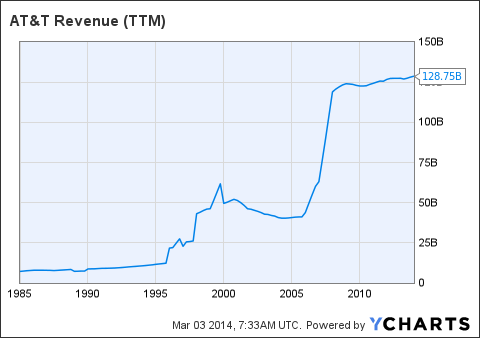 If we look at AT&T's earnings growth, the company's current earnings are pretty close to all-time high figures. This is the most profitable time of AT&T's history as the company takes advantage of the strong growth and profitability in the internet, cable and wireless industries.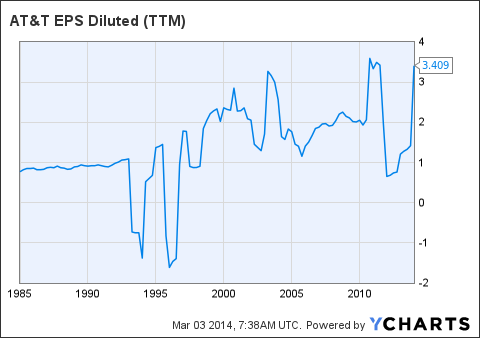 In fact, AT&T's margins are improving dramatically compared to the historical standards. For example, historically, AT&T's gross margins have always been in 50s but currently it is exactly at 60%. The company's current operating margin of 24% and net profit margin of 14% are both either at or near all-time high. Of course this doesn't mean that things can't get even better from here. The company can always increase its margins further by utilizing its massive size and cutting costs along the way.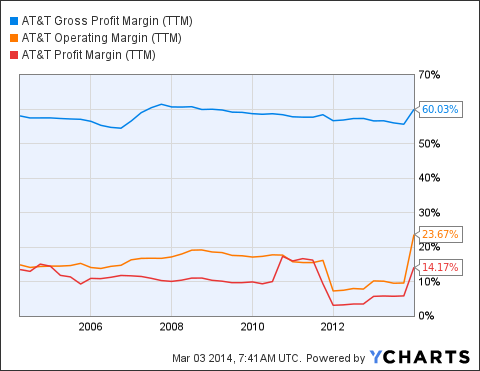 If we look at dividends, AT&T is currently outperforming both the market and its historical standards. Currently, AT&T's dividend yield is around 5.7% and this compares really well with the overall markets yield of 1.8%. Since 1995, AT&T's yield has been outperforming the overall market's yield every year. Although earlier this decade the company's yield neared 7%, this was a brief period and the historical average yield of the company is closer to 4%.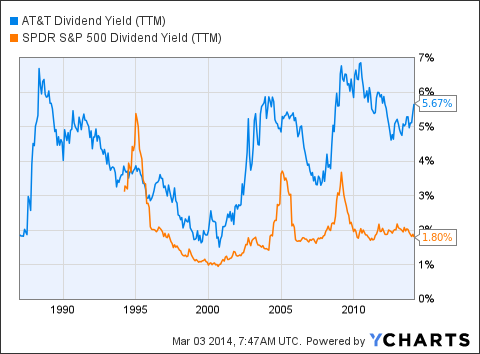 Currently there are two things in the competitive environment that might hurt AT&T's profitability in the long term. First, there is a huge trend where individuals are moving their communication towards text messaging, social media and internet calling (such as the most recent purchase of Facebook, WhatsApp). This trend will continue to reduce the amount of minutes people talk on their mobile phones and this may reduce the amount of money AT&T can make from these minutes, even though the company is selling most minutes in advance and consumers have to buy a minimum number of minutes every month whether they use those minutes or not. Second, there is another trend where many American users are moving from high-cost providers like AT&T and Verizon to lower cost providers like T-Mobile and MetroPCS since they cost a lot less, even though their call quality and wireless speed might not be as good as AT&T. In the future, AT&T might be pressured to lower its prices to keep more customers.
A couple catalyst for AT&T will include the possibility of a large acquisition in Europe and entrance into new markets such as house monitoring industry with AT&T's Digital Life product.
Having said that, the analysts see AT&T earning $2.66 per share this year followed by $2.75 in 2015, $2.90 in 2016 and $3.01 in 2017. These estimates don't take the company's reduced share count into account as AT&T has a habit of buying back a large number of shares each year in order to reduce the share count and boost its earnings-per-share figure. Furthermore, the analyst price targets for AT&T range from $32 to $40, while the company's current share price is $31.80; so, even the lowest estimates sees very limited downside to the company's current price. Conservative investors looking for high dividend yields and a stock with limited downside might find a lot of value in AT&T.
Disclosure: I am long T. I wrote this article myself, and it expresses my own opinions. I am not receiving compensation for it (other than from Seeking Alpha). I have no business relationship with any company whose stock is mentioned in this article.