When we last checked on Cisco (NASDAQ:CSCO), I was considering adding the stock after its earnings report. The company's earnings, while technically a beat, were only so because analyst expectations had been so low heading into the report. The company came out and announced increased dividends, despite the lackluster quarter. The company also announced that it bought back $4 billion in shares in Q2.
Since then, I've been considering buying into Cisco, and think an opportunity might be waiting in the wings this week.
There hasn't been too much news since earnings, however. The most recent tiny bit of good news was Cisco's share in the server market rising, as reported by Seeking Alpha:
#3 Dell is assigned a 14.5% share (+30 bps). #4 Cisco, whose UCS server unit remains a bright spot, is given a 4.5% share (+130 bps). Following many quarters of share losses, engineered systems growth allowed #5 Oracle's (NASDAQ:ORCL) share rose 10 bps to 4.1%.
Additionally, it was reported just this afternoon that a US court cleared Cisco's name in a case of rights abuses in China. It was a case that the entire technology sector had been watching for the purposes of it potentially setting a precedent of liability for companies like Cisco.
Cisco's a manufacturer of IP-based networking equipment and items for use in information technology and communications. This very article is being brought you through a series of Cisco routers and switches; all designed to bring the Margaritaville brand blender of fun that are my thoughts, directly onto your screen. Cisco has traded sideways for the better part of the last year and for 2014. For 2014, the stock has spent its time trading in the $21.50-$23 range, unable to break out in either direction.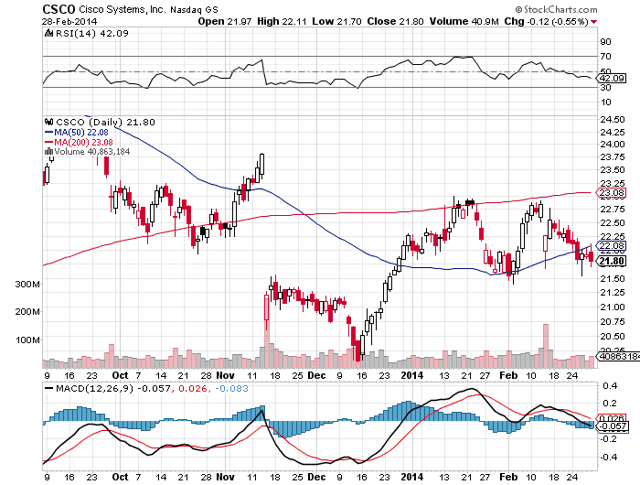 For those of you that read my Herbalife (NYSE:HLF) or Intel (NASDAQ:INTC) articles, you know I'm not a fan of going out and raising debt to finance buybacks and dividends. Herbalife is doing what I don't like - taking on convertible notes to finance a buyback - and Intel is doing what I like, taking a breather on upping their dividend while the company gets its feet back on the ground. Call me a simpleton, but to me, it doesn't make a whole hell of a lot of long-term sense.
Yes, I understand it happens regularly, and yes - I get why companies do it. But for me, I would like to keep businesses as clean, simple, and concise as possible when running them. It reminds me of a monster debate that took place over REITS in 2013 and whether or not the dividends were technically "real" dividends if the company is diluting at the same time. Interestingly enough, a lot of tickers mentioned in that story haven't really moved, while continuing to furnish their dividend. But, that's another argument for another day. Dollar Tree (NASDAQ:DLTR) is doing the same exact thing, too - but it doesn't make it right to me.
That is not to say that Cisco doesn't have the fundamentals in place to do this, I just don't like the action of it. Cisco actually remains an attractive buy, in my opinion - one that I've considered nibbling on since last month. I haven't bought yet, but it's on my watch list, especially for the coming week. The company does have a good dividend yield, even if I don't like how they're paying for it. Also, it trades at a trailing 12-month P/E of 14.33 - low for its sector and low compared to others in the sector. With a beta of 1.27, CSCO tends to move the way the broader markets are moving, which likely won't be a good start to this coming week due to the Ukrainian conflict in Europe.
And while a pullback there could possibly be considered as a buying point, I'd much rather Cisco start to show growth where it needs it before worrying about shareholder payouts. First things first, Cisco, then maybe you'd have me on board.
Disclosure: I have no positions in any stocks mentioned, but may initiate a long position in CSCO over the next 72 hours. I wrote this article myself, and it expresses my own opinions. I am not receiving compensation for it (other than from Seeking Alpha). I have no business relationship with any company whose stock is mentioned in this article.
Additional disclosure: I am long INTC, short HLF.