When AMD spiked higher at the beginning of 2014, investors promptly took profits ahead of quarterly results. The stock dropped, as predicted, after forecasting lower revenues this quarter. The stock gained back some of its losses, and will likely regain lost ground the rest of this year. There are a number of reasons supporting this view. The first two are due to technological advances supporting the positive momentum for AMD's future: the development in the Accelerated Processing Units ("APU") and progress in growing support for Heterogeneous System Architecture ("HSA").
APU development
Carrizo, Advanced Micro Devices' (NYSE:AMD) next-generation Excavator APU, is reportedly 28 nanometers ("nm") instead of 20. If true, it could prove troubling, because Intel's (NASDAQ:INTC) Broadwell will be a 14nm chip.
Intel roadmap: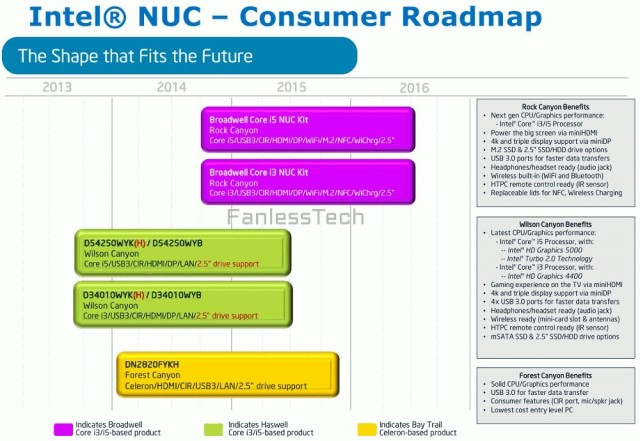 Source: Fanless Tech
AMD roadmap: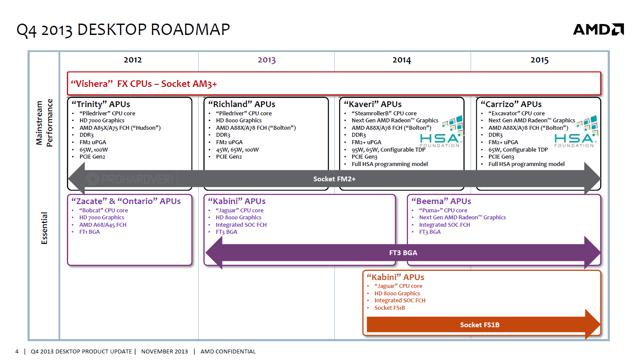 Click to enlarge
If Intel's roadmap is correct, Intel will delay Broadwell, holding off the release until the end of 2014. This would lighten Intel's competitive pressure on AMD, since a Haswell refresh would not be as big a reason than Broadwell for users to upgrade.
Despite AMD's Carrizo being 28nm, Intel's 14nm process has fewer advantages. AMD should still thrive as it builds more chips supporting HSA. Carrizo will also have a lower TDP (thermal design power) of 65W compared to 95W for Kabini. The socket may also support DDR4 memory.
HSA support
AMD belongs to the HSA Foundation that promotes open standards for efficient CPU and GPU data sharing and work. ARM (NASDAQ:ARMH), Texas Instruments (NYSE:TXN), Qualcomm (NASDAQ:QCOM), and Imagination Technologies are all founding members. The first HSA software could be released by the developer community within the next few months. HSA will show more efficient memory paths could be implemented in software, whereby the GPU operates in true heterogeneous multi-processing.
Risks
AMD must not over-promise on the merits of its next-generation processors. If AMD delivers under-performing, power-hungry chips, it will only disappoint shareholders and customers. In Q4, revenue from the computing solutions division fell 13%. Weakness could be offset by AMD's other successful businesses, including sales to console makers and sales of semi-custom and embedded solutions.
Bottom line
AMD managed to generate a profit in Q4, but forecasts revenue will decline this quarter. Investors need to realize that profitability will come from revenue growth in semi-custom and embedded businesses. AMD is on track to generate half of its revenue from this segment by the end of 2015. In the meantime, development in HSA and desktop chips will make sure the chip giant remains competitive in a PC market that is slowing.
Investors should accumulate AMD shares at present levels, and hold shares until at least 2015. AMD is reducing expenses, increasing both quarterly profits and free cash flow. This will set a floor on the downside for AMD shares.
Disclosure: I am long AMD. I wrote this article myself, and it expresses my own opinions. I am not receiving compensation for it (other than from Seeking Alpha). I have no business relationship with any company whose stock is mentioned in this article.