One of the hallmarks of my investing strategy is to seek out companies that have fallen out of favor. The mere fact that they are currently "out of fashion" on Wall Street predictably leads to lower share prices which enables a patient long term investor an attractive entry point. When a large well established company with a large defensible moat falls onto hard times the opportunity becomes even more enticing.
Cisco Systems (NASDAQ:CSCO) neatly falls into the above mentioned parameters with its lack of share growth over the past 5 years. CSCO has managed to grow its sales by over 20 percent in this time frame, yet the company has suffered from multiple compression, sporting a forward P/e multiple of roughly eleven. During this same time frame CSCO has managed to maintain its net profit margin in the 20% range indicating its ability to maintain a high margin. CSCO proven ability to grow sales at a correspondingly high margin earn it the designation of a wide moat company.
CSCO has geared itself towards becoming a more shareholder friendly company as evidenced by it initiating and raising its dividend rate. CSCO initially began paying a dividend of six cents per share beginning in 2011 and has managed to raise it up to a current level of nineteen cents per share. Based on a share price of $21.80 the dividend works out to a roughly 3.5% yield, a very generous yield especially when compared to 10 year US treasury bonds that aren't even yielding 3%. CSCO, unlike other high yield tech stalwarts such as Intel (NASDAQ:INTC) operates in a less capital intensive field allowing for future dividend hikes which should allow an income seeking investor to comfortably outpace inflation.
Dividend increases are one part of the pledge made by the company in 2012 to return a minimum of 50% of its annual free cash flow to investors. The second part is a bit more controversial when it comes to CSCO, in that it revolves around repurchasing shares outstanding. I dubbed this rather conventional tactic "controversial" in that CSCO hasn't always reduced share count when repurchasing shares. As I detailed in a recent previous article, share count actually went up in spite of the company spending more than $8 billion to repurchase shares. CSCO actually managed to reduce shares outstanding the most recent quarter by 30 million fully diluted shares to a total of 5.327 billion shares outstanding.
I was actually pleased to see this however one quarter doesn't make a trend. If management were to continue down this path and actually aggressively pair shares outstanding, especially at this low multiple I would be invested in the company. By taking advantage of the low multiple afforded to the shares and reducing the float outstanding, CSCO would be setting up shareholders to be richly rewarded when the inevitable turn in their business manifests itself.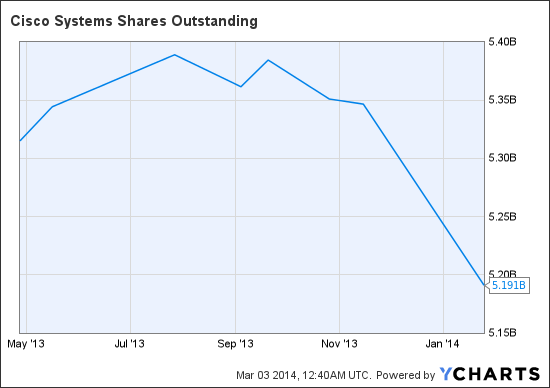 CSCO Shares Outstanding data by YCharts
CSCO took further steps to pair shares outstanding with its recent bond offering. CSCO raised roughly $8 billion by issuing bonds of various maturities, with the proceeds earmarked for two distinct purposes. CSCO has a 3.75 billion note due this year which will be paid from the proceeds of this offering along with the rest being earmarked for share repurchases. The next earnings report should reveal whether the company actually follows through and aggressively reduces the share count.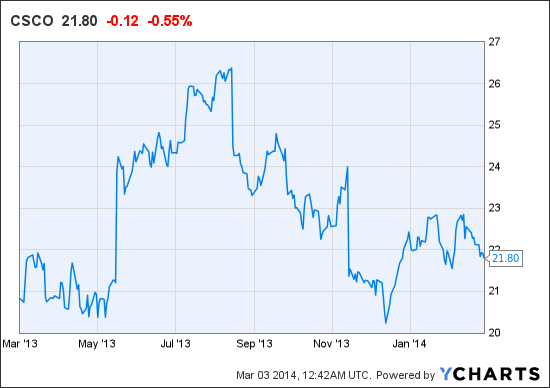 As of January 25, 2014, CSCO has over 46 billion in cash and investments on its balance sheet. The main issue with the funds is they are basically inaccessible, as they are stashed in overseas subsidiaries. To repatriate the money would subject it to a tax rate as high as 35% which makes them virtually inaccessible. For this reason, expect CSCO to continue to raise capital via debt offerings to further fuel share repurchase activity. As long as interest rates remain subdued, the math behind this move remains very favorable.
A legislative solution may be forthcoming in the form of a change to the US tax code. David Camp, chairman of the House Ways and Means committee put forth a proposal to change the current tax code in the United Sates. Of particular interest to technology companies such as CSCO is the provision detailing the tax rate for funds held overseas.
A Shift to a Territorial System, with a Retroactive Tax on Foreign Earned Income
Currently, U.S. corporations are taxed on their worldwide income, but allowed to defer taxes on foreign income that remains actively invested abroad. When corporations earn income overseas and bring this income back to the United States, the United States taxes it at 35 percent, minus any foreign taxes paid on the income.
The Camp proposal would deem accumulated past foreign earnings currently held abroad in cash as repatriated and retroactively tax it once at an 8.75 percent rate. Remaining non-cash accumulated foreign earnings held abroad (income that has already been reinvested in property, plant, and equipment) would be retroactively taxed at a lower 3.5 percent rate. The corporation has the option to pay this tax over an eight year period.
Going forward, the United States would switch to a territorial corporate tax system, which would exempt from domestic corporate taxation 95 percent of all active foreign income. Look-through rules, which allow corporations to move money between foreign subsidiaries without triggering U.S. tax liability, would be made permanent. Subpart F will be modified so that intangible income (such as royalties) will be taxed at a 15 percent rate, whether it is earned domestically or abroad. This is similar to the "patent boxes" found in other countries. There will also be a "thin-cap" rule that limits deductions for interest expense based on the leverage of the U.S. parent relative to foreign subsidiaries.
As we can see from the text quoted above, an 8.75% tax rate would spur a shift back of assets into the United Sates. In the case of CSCO, John Chambers the CEO has been a vocal supporter of a change to a territorial system. If a proposal such as this were indeed ratified and voted into law, I would expect CSCO to use the vast majority of its investments to attempt to repurchase at least 20% of its outstanding shares.
The article wouldn't be complete without a discussion on the reason for the shares recent poor performance. The shares have performed rather poorly due to a drop in sales of CSCO networking gear. The company is facing a slowdown in orders due to the NSA spy scandal which has caused many foreign customers to perhaps delay purchases. The company is also facing a secondary threat over SDN (software defined networks) that rely on cheaper gear to lower the overall costs to consumers. I expect the NSA scandal to eventually be forgotten, yet the threat from SDN in my opinion is very viable. I am interested to see if CSCO margins are able to hold up over the next quarter. Hardware sales throughout the tech universe are showing a year over year decrease so CSCO isn't alone in this endeavor. I will be watching to see if other companies that report before CSCO are gaining any sort of traction.
In summary, CSCO current valuation is beginning to appeal to me. I am waiting for a few more catalysts namely for positive affirmation that the company is indeed serious about reducing share count before entering into a position in the shares. Thank you for reading and I look forward to your comments.
Disclosure: I have no positions in any stocks mentioned, and no plans to initiate any positions within the next 72 hours. I wrote this article myself, and it expresses my own opinions. I am not receiving compensation for it (other than from Seeking Alpha). I have no business relationship with any company whose stock is mentioned in this article.
Additional disclosure: Investors are always reminded that before making any investment, you should do your own proper due diligence on any name directly or indirectly mentioned in this article. Investors should also consider seeking advice from a broker or financial adviser before making any investment decisions. Any material in this article should be considered general information, and not relied on as a formal investment recommendation.