This article analyzes Target Corporation (NYSE:TGT) to determine if TGT is a suitable investment for the Dividend Growth Investment strategy by utilizing information from the company profile and history.
Here are the 4 reasons TGT was added to my portfolio
1.) Target's resilient nature during recessions
2.) Long history of consistent dividend payments
3.) The short-term impact of the security breach
4.) Current valuation
As a long-term buy and hold investor, I want to invest in a company that won't cause me to lose sleep. One of the main questions I ask myself when considering investing into a company is, "Will this company be around in 20 years or more?" Additionally, due to the uncertainty of the market, I want to invest in resilient companies that perform well during recessions.
Will Target be around in 20 years?
TGT's company profile states it "offers both everyday essentials and fashionable, differentiated merchandise at discounted prices." However, I examined the median household income of TGT's average customer, and compared that to its main rival Wal-Mart (NYSE:WMT). I believe selling discounted essentials is not TGT's specialty, WMT practices a low-price marketing strategy of selling everyday essentials such as food, clothing, and household goods. WMT's average customer household annual income ranges from $30,000 to $60,000. TGT follows a similar marketing practice, but instead focuses on discounted designer items, clothing, and home décor. TGT's customers have a median household annual income of $64,000.
Discount stores tend to do well during recessions, but we are not investing in TGT purely for this reason. We also want to know how resilient Target is during a down market. Target tends to recover in down markets well when compared to the S&P 500, despite experiencing a big decrease in price share along with the market.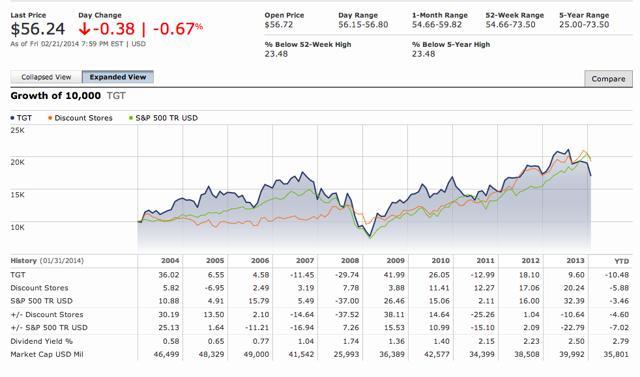 Source: Morningstar
It is hard to foresee a resilient discounter such as TGT going bankrupt in the near future. I feel confident that TGT will be in business for many years to come.
Dividend Payout History
Target currently has an attractive dividend yield of 3.06%, which is above the 5-year average of 1.84%.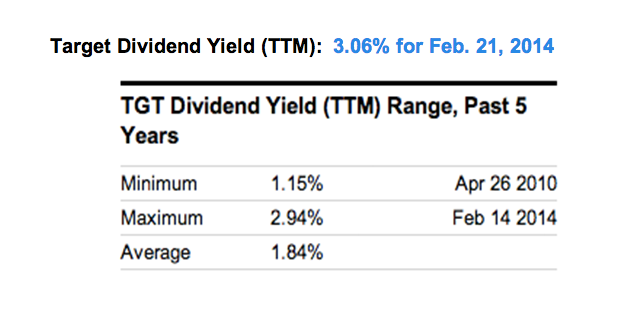 Source: Morningstar
Target has been paying dividends since the initial public offering in 1967. This is more than 45 years of constant dividend payments. A constant dividend payment history is great, but I have more interest in the company's dividend policy during recession.

Source: Morningstar
As a long-term investor, I want to invest in resilient companies that can survive the downturn of an economic cycle. One of my preferred research methods is to see how a company performed and dividend policy during the 2008-10 recession period. If the company increased the dividend during the recession, it is a good sign that the company will continue with the dividend payouts.
True dividend increase
Another factor I take into consideration is company's payout ratio.
Target has increased its dividend consistently for over 10 years. Below, I factor in the payout ratio using the true dividend increase calculation.
TGT payout ratio increased 13% to 29.2%: Increase of 124.6%
TGT dividends increased 0.26 to 1.32: Increase of 407%
It is a positive sign TGT's dividends increase outpaced the payout ratio. This means I can assume Target will continue to pay dividends during the recession.
Target's recent security breach
How will the recent security breach affect Target's share price? The most similar event that comes to mind is TJX Companies Inc.'s 2006-07 security breach.
(I found a detailed article from Motley fool comparing the two breaches after some brief research.)
TJX Companies Inc. (NYSE:TJX)'s share price actually increased to 34.5% over the next 3 years following the security breach. To get a better understanding how the breach impacted TJX, I compared the charts 3 years prior and post security breach, with the addition of TJX's biggest rival, Ross (NASDAQ:ROST), to see how TJX performed. (Ross was used as a comparison since both companies specialize in discounted clothes.)
Before the security breach: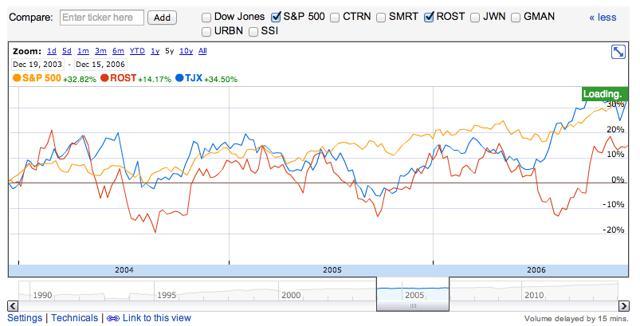 Source: Google/Finance
In the 3-year period prior to the security breach, from 2004-06, TJX actually outperformed ROSS by nearly 20%.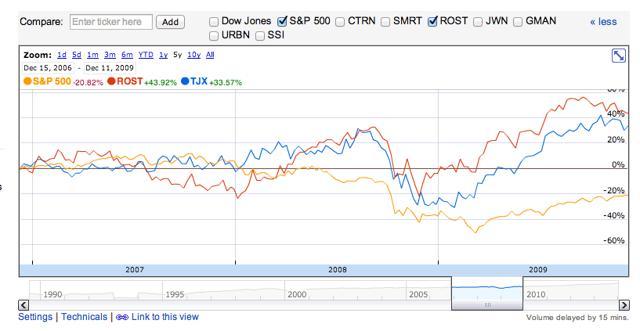 Source: Google/Finance
After the security breach, from 2007-09, Ross outperformed TJX by 10%. We should keep in mind there are number of events besides the security breach that also affected price changes during the 3 years of "Great Recession".
The above graphs are useful, even though they cannot actually forecast Target's share price. We learn that while there might be negative short-term effects on the share price, a company such as Target will not have a permanent impact because of a security breach. Further, since the Target security breach seems to be on a smaller scale compared to TJX's, it should have less of an impact.
(I did not go into detail when I researched on the data security breach. Readers, please do your own research if you want to have a deeper understanding of this issue.)
Target Valuation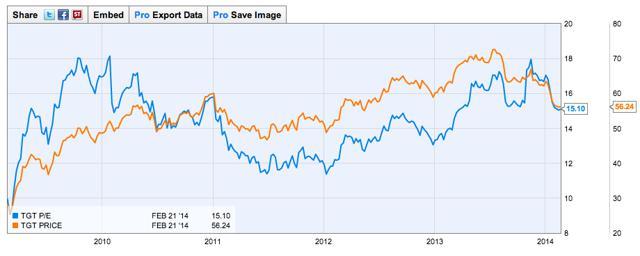 Source: YCharts
P/E vs. Price
Price and P/E have a direct relation. From the past 5 years, if you purchased TGT closer to the average, rather than below the P/E, the price tended to trend upwards. The opposite holds true; if you purchased TGT below P/E, the price tended to trend downwards. Right now, the P/E and Price graphs appear to intersect, and with the current negative news, I foresee TGT's share price to continue decreasing in the short term.
P/E Average
Current TGT P/E is at $15.1, which is lower than the industry average. However, even with the recent decrease in share price of the stocks, TGT P/E (15.1) is still above the 5-year average TGT P/E (14.45)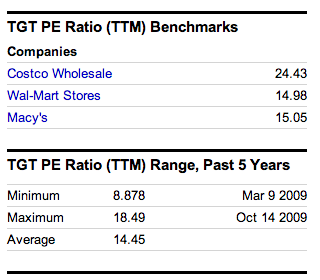 Source: Morningstar
Summary
TGT is an attractive buy in the current market for investor that plans to hold onto the stock for a long term for these reasons: 1) the company's resilient nature during a recession 2) the long history of dividend payments 3) the temporary decrease in price due to the recent security breach and 4) The current attractive valuation of TGT. Even though Target is being traded near its 56-week low, the P/E and price relation tell me the price of TGT can still drop closer to the 5-year average P/E ratio.

Based on these reasons, I added half of my position of Target into my portfolio @$56.41 on February 14. I plan to add more if TGT drops below $52. This transaction will be recorded in my 2014 Q1 portfolio update. You can follow the progress of my 30 and Under Portfolio that focus on dividend and growth investing.
The intention of this article is to draw your interest to research on this investment (TGT), so please do your own research before investing. Invest at your own risk.
Disclosure: I am long WMT, TGT. I wrote this article myself, and it expresses my own opinions. I am not receiving compensation for it (other than from Seeking Alpha). I have no business relationship with any company whose stock is mentioned in this article.