Linn Energy (LINE) is an oil and natural gas MLP. Its mission is to acquire, develop, and maximize cash flow from a growing portfolio of long-life oil and natural gas assets. It has a diverse asset base with core focus areas in the Mid-Continent, Granite Wash, Permian Basin, Hugoton Basin, Rockies, Michigan, California, and East Texas. Recently Linn Energy and LinnCo (LNCO) merged with Berry Petroleum. LNCO gave Berry Petroleum 1.68 shares of LNCO for each share of Berry Petroleum. LNCO then contributed its interest in Berry Petroleum to LINE in exchange for the issuance of LINE units. LNCO is essentially a pass through company that owns interests in LINE. LNCO pays standard dividends (not distributions as LINE does). With this addition (Berry Petroleum), LINE has proved reserves of approximately 1.1B Boe (54% liquids). The deal completed December 16, 2013. LINE pays approximately a 9.1% annual distribution/dividend. LINE provides K-1 Tax support on its web site or by calling (800)-203-5179.
Some have suggested that LINE's Q4 2013 results were significantly improved by the Berry Petroleum deal. However, Q4 production includes only a 15-day contribution from Berry Petroleum (see completion date above). This added approximately 44 MMcfe/d to Q4 production numbers, which for LINE were 889 MMcfe/d. Hence Berry Petroleum added only about +5.2% to the production level of Q4 2013. This is significant, but it is not overly so, as some have suggested. Berry Petroleum production in full for Q4 was 45,000 Boe/d (or 5.8 Mcf/Boe * 45,000 Boe/d = 261,000 Mcf/d or 261 MMcfe/d). This means the LINE Q4 production level with all of Berry Petroleum's production added in would have been almost 31% higher than LINE's alone (or roughly 1,106 MMcfe/d). It also means that LINE's production guidance without the Berry Petroleum add in for Q4 was close to accurate (840-860 MMcfe/d).
Those worried about the distribution coverage ratio on the above basis alone should not be overly worried. Yes, LINE did not have to pay the distribution for the shares given to Berry Petroleum; but LINE only included about one sixth of Berry Petroleum's Q4 production in its results. Further LINE's distribution was $171 million for Q4 2013 (compared to $170 for Q4 2012); and the excess of net cash was $31.5 million for Q4 2013 versus $6.6 million for Q4 2012. Hence the distribution coverage ratio was 1.184x for Q4 2013 (or +18.4% greater than necessary to cover). Yet the increased production from Berry Petroleum was only +5.2%. While these are a bit like comparing apples to oranges, it seems likely that the combined company should on this basis alone be on solid ground. Further investors should take into account that LINE, like many other E&P companies, experienced disruption from severe winter weather. With this in mind, Q4 2013 for LINE appears to have been good with respect to production.
The guidance for Q1 2014 and FY2014 have some people worried. LINE (with Berry Petroleum now fully included) expects Q1 2014 production of 1,070 to 1,100 MMcfe/d. This is slightly below the combined Q4 2013 production numbers of Linn Energy and Berry Petroleum (845 MMcfe/d and 261 MMcfe/d = 1,106 MMcfe/d). Even the low end of the FY2014 LINE guidance is below the combined Q4 production numbers at 1,070 to 1,140 MMcfe/d. The high end only represents a gain of about 3.1% for the full year. With the added expenses of merging the two companies in FY2014, even the top end of the guidance growth may disappear in terms of profits (or monies available for distribution). Without a significant purchase or purchases by LINE that are accretive to earnings in FY2014, significant growth in FY2014 seems unlikely and unexpected (by management).
In distribution guidance LINE cites $240,000,000 in distribution to unitholders for Q1 2014 and $961,000,000 for distribution to unitholders for FY2014. When readers compare this to the $171,000,000 distributed to withholders for Q4 2013, they have to add in the extra number of unit holders added by the Berry Petroleum deal -- 93.6 million. This leaves LINE with a total of 331,144,000 million units outstanding. The Q1 2014 distribution estimate of $240,000,000 divided by 331,144,000 units = $0.725/unit. Annualized this is $2.90/unit. It amounts to a distribution coverage of 1.0x. The FY2014 distribution estimate of 961,000,000 yields a full-year distribution of $2.90 also. Again you have a 1.0x distribution coverage. This is much better than the performance in 1H 2013, where the distribution coverage was under 0.9x. However, it is below what many expected. It means unit holders will want more deals from LINE that are accretive to monies for distribution. The above are mid-point targets.
For those interested the overall 2014 guidance table is below.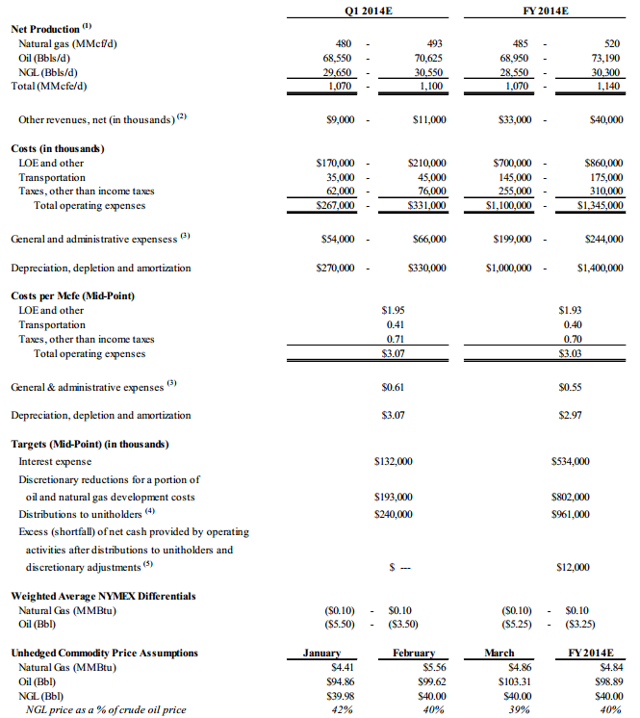 LINE is already talking about selling its Midland Basin portion of its Permian Basin holdings. The alternatives include a cash sale of the position, an asset trade for a more mature asset that would be immediately accretable to earnings, an active drilling program, and joint ventures. LINE's current position for prospective horizontal Wolfcamp wells consists of approximately 55,000 net acres with approximately 630 gross operated potential locations with a 95% working interest, 87% of which are HBP (held by production). The company also has approximately 455 gross potential locations with approximately a 50% working interest..
Of course, selling anything in the Permian Basin may be a questionable strategy longer term. Sedimentary rock in the Gulf of Mexico can reach 50,000 feet in thickness. By comparison that off the Atlantic Coast is only about 3,000 feet in thickness. That means that Texas could theoretically drill much deeper than the current onshore norms of 10,000 to 15,000 feet at maximum. This could be a big future oil supply area for the US, especially with improved technology.
Many things are up in the air, but LINE has some time. It has good hedges, and it has a decent distribution coverage ratio. Plus the prediction of almost no production growth in FY2014 may be an understatement of the real likelihood. Further don't forget that both natural gas and NGLS prices are up substantially in 2014. LINE may have natural gas prices hedged, but NGLS production now amounts to approximately 19% of production; and it is unhedged. Therefore profits from NGLS are up at least for Q1 2014; and they could prove sticky. LINE looks like a solid pick, if not a good to great pick. It will likely find more deals in FY2014. It may convert some of its "potential revenue producing" assets into "mature revenue producing" assets by sale or trade; or it may drill for more direct organic growth. LINE does have a FY2014 capital budget of $1.55B.
Keep in mind that Berry Petroleum grew production 9% sequentially for Q4 2013 from Q3 2013. The Berry Petroleum part of LINE may be able to grow much faster than the current estimates; and Berry Petroleum development expertise may help LINE grow its other assets more quickly organically. All told LINE is a buy; but probably a low one. It did have $790 million in impairment charges in Q4 2013. This was up substantially from FY2012. Investors will want to keep a close eye on future impairment charges to see if they are a continuing problem. Still Moody's upgraded LINE's senior unsecured notes to B1 from B2. Moody's upgraded the Corporate Family Rating to Ba3 from B1, etc. LINE also received ratings upgrades from Standard and Poor's. Both occurred on completion of the Berry Petroleum deal. It's a positive when ratings companies improve their opinion of a company.
The two-year chart of LINE provides some technical direction for this trade.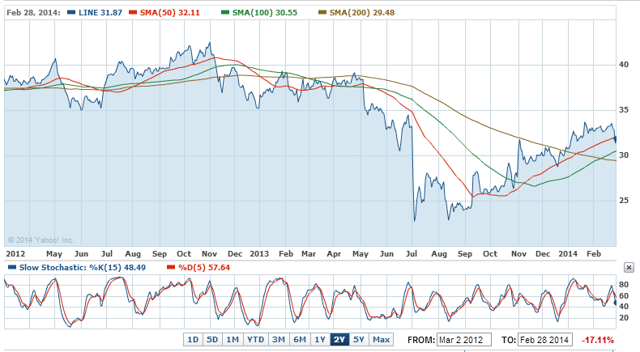 The slow stochastic sub-chart shows that LINE is neither overbought nor oversold. The main chart shows that it has been in an uptrend since the summer of 2013. The recent fall on earnings is understandable. Most people were expecting distribution to grow in FY2014. The guidance does not currently call for that. That is a disappointment. However, LINE pays an approximate 9.1% dividend (pays you to wait). Plus it is well hedged for 2014 and a couple of years beyond.
There is emerging market trouble in the world. The situation in Ukraine is perpetually in the news now. Plus the Chinese Markit/HSBC Manufacturing PMI for February 2014 fell to a seven-month low of 48.5 from 49.5 in January 2014. This indicates contraction. With emerging market instability in mind, it may be wise to average into a position in LINE over the course of 2014. Some people may feel more comfortable just waiting to see what the current emerging market instability brings for the US equities markets. LINE will probably fall if the overall market does, although it does have a Beta of 0.67, which should mean it will fall less far. It has an average analysts' recommendation of 2.2 (a buy). It has a four star CAPS rating (a buy). There are much worse places to put your money.
NOTE: Some of the above fundamental financial information is from Yahoo Finance.
Good Luck Trading.
Disclosure: I have no positions in any stocks mentioned, but may initiate a long position in LINE over the next 72 hours. I wrote this article myself, and it expresses my own opinions. I am not receiving compensation for it (other than from Seeking Alpha). I have no business relationship with any company whose stock is mentioned in this article.