General Electric (NYSE:GE) has lost 10% of its share price since 2014 began. Is this a buying opportunity? This article presents 5 reasons why investors might want to consider buying the stock here. Let us get into the details.
5-Year High Yield: General Electric currently sports a yield of 3.50%. This is due to the dividend increase announced in December, as well as the 10% share price drop that we've seen in 2014. As the chart below shows, this is among the highest yield levels in almost 5 years. The last time the yield was at 3.50% was during the overall market pullback in October 2011, when quite a few stocks reached their 52-week lows.

(Source: YCharts.com)
Insider Purchases: With questions being raised frequently about market bubbles and all-time highs, it is very hard to find stocks that have insider buying. General Electric is one of the few big cap stocks with recent and consistent insider purchases. The following are the recent purchases, some of which are directly under the name of the insiders.

(Source: Yahoo Finance)
When the CEO and multiple directors of the board are willing to put their money on the table (whether you call it "peanuts" for them or not), it speaks of confidence in the company's business going forward.
"Natural" Electric?: Speaking of the business going forward, if you haven't done so already, please read this recent and wonderful article by SA contributor Michael Fitzsimmons. General Electric is focusing heavily on Natural Gas to provide cleaner and efficient energy. With increasing focus on environmental issues, this could be a big money maker for General Electric going forward. When you talk about Natural Gas, General Electric is not the company that comes to your mind, but perhaps it could change soon.
GE Capital: General Electric is very close to spinning off the Retail lending part of its GE Capital division, as covered here. Many investors who were with General Electric through the 2008/2009 crisis will likely welcome this move. As the image below shows, GE Capital is already not the most important division, a status it enjoyed for a long time.
With Energy and Aviation showing strong signs, this could be a welcome move to focus more on those areas and leave the 2008/2009 Capital crisis behind forever.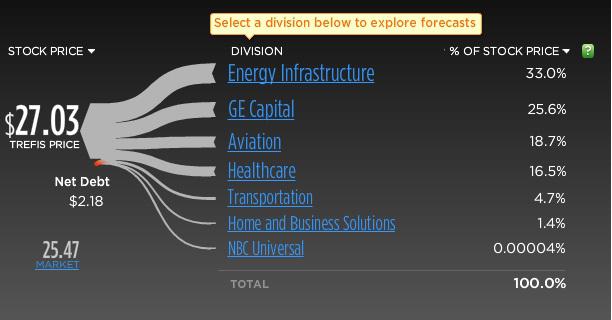 (Source: Trefis.com)
Technical Indicator: This is for all the technicals fans out there. In a market pushing all-time highs, it is hard to find stocks that are not overbought, let alone being oversold. General Electric's 30-days' Relative Strength Index [RSI] stands below 40, as of this writing. Unless there is a massive market sell-off, perhaps the bottom is very close for the stock.

(Source: Yahoo Finance)
Conclusion: So, are you willing to buy the stock here, or do you follow a "once bitten, twice shy" approach with General Electric? Please leave your comments below.
Disclosure: I have no positions in any stocks mentioned, and no plans to initiate any positions within the next 72 hours. I wrote this article myself, and it expresses my own opinions. I am not receiving compensation for it (other than from Seeking Alpha). I have no business relationship with any company whose stock is mentioned in this article.