Last week, I detailed the worst-case scenario for chip giant Intel (NASDAQ:INTC) during 2014. This idea was based on Intel struggling to get its foot into the tablet/smartphone space in a meaningful way, and the PC market being weaker than expected. In the worst-case scenario, Intel reports a third consecutive year of declining revenues and plunging earnings. The dividend doesn't get raised, share buybacks stay stagnant, and Intel shares potentially drop to $22 a share. Any hopes that 2014 would be a turnaround year fade away, and investors lose faith in the company as it falls further behind in mobile. Investors then have to hope that 2015 is a better year, with little confidence after three straight years of disappointment.
To be completely objective, I was rightly asked to do the flip side of the above argument, the best-case scenario. In fairness to investors and to Intel, I will attempt to do that today. This article will be tougher to complete than the worst case. That's due to the fact that Intel has continued to disappoint since the early stages of 2012, and so my personal view is more of the glass being half empty. But investors are holding Intel shares now on the hope that things will improve, so today, I'll try to explain how that happens.
What needs to happen in 2014:
Intel laid out its roadmap for 2014 back in November 2013 with its Investor Day Presentation. I won't go into detail on every business segment, so check out the presentation for a detailed 2014 roadmap. Obviously, the PC Client Group is the most important segment for Intel. This segment represented almost 63% of Intel's revenues during 2013, and more than 96% of the operating profits (since other divisions operate at a loss). You can see how all of Intel's divisions fared on page 106 of the 10-K filing.
Intel stated that for 2014, PC Client Group revenues would be down 5% and operating profits would be roughly flat. These two numbers will be critical to Intel's success in 2014. The difference between revenues being down 3% and 7% here is $1.32 billion. That would represent 2.5% of Intel's total revenues in 2013. The difference between a 2% gain and 2% loss for operating profits is $473 million. That would be 3.85% of Intel's 2013 operating profit. Just a couple of percent in either direction for the PC Client Group could dramatically shape Intel's 2014.
When we get to Other Intel Architecture, everyone wants to know about tablets. Intel plans on 40 million tablet shipments in 2014, as opposed to just about 10 million in 2013. However, this will increase operating losses based on contra-revenues, and impact gross margins by 150 basis points.
Everyone knows that the PC market is in decline right now, and consumers are becoming more reliant on tablets and smartphones. Intel does not have to get into dozens of tablets/phones right away, but it needs to really plant some seeds and become more competitive. This will set up the next couple of years, so that increased revenues from smaller devices can offset potential losses from the PC group. Intel has already admitted that it is playing catch-up. 2014 will be a crucial year to see if Intel can narrow the gap or fall further behind. It's not about Intel getting into Apple's (NASDAQ:AAPL) iPad or iPhone in 2014. It's about Intel proving its tablet and smartphone offerings are worthwhile, getting into some other lower-volume tablets, and eventually getting into more and more tablets and smartphones. For now, Intel is taking a hit to play catch-up (subsidies or contra-revenues). Eventually, the company will get to the point where that process will reverse, and revenues and margins will improve.
The best case - revenue side:
Obviously, things don't look as rosy as the last time I did a bull/bear case for 2014. Thus, expecting Intel to come in around $56 billion in revenues for 2014 is no longer valid, so we have to adjust our thinking a bit.
The first thing that could help with the bull case is if the PC industry does better than expected. I showed above how PC Client revenues coming in at a minus 3% instead of minus 5% is a difference of $660 million in revenues for this year. Assuming everything else came in line with Intel's original projections, the difference in the PC Client Group would mean more than 1% revenue growth for the company. If the PC Client Group comes in closer to flat, things get even better for Intel.
Overall, however, I don't remain that confident in Intel after the disappointments of 2012 and 2013. In the absolute best-case scenario, I think 2% or 3% total revenue growth happens this year. But if Intel's PC division shows a 5% revenue decline, it will be very hard for the rest of the business to make that up. In 2013, Intel had revenues of $52.708 billion. In 2011, Intel's all-time yearly revenue record was set at $53.999 billion. To break that record, Intel needs basically 2.46% growth this year. The current analyst average estimate calls for $53.13 billion, or 0.8% growth. Overall, analysts are slightly optimistic compared to Intel's forecast for roughly flat revenues in 2014. If Intel can get that 2%-3% number I'm talking about, I think investors would be thrilled. That either means that the PC business is doing better than expected, or some of Intel's other efforts are coming along a lot faster than originally thought.
I will include one note of caution here. Unless something completely unexpected happens, Intel investors should be prepared for Intel to maintain its 2014 revenue forecast at the Q1 report. There won't be enough 2014 data in yet most likely to make an accurate prediction for the end of the year. Intel usually makes some major changes to its forecast at the Q2 report. So, even if Intel does end up with 2%-3% revenue growth this year, I wouldn't look for Intel to raise its forecast to "low single-digit growth" until at least the Q2 report in July.
The best case - earnings per share:
Obviously, the first big item for EPS is revenues. Intel coming in with 2%-3% revenue growth as opposed to flat revenues should be positive for EPS, unless all of those revenues are eliminated by extra expenses. Intel guided to slightly higher gross margins in 2014 over 2013 levels, including a 150 basis point hit from the contra-revenues, so you hope that the company's forecast was a little conservative. Intel also guided to a slight improvement in R&D plus MG&A spending in 2014, but only $100 million. That's not enough to really move the needle, so again, that expense forecast needs to be conservative.
The one area that could really hurt Intel is restructuring expenses. As I mentioned in my worst-case article, Intel guided to $200 million in restructuring expenses in Q1, but the company did not provide a full-year forecast for these items. Intel investors need to hope that Q1 sees the bulk of these expenses. If the company has $200 million of these restructuring expenses every quarter in 2014, it will have a huge negative impact on the bottom line. Any gains made on the gross margin or operating expense side could be wiped out.
The other potential room for improvement is the tax rate. Intel guided to a 27% tax rate for 2014, a bit higher than the effective tax rate seen the last two years (26.01% in 2012, 23.72% in 2013). In 2013, every 100 basis points (full percentage point) on the tax rate equaled about 2.5 cents of EPS, so if Intel's tax rate comes in a bit lower than expected in 2014, there's a nice boost here, potentially as much as a nickel or more over the original forecast.
Intel analysts are looking for $1.85 in EPS this year, after $1.89 last year, and a recent high of $2.39 in 2011 (with a much higher share count). Net income has fallen even faster. For Intel to break last year's EPS number, a few things need to go right. For the company to show some EPS improvement, more than a few things need to go right. For now, I think $2.00 is a great number to use for the best-case scenario. For this to happen, Intel probably needs the following items to come in:
Revenue growth of 2%.
Gross margins of 61%.
R&D plus MG&A expenses of $18.5 billion.
Restructuring expenses of $500 million.
Amortization expenses of $300 million.
Other income of $100 million.
Tax rate of 25%.
Based on last year's diluted share count, these numbers should get Intel to $2.00 in EPS. Obviously, these numbers are fluid, and if one number comes in better, another could come in worse. At the moment, I'm very skeptical that Intel can get all of these, but we shall see. 2014 has a lot left in it.
Dividend increase and larger buyback:
I'm not going to spend a ton of time in this section, because I covered capital returns extensively in my worst-case article. Basically, Intel has a 40% of free cash flow target for the dividend. As you can see from the table below, Intel has paid out more than that in the last couple of years. Dollar values in millions.

I calculated in my last article that Intel needs about $1.4 billion more in cash from operations this year to get the current dividend back down to 40%. So, for investors expecting any sort of raise this year, Intel will really need to raise cash from operations. It's hard to really dive into how the company does this, because a lot of how cash from operations is derived as changes in balance sheet items. It's very hard to predict in March how Intel's inventories or accounts receivable will fare throughout the year, for example. For now though, let's assume that Intel needs an additional $1.75 billion in cash from operations for a dividend raise potentially in the second half of the year. That could get Intel's annual dividend up to $0.95 on an annual basis, up from the $0.90 current rate.
I said in my worst-case article that I thought Intel should buy back $3 billion to $4 billion in shares this year. That's probably a good bull case number for purposes of this article. Intel's cash flow statement in the above linked 10-K showed $2.44 billion of repurchases in 2013. You would like to see that number increase a bit, but if Intel isn't raising the dividend or producing more cash flow, it probably will not happen.
Short sellers cover in large quantities:
One other potential area that could be beneficial to Intel's share price is large short covering. Recently, Intel's short interest rose for the first time in a few months, as you can see from the chart below. That eliminated a streak of seven straight short interest declines.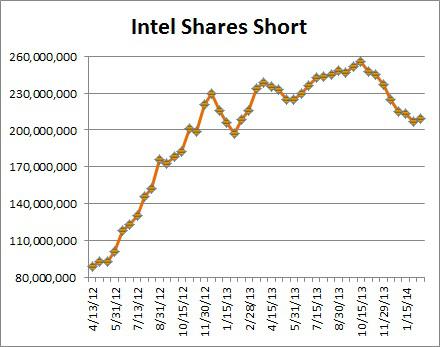 Short interest for Intel still remains elevated, however. In fact, Intel is the most heavily shorted name in terms of large cap technology companies, when compared to Apple, Microsoft (NASDAQ:MSFT), Cisco Systems (NASDAQ:CSCO), and Qualcomm (NASDAQ:QCOM). In the table below, I've compared these five names in terms of shares short in relation to the float and outstanding share counts, as provided by Yahoo.

Obviously, Intel had higher percentages a few months ago. Also, Apple's number is only near 3% due to an 86%-plus rise in Apple's short interest so far in 2014. Also, Apple's share count and float numbers are coming down quite a bit as Apple's powerful buyback continues on.
The key here is that Intel only bought back 94.1 million shares in 2013. When 2014 started, Intel had about 215 million shares short. That number was down to about 209 million at the latest update. So, if short interest were to drop in half, this process could provide more support to shares than Intel's buyback at 2013 levels.
The valuation expands with earnings:
In my worst case, I mentioned how Intel's growth story is near the bottom in terms of large cap technology. I've updated the comparison table for the five names discussed in this article, and that table is below. Most of the changes from the worst-case article are for P/E and dividend yield, as analyst estimates have not really changed much in the past few days.

*EPS growth and P/E numbers are non-GAAP.
I mentioned in the worst-case article that I believed Intel was getting a small premium since investors have hope in the mobile opportunity and potential revenue turnaround. Looking at the strict growth, dividend, and buyback numbers, Intel should probably be trading more along the lines of Apple, but it isn't. With some potential growth being priced in, I see Intel's 2014 bull case as 14 times $2.00 in earnings, which gives a target of $28. I think that is the maximum upside for the rest of the year, or until Intel reports Q4 results some time in January 2015.
Final thoughts:
Today, I presented the bull case for Intel, which provides for shares to rally to $28 in the next 10 months or so. The best thing for Intel is for the PC business to come in better than expected. It would also be nice if the tablet/smartphone campaign starts to plant some seeds for the next few years. Intel has a lot of work to do for those expecting a dividend raise this year, and the company would be wise to buy back some more shares this year. I think there is some room for the valuation to expand, but I think investors are already pricing in some level of growth. For those expecting Intel to remain between $22 and $28 (the best/worst-case levels I've determined), there may be some options strategies to increase your income a bit. Intel has had a couple of disappointing years, and 2014 doesn't seem like it will be much better. However, there's plenty of time left for that to change, and that could push shares higher.
Disclosure: I have no positions in any stocks mentioned, and no plans to initiate any positions within the next 72 hours. I wrote this article myself, and it expresses my own opinions. I am not receiving compensation for it (other than from Seeking Alpha). I have no business relationship with any company whose stock is mentioned in this article.
Additional disclosure: Investors are always reminded that before making any investment, you should do your own proper due diligence on any name directly or indirectly mentioned in this article. Investors should also consider seeking advice from a broker or financial adviser before making any investment decisions. Any material in this article should be considered general information, and not relied on as a formal investment recommendation.