Last week was an extremely challenging period for the Kinder Morgan family of companies, [Kinder Morgan Energy Partners (NYSE:KMP), Kinder Morgan Inc (NYSE:KMI), and Kinder Morgan Management (NYSE:KMR)].
Kinder Morgan was the subject of a Barron's front cover story regarding the sustainability of its distribution and its future growth prospects. As a result, each stock suffered mightily, with Kinder Morgan Energy Partners and Kinder Morgan Management falling nearly 6% while Kinder Morgan Inc declined about 4%.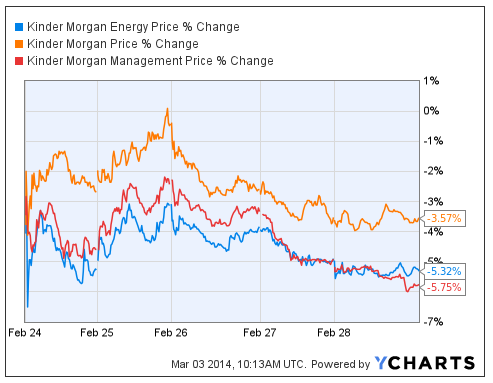 Why has the Kinder Morgan group declined?
***For a fuller review of the Barron's piece please see my earlier article
While the Barron's article was widely considered a rehash of old Hedgeye talking points, the stocks still reacted negatively to the news.
I would argue that this move is the definition of a self-fulfilling prophecy. Investors in midstream MLPs are usually there for both the income and the perceived "safety" of the sector.
If Barron's starts raising the alarm bell on the safety of Kinder Morgan's dividend/distribution, then the stock(s) start becoming viewed as higher risk plays than they actually are. It is vicious cycle that Kinder Morgan can do little to stop as investors will be selling first and asking questions later.
Barron's is wrong regarding the CO2 segment
One of the more interesting nuggets from the Barron's piece was regarding Kinder Morgan' CO2 segment. CO2 is an enhanced oil recovery technique used to inject high pressure gas into older wells to extract previously uneconomical crude oil. In essence, this makes some older "dead" wells viable producing assets at very low costs.
Basically, it was argued that Kinder Morgan's DCF was inflated in part due to understating its maintenance capex requirements in the CO2 segment.
Last year, the Kinder Morgan MLP's sustaining capital expenditures of $327 million were just 10% of total capital expenditure of $3.3 billion. The sustaining capex in Kinder Morgan's CO2 division, which is dominated by an oil-production operation that uses CO2 to extract crude from mature wells, was just $14 million last year; growth capex in that division was $676 million. But despite the heavy expansion capex in recent years, Kinder Morgan's oil production is little changed since 2009. Last year's modest production gain reflected an acquisition and a big boost in capital spending, which is expected to rise about 60% this year.
In addition, Barron's argued that Denbury Resources (NYSE:DNR), which happens to use the same CO2 technique for extracting crude oil, has a much smaller dividend yield compared to Kinder Morgan.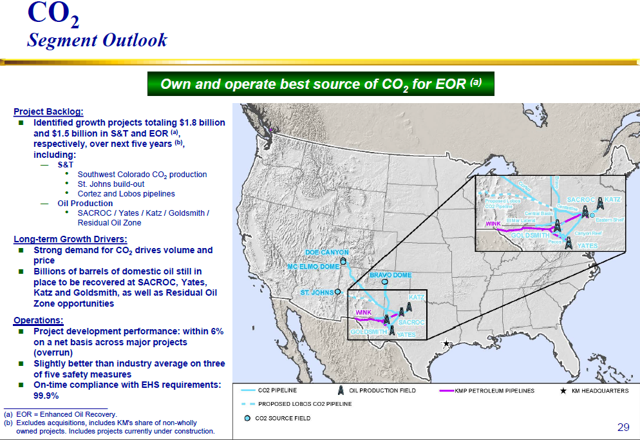 However, Barron's argument is very misleading. Yes, Kinder Morgan is paying very little maintenance capital on these assets. However, this is in part due to the nature of its partnership agreement.
As I noted in a previous article, Kinder Morgan is bound to the agreement's definition of maintenance capital as the following: "maintenance capital expenditures as capital spent to maintain an asset without increasing its capacity or throughput."
This does not mean that Kinder Morgan is skimping with these assets. Instead, many of its costs are already baked into operating expenses. The company invested a total of $300M in 2013 alone.
Furthermore, distributable cash flow ("DCF") from these assets is actually projected to increase over time, up to over $1.80B in 2017. These assets have provided Kinder Morgan with excellent "cash on cash" returns of well over 20% per year since 2000.
Kinder Morgan's projections for DCF on this production have only increased over time, largely thanks to increased efficiencies and improvements in technology. Indeed, the company was even actually able to increase production from prior years.
By 2021, production and DCF is slated to fall by roughly $200M. However, given that Kinder Morgan currently generates over $4.4B in DCF per year and assuming even modest growth, the net impact of this future decline seems trivial.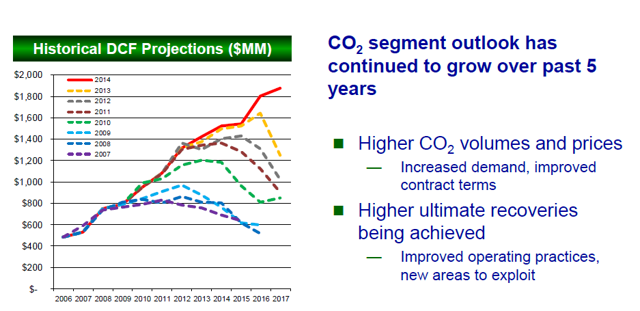 Conclusion
Hedgeye and Barron's were wildly successful in their attacks on the upstream ("E&P") MLP Linn Energy (LINE), with that stock still not having recovered fully from the declines.
However, with Kinder Morgan, these arguments are not really valid. Only 17% of EBDA comes from the upstream segment, compared to essentially all of Linn Energy's revenues. In addition, Kinder Morgan is projecting nearly $14B in capital projects this year alone, further diversifying it away from being an "upstream" MLP.
Disclaimer: The opinions in this article are for informational purposes only and should not be construed as a recommendation to buy or sell the stocks mentioned. Please do your own due diligence before making any investment decision.
Disclosure: I am long KMI. I wrote this article myself, and it expresses my own opinions. I am not receiving compensation for it (other than from Seeking Alpha). I have no business relationship with any company whose stock is mentioned in this article.