Recently, analysts at Cantor Fitzgerald and Bank of Montreal spoke out in favor of Ritchie Bros. Auctioneers (NYSE:RBA). The company is proving more durable than early critics at Merrill Lynch, Robert Baird and Credit Suisse initially predicted with their downgrades during 2013.
Founded by three brothers in 1958, Ritchie Bros. has grown into a recognized giant in the auction industry. Based in Canada, Ritchie Bros. is a testament to the business-friendly environment of North America.
Business
Ritchie Bros. auctions everything from trucks and equipment to highly specialized industrial assets. Although based in North America, Ritchie Bros. boasts over 100 locations in 25 counties worldwide. Global operations have allowed Ritchie Bros. to forge a fairly independent path. The company has grown into the largest industrial auctioneer, combining good commercial sense with indisputable integrity. Below -- a depiction of RBA inventory.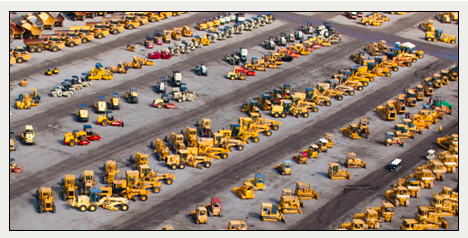 (Source)
Investment Opportunity Increases From Online Sales
For investors focusing on short and/or long term gains, the future looks bright with RBA. The company's strong fundamentals are translating into fast growth. In the coming months, it is possible RBA will experience moderate to solid price appreciation.
The auction company consistently demonstrates an ability to keep up with the changing times and their online sales could continue to power RBA. We believe these online sales will increase in the upcoming years.
In 2012 alone, Ritchie Bros. sold equipment with a total value of almost four billion dollars. The industrial auction industry's recent surge in high-volume business is making RBA a stock to watch both because of more live auctions bidders and online bidders.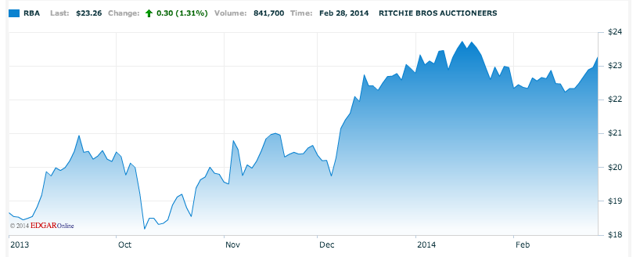 Click to enlarge
(Source)
Ritchie Bros now also offers a number of complementary services, including financing and insuring equipment--further demonstrating long-lasting potential.
Earnings Call On March 3rd at 11AM EST
On March 3, Ritchie Bros will reveal many important details in its year-end earnings call for year end 2013 at 11AM. We believe the conference call could cast RBA stock in a very favorable light. Investors can listen to the call by dialing 1 (888) 390-0605, with the ID code 83784397.
Though only time will ultimately tell, Ritchie Bros is already well on its way to bolstering appeal among investors. Auction services like Ritchie Bros. are highly relevant in a global, cost-conscious economy, and, almost without doubt, this company will be profitable in the years to come.
Disclosure: I am long RBA. I wrote this article myself, and it expresses my own opinions. I am not receiving compensation for it (other than from Seeking Alpha). I have no business relationship with any company whose stock is mentioned in this article.