(Editors' Note: This article covers a micro-cap stock. Please be aware of the risks associated with these stocks.)
Executive summary
Fiscal 2013 and 2014 will and are bad.
Long-term strengths and growth potential are still intact.
The market overreacted and the stock offers a nice entry point at current levels.
The company is diversifying its crops in order to become less reliant on one type of product and a potential future canker outbreak.
The company holds a large cash pile which is big enough to prevent them from getting in to trouble.
_________________________________
Introduction
In today's article I will be discussing Asian Citrus Holdings (OTC:ACTFF), a company most investors are highly unfamiliar with and which is not very known to the main public in general. The company is officially listed on two stock exchanges, the Hong Kong Stock Exchange and the London Stock Exchange. Both have a decent amount of volume and are very easy to get access to. I myself used the London Stock Exchange to buy some stock as the pound is less volatile.
Operations
Asian Citrus Holdings is the largest orange plantation owner and operator of China. It currently owns and operates two orange plantations while developing a third one. In total, the company owns 103 sq. km. in plantations, which is equal to the size of 10 300 soccer fields.
The Hepu Plantation in Hepu County in the Guangxi Zhuang Autonomous Region, occupying approximately 31 sq. km.
And the Xinfeng Plantation in Xinfeng County in Jiangxi province, occupying approximately 37 sq. km.
An extra plantation (35 sq. km) of 1.8 million orange trees and grapefruit trees is currently being developed in Hunan.
The Hepu Plantation is fully developed with approximately 1.3 million orange trees. The Group initiated a replanting program in the Hepu Plantation to replace existing winter orange trees with new species of summer orange trees that have stronger resistance to diseases and produce a higher yield. This is making the company less depended on one type of fruit and lowers investors' risk.
The Xinfeng Plantation was developed in 2003 and is now fully planted with 1.6 million orange trees. The orange trees at the Xinfeng Plantation will progressively achieve their orange bearing age and contribute increasing production volume as they approach full maturity. As a result, the growth in the production from the Xinfeng Plantation in the coming years will drive a step change in the Group's overall orange supply.
Stock performance
Asian Citrus Holdings' stock wasn't really popular during 2013 as it underperformed the S&P 500 by more than 60%.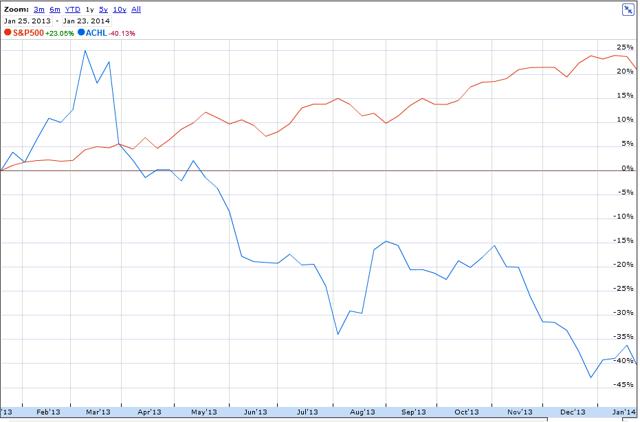 Click to enlarge
Contrarians
Although this might seem to be a risky and illogical investment considering the company's year over year declining revenue and profitability since 2012, I believe the stock is a wonderful investment opportunity for contrarians.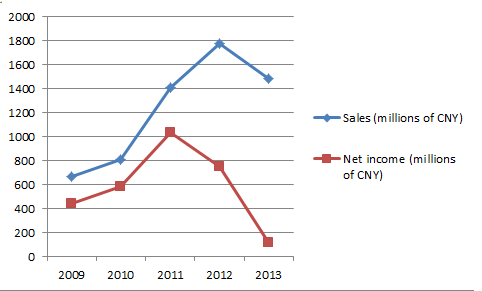 When only looking at the group's figures, I agree that they were hideous. But after doing a little more research, I found relevant information that justified the decline in earnings and revenue the plantation owner experienced.
Panic
First of all, it is very important to know that the company is very reliant on climatologically conditions. Bad weather and heavy rainfall were the main reasons why the group's revenue, total production and profitability declined substantially during the first 6 months of fiscal 2014 (which ended December 31, 2013). The stock fell 20% during this period.
Secondly, the company got in trouble during fiscal 2013 because of a severe citrus canker outbreak which made investors panic and caused the stock to lose another 30% while there was no real need to panic this hard.
Reality
There will definitely be a serious impact on this year's and next year's earnings, but the fundamental qualities and strengths of the company will continue to exist in the long-term. The company is debt free and holds plenty of cash to recover multiple times from misfortunes. Its current ratio is still above 20 and it's very unlikely that last year's events are going to occur for 5 consecutive years. The plantations are located in similar latitudes to that of Florida of the US, which is well known for growing oranges. The temperature, solar radiation, soil, water retention and topography of the Group's plantations are favorable for orange plantation.
At its current share price (14.55 pence), Asian Citrus Holdings is quoting below its net cash position of 17 pence per share. So buying the stock now, means you get 1.16 pence in exchange for 1 pence and all the assets of the company for free.
Disclosure: I went long at 18.5 pence and will probably buy some more in the near future. I am long ACTFF. I wrote this article myself, and it expresses my own opinions. I am not receiving compensation for it (other than from Seeking Alpha). I have no business relationship with any company whose stock is mentioned in this article.