IDC forecasts slowing growth in smartphones. They see 2014 shipments of 1.2 billion units, up 20% from 2013 and ongoing growth through 2018 of less than 12% a year.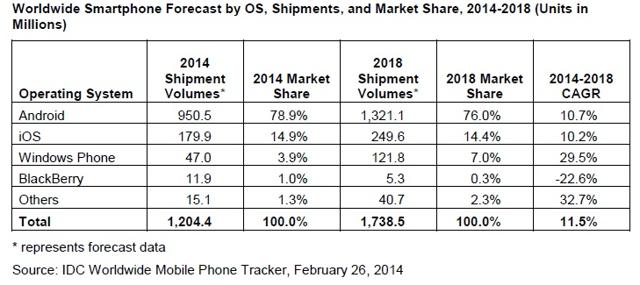 The forecast is consistent with my frequently expressed view that this market is maturing.
IDC also put out some numbers of interest to investors on both sides of Apple (NASDAQ:AAPL), long or short. They see sales of iPhones rising to 179.9 million units in 2014, about a 20% gain over 2013 in parallel with the market growth. The forecast is significant since it suggests Apple's share losses are over. As I set out in an earlier article on SA, the 'premium' end of the market in 2013 was about 300 million units and Apple had about a 50% share. The IDC forecast for 2014 implies the premium segment will grow lock-step with the market as a whole and Apple will keep its 50% share.
IDC also put some numbers on average selling prices ("ASPs") which it sees declining for every supplier but Apple. In Apple's case IDC sees an iPhone ASP of $649, a price well above the $625 ASP of Apple's Q1.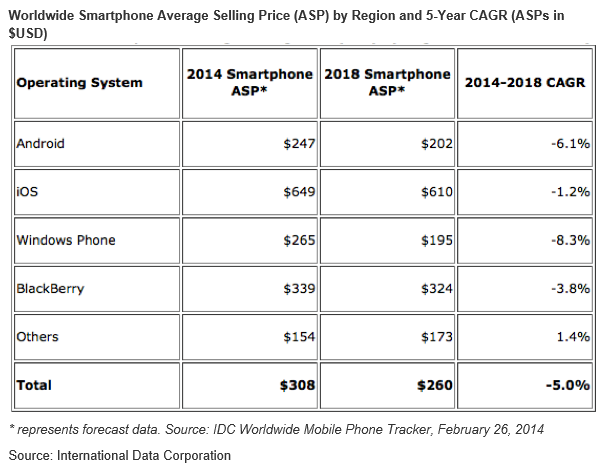 If IDC is right, Apple will have a very strong year. Using my crude model and allowing for Mac sales of 18 million units, iPad sales of 85 million units and margins of 37%, the IDC forecast would see Apple with revenues of $200 billion and net income approaching $50 a share.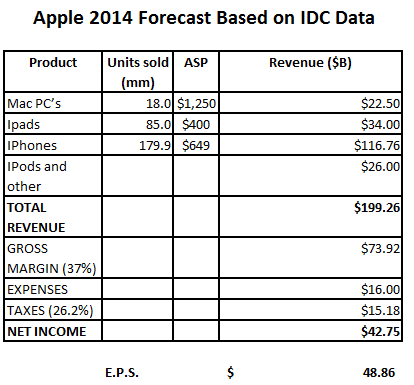 The question for investors is how much stock to put in the IDC forecast. It is counterintuitive to think Apple can raise prices and hold market share, although it did just that in Q1 2014. Q2 2014 is well underway and I haven't see any Apple price increase announcements in Canada but I don't know about the United States or overseas.
The IDC data conflict with data from Lenovo (OTCPK:LNVGF) who project only a 9.8% growth in the premium (i.e. over $400 per unit) segment of the smartphone market in 2014.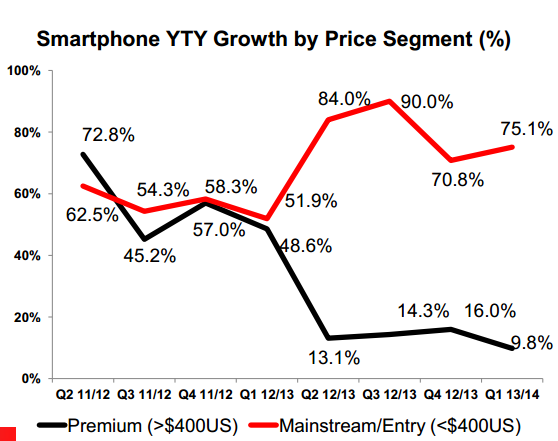 Source: Lenovo
An excellent article by Max Patterson on Quartz published February 3,2014 included the chart below showing the correlation between Apple market share and GDP per capita in various countries. It shows that Apple is successful where GDP per capita is highest and least successful where it is lowest.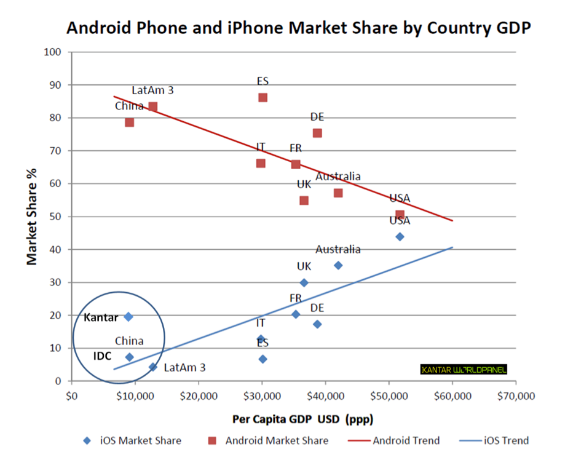 Source: Quartz
China, India and Latin America are the areas where market growth is taking place and they don't fit with the Apple premium price model. Growth in those markets is likely to shrink the premium segment as a percentage of the total. As a result, I don't think the IDC forecast will prove out.
Regardless of what I think, those are the data and they do give strong support to the Apple bull thesis.
Always the contrarian, I remain short Apple both directly and through options. If I see the IDC scenario playing out I will have to cover my short and eat equal portions of losses and humble pie.
Disclosure: I am short AAPL. I wrote this article myself, and it expresses my own opinions. I am not receiving compensation for it (other than from Seeking Alpha). I have no business relationship with any company whose stock is mentioned in this article.