It was likely a long weekend for Questcor (QCOR) longs and shorts, both of whom are likely trying to grasp at whatever information they can on last week's events in order to better prepare them for the coming trading week and what could potentially happen.
Admittedly, I'm short Questcor, but I'm going to try and write most of this article with a focus on looking at both sides of the coin, post-Citron's report - in the vein of simply trying to be balanced and maybe resonate with a couple more QCOR longs than I previously have.
With every couple of minutes that go by without a company-sponsored forceful response with regards to Citron's claims last week, I start to wonder. And I'm thinking we didn't get a response out of Questcor, likely for one of two reasons:
1. They're preparing a full scale, four alarm response to release on Monday this coming week - one that will go after Citron and defend Acthar furiously.
2. They don't really have a response, which could be extraordinarily bad for the company and its shareholders.
So the coming week is likely to be a "put up or shut up" situation for the company and its executives. I would be extremely interested to hear what Questcor's response would be to all this. Hell, the contrarian in me welcomes their response. What could Don Bailey possibly say about a drug that has FDA approval for one active ingredient (ACTH), when he himself has said there's "many more active ingredients in," and that Citron is now claiming hardly has any of the original active ingredient in?
Somebody's full of it, the question is who.
If Citron is right, it makes some sense. Common sense, after looking at all of Bailey's baffling statements, says to me that QCOR could have possibly been on a campaign for the last two years to backhandedly acknowledge there actually isn't ACTH in Acthar or that there's other stuff in there that patients nor the FDA knew about. This would be your "secret sauce" or your "trade secret" argument.
Or, if the deamidation occurred at some point while Citron had its samples, Bailey may not have been vague or deceptive on purpose. It's definitely an argument, even if I have a tough time believing that one.
Either way, the company doesn't really seem to have much of a grasp as to what it is they're selling for $30,000 a vial.

Is it me, or is that statement just plain and simple acknowledgement to the FDA that Questcor has no clue either what's in their drug and/or how it works? And that they're using this "secret" to convincing people they have some barrier to entry that would prevent generics?
And, if it turns out that the active ingredient is just ACTH, what is stopping generics from entering the market? You can't have this one both ways - either one of the two here are true:
1. There is more active ingredient in Acthar than ACTH, meaning it's labeled wrong.
2. Or, it's just ACTH, at which point it's extremely susceptible to generics. Then, we'd have to get into the syth vs. ACTH debate regarding 24 vs. 39 peptides - both are of the same chemical entity except it's three-dimensional fold. If we wanted to go down this road, we'd need significantly more clinical study, right?
It can't be both of these.
We're going to have to wait to see what the coming week brings in order to try and figure this one out. In the meantime, I'm sorting through pages and pages of information on Questcor, Acthar, peptides, synacthen and the like searching for whatever I can to shed some light on this situation. All those people who private messaged me that I "have no life" after my last article are right. I got about 3 hours of sleep last night.
I also spent the better part of last night researching and exchanging e-mails with several biochem professors (who have PhDs and post-doctoral work in biochem) and one of the authors of the BioPharmInsight article that Citron initially quoted in their original thesis on Questcor. That article gave us some of these quips from several different reputable doctors:
Dr. Nan-Hsien Kuo, a rheumatologist, New York Hospital Queens, said he has no knowledge of Acthar and there are no studies. "Corticotropin is part of a hormone injection, and it's not something we do routinely." Steroid injections are given more frequently and work further downstream compared to Acthar, he said. "[Steroids] we give have been around for years and are economically feasible," he said. "As far as I can see, I don't see a market for this [in rheumatology]," said Kuo.
Dr. Nathan Wei, a rheumatologist and CEO at Arthritis Treatment Center, and Dr. J.W.J. Bijlsma, chair of the department of rheumatology and clinical immunology, University Medical Center Utrecht, both said they had not heard of Acthar. Bijlsma recently published a review called 'Disease control with glucocorticoid therapy in RA.' [Rheumatology (Oxford). 2012 Jun;51 Suppl 4:iv9-iv13.] Wei noted he would not use the drug based on the chemical, adding there may be potential side effects due to its effect on the adrenal glands. "I would be concerned about using it, with the price point, since there is prednisone," said Wei.
Dr. Theodore Pincus, a rheumatologist and clinical professor, NYU Hospital for Joint Diseases, said pricing for 3mg prednisone a day is much cheaper and the drug is at least as effective as Achtar.
Dr. David Snyder, a neurologist based in New York, said he has used a similar type of ACTH for injection, decades ago. "I guess it has its place, in [patients] who have difficulty with standard Solu-Medrol. We do give a number of patients IV steroids, during the course of the year. We've just not had an opportunity to use Acthar yet," said Snyder. "I talked to the drug reps. They tell me there are neurologists that use a fair amount of Acthar. It's difficult for me to figure out why. Essentially, it's just another way of ensuring an increased level of steroids," said Snyder. For some reason, it became very popular amongst neurologists to use IV in large doses.
Dr. Daniel Kantor, medical director at Neurologique, and president of the Florida Society of Neurology, noted, "Questcor's pipeline drug is H.P. Acthar Gel. Since it already has so many legacy FDA approvals, the pipeline is driven by corporate decisions and the need for a niche product in patients with a multitude of inflammatory diseases who sub-respond to or can't tolerate less expensive medications." Decisions about which specialties to market to are fueled by board room projections and investigator-initiated studies, Kantor said.
I wanted to get their take on Citron's explosive allegations that came out last week and see if it was something that surprised them. None of the people I spoke to seemed very surprised. However, that's not to say that Citron has been proven right just yet - even if, in their first paper, they claim the Chairman of the Division of Rheumatology at the Mayo Clinic himself, Dr. Eric Matteson, claimed there's "limited to no attractiveness in rheumatology" for Acthar. And, when I say Acthar, I mean the way that the product is labeled currently.
There was a default air of skepticism to each of the people I spoke with last night. Even this biotech author who seemed to try and convince himself of some kind of "try and look at the good" situation:
The company technically hasn't done anything 'wrong,' but the fact that they keep beating earnings is just either really lucky, or something else is happening. Either way, I think how the company prices the drug is just totally taking adv[antage] of the system. It's just about timing at this point. Knowing the FDA, we don't know if it will take months, years, decades before they issue anything. And the company will keep getting away with it. Unless their drug gets pulled, if there are manufacturing issues or quality issues.
But, there are questions poking around between biochem experts, mostly on the deamidation of the ACTH - when and how it occurred, and things of that like. One university level biochem professor, who didn't want her name revealed for fear of litigation, stated to me in an e-mail:
To the mystery story - it is puzzling. The Bloomber[g] thing today completely confused me. I would have thought the company comes with some type of QC problem (bad enough) that might have caused selling deamidated product. Deamidation is a common reaction occurring when peptides have Asparagine residues. This can reduce or completely diminish the activity of a peptide. Usually companies try to avoid deamidation and a lot of effort is geared towards it. The structure of the hormone contains one ASN and thus deamidation can occurr [sic].

H-Ser-Tyr-Ser-Met-Glu-His-Phe-Arg-Trp-Gly-Lys-
Pro-Val-Gly-Lys-Lys-Arg-Arg-Pro-Val-Lys-Val-
Tyr-Pro-Asn-Gly-Ala-Glu-Asp-Glu-Leu-Ala-Glu-
Ala-Phe-Pro-Leu-Glu-Phe-OH

What still surprises me is that ALL ASN was deamidated. That is a bit weird.

If Citron is right QCOR is in deep trouble I would think. The process of isolation and characterization are all trade secrets, so it is hard to comment on that. But one thing is for sure - their drug better contain the amount of active ingredient they claim it does. The clinical trials state active component is corticotropin.
But, also, you have medical chemists like John Alan Tucker, PhD, who received his PhD in chemistry in the research group of Nobel Laureate Donald Cram in 1987 and his MBA from the Anderson School of Management at UCLA in 2009. He seems to have more questions regarding when the product tested by Citron degraded (before Citron rec'd it vs. after they rec'd it) as noted in his Twitter posts over the last couple of days: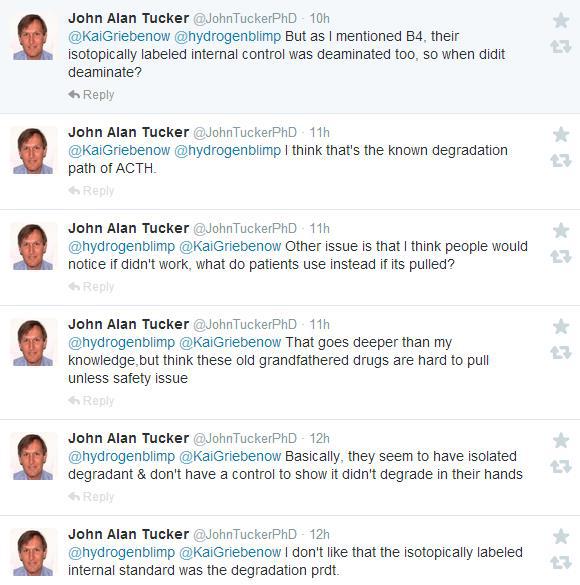 He seems to think there's an angle here where Citron could be wrong. And, with Citron keeping a lot of the information regarding how they performed the study mum, it's tough to vacuum seal their allegations without the report they submitted to the FDA, short of taking them on their word. Citron has addressed these claims and stands by every which way the Acthar was handled before it got to the lab: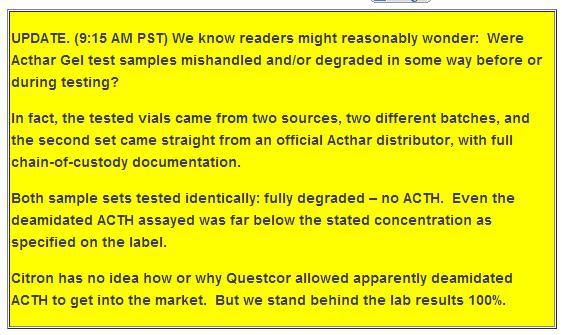 I have submitted a FOIA request for Citron's full report, and will report on it when I have it and it's been reviewed by several biochemist contacts that I have.
But I guess what really concerns me are the Questcor longs that just absolutely refuse to even consider the bearish case. This kind of thinking, on either end of the coin, can be what sets you up for the proverbial train wreck.
Even on my biggest shorts that I'm most convinced of, like Herbalife (NYSE:HLF), I've spent hours looking at the bull case and considering it. How can you make any kind of objective opinion on a stock without looking at both sides of the coin?
I'm not going to spend this entire article refuting the sideways logic of people that are Questcor perma-bulls, even in the face of these allegations. But, there are just a couple of points that I need to comment on.
A couple longs on Twitter, and notably in the comments section of my articles, continue to scream and yell about the financials. Yes, I get it, Questcor's financials on paper are awesome. I'm in no way contesting that. This isn't an argument about whether or not the financials are good and the company is making money - hell, they're great and I'll be the first to admit it. The company is making boatloads of money!
This is not a debate about Questcor's financials!
I get notes like this:

But if the means in which they make this money are inherently questionable, it makes all the billions they've made null, moot, and void. It supersedes any amount of money in the bank.
And I also get comments like this one, which like some Herbalife longs, represent a consistency of people that don't really seem to understand what the point of audited financials are.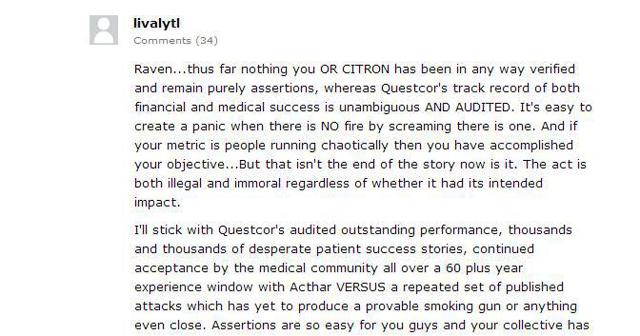 Like Herbalife, you can't hide behind an audit here.
Just ask Jim Cramer, he knows a thing or two about finance. Even he came out during the Herbalife audit story and said on Twitter the audit isn't about whether or not the business model is viable:

The audit is to assure people that the financials reported are accurate and in accordance with GAAP, not to identify whether or not the means used to generate the money are viable or not. Remember Enron? Madoff? Both had plenty of cash and great looking balance sheets - both had audited financials - did it mean that they weren't fraudulent?
PwC's very own documentation gives you a quick overview of exactly what an audit is for:
Since its introduction, the need for certain companies' financial statements to be audited by an independent external auditor has been a cornerstone of confidence in the world's financial systems.

The benefit of an audit is that it provides assurance that management has presented a 'true and fair' view of a company's financial performance and position. An audit underpins the trust and obligation of stewardship between those who manage a company and those who own it or otherwise have a need for a 'true and fair' view, the stakeholders.
However, one point I will give to the bulls is the patient testimonials. If there's no ACTH in Acthar, how are patients seemingly getting better? Could this be a massive lesson in the placebo effect at work? If I were a bull, this would be one of the arguments I'd be clinging to, as many longs are.
And while it's correct that the placebo effect doesn't work on infants due to the fact that it's psychoanalytical (i.e. they need to be sentient as to what is perceived to be the drug), Acthar's indication for infantile spasms is in the minority as to what it's being used for. Additionally, the deamidated ACTH could still have partial biological efficacy, which could explain why seemingly no one has noticed.
As per Citron's table -
Table 1. The biological activity of ACTH before and after deamidation

Peptide IU/mg

ACTH (NYSE:A) 74.8 +/- 4.8

ACTH (NYSE:B) 91.2 +/- 8.5

DACTH 32.9 +/- 2.4

DACTH 49.0 +/- 2.7
So it could be a combination of placebo effect in MS patients, partial efficacy in infants, and a small minority of problems that simply go away on their own.
So, again, is there a chance that I'm wrong and Citron's results are eventually proven wrong? Yes, there could be. Is it likely? I'm not quite sure that it is. I know, because years ago I was on the long sides of some companies that I've stood with in the face of demonstrable evidence to the downside and I've lost money on those trades. That's a part of learning how to invest - separating emotion and seeking objectivity.
Either way, Questcor's fate is in its own hands and how it comes out and defends itself next (if it does).
This next part is totally unverified and could be BS, but there are also claims by a user named Steve Pluvia that he has evidence that two major insurers are starting to look at dropping Acthar. He has stated this on Seeking Alpha and on Twitter. I have reached out to him for his evidence, which he claims to have, but so far there has been nothing provided to me that verifies this claim. If the same person, he could be tied to Citron, it would seem from this L.A. Times article from 1999.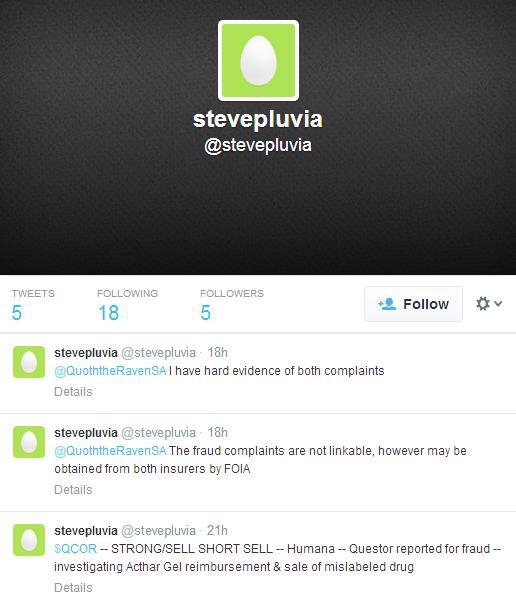 Interesting that he claims that information can be obtained through FOIA, which is just for government organizations and takes a lot longer than a couple of days to get. That part doesn't seem to make sense. If he submitted an FOIA days ago, he wouldn't have it. So, he either knew in advance and submitted a while ago, possibly after he talked to insurers and/or Citron - or, he's full of it. Time will tell about the mystery Steve Pluvia.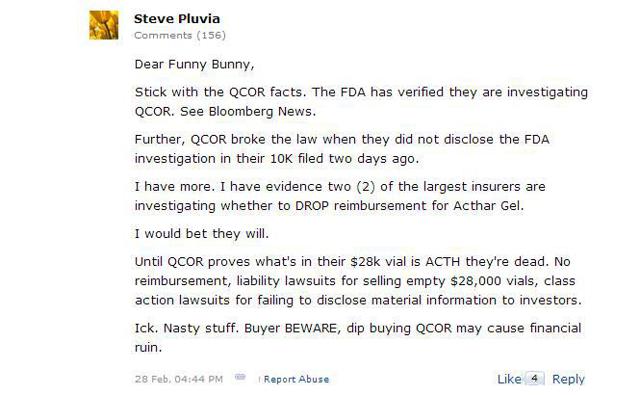 I will also point out that to my knowledge, there hasn't been proof that the FDA has, in fact, contacted Questcor. So, the disclosure issue regarding the 10-K may also be a non-event if they have 4 days to disclose this from it being public on Bloomberg, and not from a direct company to FDA contact.
(additional in-story disclosure: I'm not a securities lawyer and am guessing from market experience and reading Reg FD a while back)
Regardless, there is really no reason for throwing money into Questcor right now - even your upside if it returns to previous levels is just 20% right now. That's not worth the cloud that's hanging over this story. Why risk your money here when there are thousands of other stocks on the big board not under this type of controversy and microscope.
I'll reiterate what I stated in my last article. Until QCOR can disprove Citron to investors or the FDA, there is a major risk here - Acthar is the main leg that this company is standing on.
If you absolutely have to get on the long side of this trade, I plead to you to play a position like a long straddle where you have some insurance - or just simply buy some cheap, way out of the money puts. The IV in Questcor's options shows that traders think this thing is going to continue to stay extremely volatile.
Even the Fool says sit this one out for the time being:

And if Questcor is unable to put out a response and it turns out Citron is right, remember where your money went when you were buying stock all the way up:
(click to enlarge - source Nasdaq.com)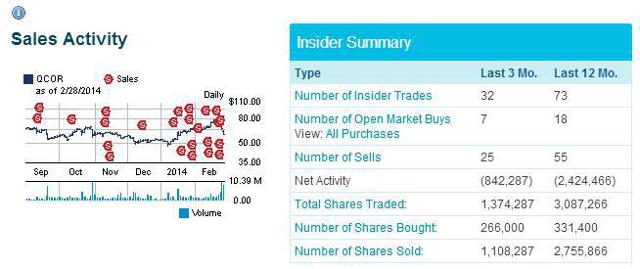 Don Bailey was cashing out stock as recently as 5 days ago. It'll be interesting to see if the insider selling continues amongst these allegations - nothing has been reported since the 25th.
To conclude, I still have a ton more questions than I have answers.
And again, I'll admit that until Citron's claims are confirmed or denied by the FDA, there are tons of questions up in the air.
I'm welcoming a detailed, lengthy response from the company to try and refute these claims in the coming week. I'm waiting with bated breath to hear what the company comes out and says. And, hey, if I'm wrong, I'll take my knocks on my short position - all the longs can point and laugh - it wouldn't be the first time that I've been wrong and I have no trouble admitting that. If Questcor comes out and puts this whole issue to rest and the FDA gives the company the go ahead, I will issue a full redaction/apology (as well as lose out on my short). I'll take every ad hominem attack and joke about me and not complain.
If we don't hear anything from Questcor next week, however, I'm really going to start to wonder what's going on, though.
This week it's time for Questcor to put up or shut up.
Best of luck to all investors.
Disclosure: I am short QCOR, HLF. I wrote this article myself, and it expresses my own opinions. I am not receiving compensation for it (other than from Seeking Alpha). I have no business relationship with any company whose stock is mentioned in this article.