Individual investors seem to love dividend paying stocks – and underappreciate the virtues of bonds. There is a huge difference between dividend paying equities and fixed-income: fixed-income securities do not correlate with the equity indexes in down markets, which is precisely when you need diversification the most. Experienced investment advisors excel at creating portfolios that are lower risk because they appreciate the sensitivity their clients have to falling markets and keep healthy allocations to fixed-income (in accordance with the risk tolerance of the client).
Now called the Barclays Aggregate Bond Index (nearly all investors have spent careers referring to it as the 'Lehman Aggregate'), this index is what the S&P 500 is to U.S. equities --- the king of all benchmarks in its asset class.
To understand how this index is composed, we re-created a portfolio of sub-indexes that when combined, act like the larger index. We did not run advanced simulations to do this and this should not be thought of exact – we are just offering this as a framework that is a little bit similar to taking the US Sector SPDR's to reconstruct the S&P 500. (Note that even armed with very high-end systems available to institutions, you cannot mimic an index made up of over 10,000 bonds that are constantly maturing and being re-invested and therefore dynamically changing). We do this exercise simply to show that you could create an index with the same structure but tailor it more to your specific needs.

Before ETFs existed (and more advanced internet infrastructure), an analysis like this would have required some (expensive) portfolio management software to do. But here is one such example (note this can only be done with databases that calculate total return):
click to enlarge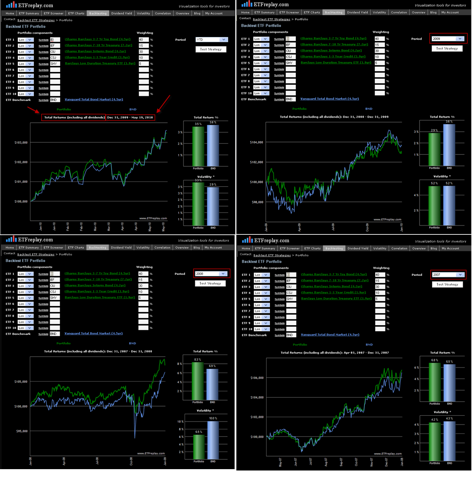 Source:
http://www.etfreplay.com/
Now remember, the primary risk for an investment in the aggregate bond index is not loss of principal – the payments are fixed and bonds mature at par. If the market goes down, you can simply call its bluff and hold and let bonds mature and get re-invested at higher rates. If you are committed to income as some portion of your portfolio – you should not be selling bond funds at losses (this is not a blanket statement for all bond ETFs and does NOT apply for higher duration bond ETFs). Advisors stagger maturities of bonds and re-deploy these assets when the bonds come due in securities they think offer value at that time (while of course staying in-line with the clients needs).
Given that ETF transaction fees are presently or soon headed to zero, you can increasingly buy and sell sub-indexes and more directly target something other than the Barclays Aggregate index at very low cost.