Pacific Ethanol (NASDAQ:PEIX) rose from $9 to $13.67 on the two trading days following the release of the company's Q4 results. The highlights include revenue of $215.3M for Q4, up 9.3% from $197M along with a 54 cent fully diluted EPS for Q4 based on $8.3M of net income. This turn to profitability for the first time since 2011 was the largest driver of the stock price increase with the continued pay down of debt, increased production and favorable cost and price impacts to the ethanol industry also having an impact.
PEIX becoming profitable in Q4 was not a surprise to some investors. John W. Appel's article titled "Pacific Ethanol: West Coast Ethanol Margins Indicate Large Profits Starting Q4 2013" correctly predicted that the company would have a strong Q4. It was one of the best articles I have read on Seeking Alpha because of its straightforward, concise argument and immediate accurate prediction. Building on this article, my research into PEIX makes me believe that the company will far exceed the 55 cent EPS it showed for Q4 2013 for Q1 2014 and that the rest of the year will remain profitable.
I see four main drivers to continued increased profitability for PEIX going into Q1 2014:
Lower per unit costs thanks to lower corn prices.
Higher per unit revenue from a spiking ethanol price.
Higher revenue from increased production volumes.
Lower interest costs due to the payment of debt.
1. Lower per unit costs thanks to lower corn prices.
The single biggest driver in PEIX's turn back to profitability in Q4 relative to prior quarters was the sinking price of corn. As the main input to production for the company, the lower price of corn will drive improved margins. Below is a 1-year chart for the price of corn.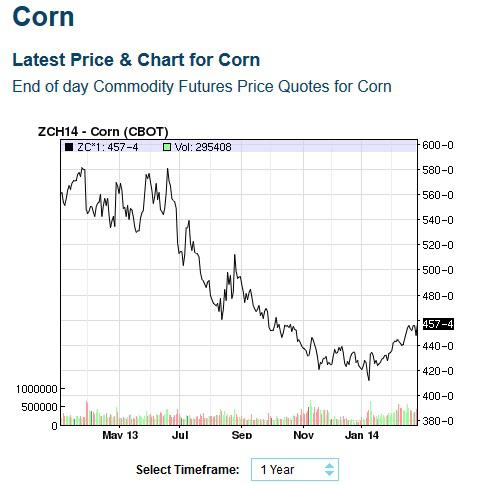 The price drop since June benefited Q4 greatly, but the low for corn was actually hit in January. Even with the slight rise in February, corn prices are still around October levels so unless March sees an unexpected spike in price, it is unlikely that corn prices will be significantly different in Q1 2014 as they were in Q4 2013. PEIX will show about the same low cost of goods sold assuming steady production in Q1 as it did in Q4.
The bigger story on PEIX's sustainability going forward is the long-term price of corn. The USDA projects the price of corn to remain steady at $4.50 per bushel for the rest of the season but projects it to be only $3.65 for the 2014-15 season and dropping to $3.30 for the year thereafter. Corn is not expected to exceed $4 a bushel again until 2022.
2. Higher per unit revenue from a spiking ethanol price.
The ethanol price dropped in a tight correlation with the lower price of corn during the latter half of last year. This would make sense as the lower input costs would stimulate higher supply and drag down prices. While corn prices have remained relatively steady early in 2014, the price of ethanol has spiked thanks to the bad weather seen across the United States which has made it difficult for transport of ethanol.
Below is a 1-year chart for the price of ethanol. While the price per gallon has headed to $2.30 on the futures market, in some areas it has spiked even higher. In the Pacific Northwest where PEIX operates the spot price has hit $2.70.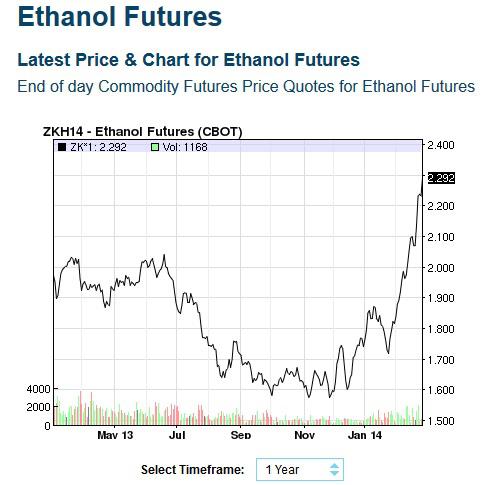 Even with the low price of ethanol in Q4, PEIX managed to pull a profit. The Average CBOT ethanol price per gallon for Q4 2013 was $1.86 which compared unfavorably to Q4 2012 rate of $2.36 and to Q3 2013's price of $2.23. PEIX's co-product revenue has risen strongly year-over-year to offset the lower ethanol price.
When including the carbon credits and corn oil production revenue, consider that revenues for Q3 2013 were $233.9M on production gallons sold of 37.1M and 104.9M total gallons sold for average net revenue of $2.23 per gallon. Q4 2013 saw 40.5M production gallons sold and 107M total gallons sold while PEIX achieved $215.3M in net sales for a $2.01 average price per gallon.
Had the company achieved $2.23 average sales price seen in Q3 on Q4 production, revenues would have been $238.6M with the additional $23.3M going directly to the bottom line. The net income for Q4 would have been $31.6M instead of $8.3M and the fully diluted EPS would have been $2.07 instead of $0.54. The impact would even be greater if I attempted to exclude the increased corn oil production revenue and used the CBOT rates of $1.86 for Q4 and $2.23 for Q3 as the baseline example.
This exercise is not to show you would could have been, but what can be for Q1. Based on these spiking prices and continued bad weather, Q1 2014 average ethanol prices have a good shot to meet or surpass Q3 2013 average prices while the price of corn remains close to its low Q4 average price. Investors have reason to believe that the EPS for Q1 2014 will be in excess of $1.
PEIX uses derivatives to lock in the price of corn and ethanol on some of its production. The impact of the spiking ethanol price may not have full impact for Q1 thanks to the lock in of lower prices from previous hedging instruments, but if the company locks in some contracts at today's higher prices for production throughout the year that will stabilize 2014 profits.
3. Higher revenue from increased production volumes.
As shown above, PEIX's production volumes were 40.5M in Q4 2013, up 17% from 34.6 in Q4 2012 and up 9.2% from 37.1M from Q3 2013 thanks to the company's increased efficiencies at its plants. While it may be challenged to increase production much further at the three operating plants, the deleveraging of the balance sheet has made it possible to restart operations at its Madera plant. Pacific Ethanol intends to restart production in Q2 2014, adding 40M gallons per year for a total annual production of 200M gallons. Depending on how long it takes to get to full operating capacity, I would expect to see production increased to nearly 50M gallons a quarter by Q4 2014.
In light of the lower corn prices for the next decade, PEIX won't be alone in increasing production capacity so one risk the company has is if ethanol prices decline thanks to a greater supply across the United States. But consider again that the company was profitable in Q4 even with ethanol prices at multi-year lows. An effective hedging strategy and premium location on the west coast should ensure that the company can remain profitable even if ethanol prices challenge Q4 lows and can become very profitable if ethanol prices continue to remain strong.
4. Lower interest costs due to the payment of debt.
Interest expense was $4.5M in Q3 2013, $3.7M in Q4 2013 and $15.7M for all of 2013. Page 12 of the Q4 2013 presentation shows that total plant debt due to third parties has declined from $74.9M from September 2013 to $67M to December 2013 and $56.7M to February 21, 2014. The steady decline in debt outstanding will further decrease interest payments with an opportunity to completely extinguish all debt outstanding by the end of the year at this pace.
While the lower debt outstanding will have an impact of only a few hundred thousand up to $1M to the bottom line for Q1 2014 versus Q4 2013, the bigger story is how much the company has managed to pay down debt thus far in Q1. With the very profitable quarter for Q4, the company paid down only $7.8M in debt. A week past half way into Q1 and the company had already generated enough free cash flow to pay down an additional $10.4M in debt. This provides more evidence that profitability and cash flows have increased to 2-4 times that of Q4 2014.
Assuming steady corn prices, steady production, a 10% increase in the average per unit net revenue realized on production (resulting in $22M extra revenue/net income) and $500K lower interest cost on debt offset by $3M to $5M higher costs thanks to a higher loss on the extinguishment of debt and more SG&A costs, I estimate that the increase in net income from Q4 to Q1 will be $18M to $20M for a total net income of $26M to $28M per share or about $1.70 EPS based on 16M shares outstanding. Assuming a 5% increase to revenue that hits the bottom line of $11M, the total estimated increase in net income would be $7M to $9M, approximately doubling Q1 2014 net income to $16M and EPS to around $1. I strongly believe that PEIX is well-positioned to achieve $1 or greater EPS per quarter for 2014. A $1 quarterly EPS would lead to a $40 stock price for PEIX using a 10 P/E ratio.
I am long on Pacific Ethanol. While PEIX is the ethanol company I am most familiar with and believe the company's location in California, Oregon and Idaho gives it a strategic advantage, much of what I have analyzed here also benefits other ethanol companies.
Disclosure: I am long PEIX. I wrote this article myself, and it expresses my own opinions. I am not receiving compensation for it (other than from Seeking Alpha). I have no business relationship with any company whose stock is mentioned in this article.