Company Overview
Hi-Crush Partners (NYSE:HCLP) is a producer and supplier of monocrystalline sand, a specialized mineral that is used as a proppant to increase rates of production from oil and natural gas wells. Drillers, primarily located within the Unites States, send the frac sand down the well will a mixture of chemicals, (fracking fluid) and water. This mixture fractures the source rock of the petroleum, releasing oil and gas for recovery. Seen extensively in the news and vilified in the 2012 Matt Damon film Promised Land, fracking has radically transformed the North American energy landscape, with oil production standing at 7.5 million barrels per day, the highest since the 1980s. With use of hydraulic fracturing expected to continue, an investment in key fracking supply chain component could prove prudent. Hi-Crush's reserves consist of "Northern White" sand, predominately found in Wisconsin. Northern White is a preferred proppant by drillers due to its favorable physical profile.
Hi-Crush Partners produces and supplies a range of frac sand sizes for use in all major U.S. shale basins and is one of the few Northern White sand producers with direct rail links to its facilities. This represents a key cost advantage above competitors. Substantially all of frac sand production is "sold to leading investment grade-rated pressure pumping service providers under long-term, take-or-pay contracts that require [Hi-Crush's] customers to pay a specified price for a specified volume of frac sand each month."
Hi-Crush's business operations include several activities along the production and distribution of frac sand. Obviously, frac sand production and sales are the focus of the company. Hi-Crush sells to subsidiaries of the premier North American oilfield services companies, on both a "long-term contract and spot price basis." The second, transload customer services, involves the handling and management of frac sand once it reaches the destination terminal. Hi-Crush offers terminal and storage services which maintain frac sand quality before use by a driller. Control services are also provided with corrective action procedures, sampling of silo bound materials and inventory management. Because of the direct rail links that Hi-Crush maintains, the company manages customers' railcars located at destination terminals. Because of Hi-Crush's transportation network, they can help clients avoid fees associated with their party handling.
MLP Status
MLP stands for master limited partnership. It is a limited partnership that is publicly traded on the New York Stock Exchange. MLPs are limited by law to apply to enterprises that engage in certain businesses, mostly pertaining to the use of natural resources, such as extraction and transportation. MLPs offer tax advantages to investors because of its structure. As a partnership, an MLP such as Hi-Crush does not have to pay taxes as a corporation; rather earnings are passed directly through to the investor to report as passive income. By avoiding an entire level of taxation, MLPs help to increase after-tax earnings of income oriented investors. With a 5.2% yield and without the danger of tax implications on a corporate level, High-Crush could make a fine addition to an income generating portfolio.
Finances
Due to sound market position, Hi-Crush has experienced explosive growth since its inception in 2010. The past 3 years have been incredible, with solid growth due to increased sales and increasing prices for frac sand.

Click to enlarge
(click to enlarge)
The management at Hi-Crush has a good track record with both use of assets, shareholder resources, and cost control. Even with continuing growth and cash distributions, Hi-Crush is a great performer. If an investor is looking for an indirect way to play the North American energy boom, HCLP is the way to go.

Click to enlarge
(click to enlarge)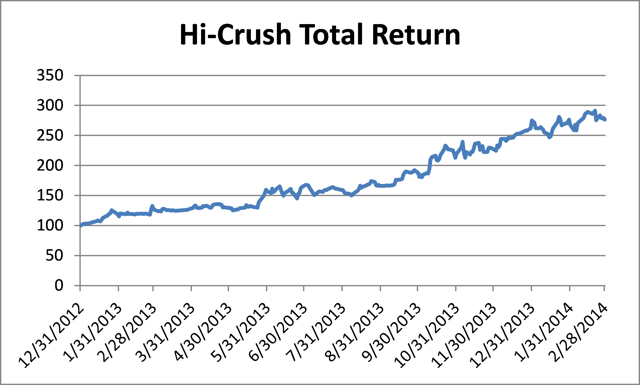 Click to enlarge

Disclosure: I have no positions in any stocks mentioned, and no plans to initiate any positions within the next 72 hours. I wrote this article myself, and it expresses my own opinions. I am not receiving compensation for it (other than from Seeking Alpha). I have no business relationship with any company whose stock is mentioned in this article.