Before I go into my selections of high-yielding, equity-based Closed-End funds (CEFs), I'd like to once again explain why valuations are so important when evaluating CEFs, second only to a fund's Net Asset Value (NAV) total return performance.
One of the great advantages of CEFs is that they are the only security class in the markets that have a built-in valuation that tells you right away whether you are paying too much or too little for a fund. I find it ironic that analysts and investors will debate endlessly whether a stock or a stock market is overvalued or not. Yet, here are securities that tell you right away whether a fund is overpriced or underpriced, and yet, most go completely ignored.
Why would you not take advantage of this? You should because the vast majority of investors in CEFs either don't care or aren't even aware that CEFs trade at premium or discount valuations. Many just think they are buying an ETF with no other valuation measure other than the market price. Now these valuations may not seem so critical in day-to-day trading of these funds, but over time, and particularly with funds whose NAV performance is going the opposite direction of its valuation, there is an invisible hand that will gently push a fund's market price back in the direction of its NAV. Most investors will never notice this, but when you are dealing in tens of thousands of shares of a fund, like I do, it can make a big difference over time. But even looking beyond a fund's NAV performance, there are still reasons why a discount or premium valuation is important to analyzing CEFs.
One of the most important reasons is that your true financial interest in a CEF is not the market price of the fund, it's the NAV. Again, this may not seem so important in the day-to-day trading of the fund, when the market price is the only relevant yardstick you can use, but when things get rough or if the markets start to unwind, isn't it nice to know that in a worst-case scenario, if a fund sponsor had to unlock the assets of the fund for whatever reason, your financial interest would be represented by the NAV and not the market price?
Reason enough, I suppose, but how about something that investors can latch onto that is relevant in today's market? Okay, how about this? When you buy a CEF at a discount, you receive a windfall yield over and above what the fund is actually paying. In other words, the NAV yield of a fund is the actual yield the fund is paying, since the fund's distribution is derived from the NAV. So, when you buy a fund at a discount, you receive a higher yield than what the fund is actually paying, which is a major advantage over time. The higher the discount, the higher the windfall yield. And for CEFs at a premium, just the opposite is true. Again, these are subtle differences that, over time and tens of thousands of shares, can add up to significant performance differences.
So, for those of you who ignore CEF valuations, just remember what you are ceding in yield when you buy a fund at a premium, or what your downside exposure really is if the markets suddenly head south. And for those who think that funds that trade at high premiums are somehow deserving and are better than funds that trade at wide discounts, I've got news for you. Usually, it's just the opposite.
A Gabelli Fund To Sell And One To Buy
One of my favorite CEF fund families is Gabelli, or GAMCO (NYSE:GBL), because most all of their funds are pure equity and use leverage to bump up performance. What this means is that the Gabelli CEFs are some of the best funds to own in a strong up market, as their appreciation potential and high yields can combine for significant outperformance of their benchmarks during a bull market environment.
Gabelli's flagship fund, the Gabelli Equity Trust (NYSE:GAB) - $7.99 market price, $7.22 NAV, 10.7% premium, 7.5% market yield - has been a top performer during this bull market run, but its popularity has also contributed to its current market price premium of 10.7% over its NAV, the highest it's been in years. This is shown in the following Premium/Discount graph of GAB over the past 3 years.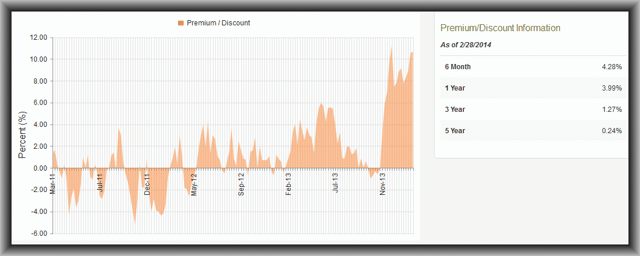 Certainly, a strong 2013 in which the fund showed a 39.6% total return on its NAV as well as a distribution increase for 2014 has contributed to its popularity, as reflected by its even better 50% total return market price performance last year, far outperforming its S&P 500 benchmark. But there is one problem with GAB's overvaluation now - we're not in 2013 anymore.
GAB's leveraged US stock portfolio can be a boon during bull markets, but can also work against the fund if the markets turn more defensive. So far in 2014, GAB's total return NAV performance is underperforming its S&P 500 benchmark, up 0.3% vs. 0.9% for the S&P 500, as represented by the SPDR S&P 500 Trust (NYSEARCA:SPY). Hardly anything to worry about so far, but investors are obviously expecting another strong NAV performance in 2014, and they may also be assuming that GAB has actually increased its market yield for 2014 based on a distribution increase declared in December.
However, this is incorrect. A year ago, GAB's market yield was 9.1%, based on a $6.19 market price on 2/28/2013 and a $0.14/share quarterly distribution. GAMCO may have increased GAB's distribution to $0.15/share for 2014, but its market price has more than taken that into account and now represents only a 7.5% market yield, much lower than a year ago. By the way, some investors may confuse GAB's market yield by annualizing based on the $0.20/share shown on CEF Connect. This would be in error too, as GAB's 10% NAV distribution policy only makes up in the 4th quarter what its performance has been for that year.
In any event, I believe the risk/reward for the Gabelli Equity Trust Fund is the worst I have seen in years and investors are taking a big gamble that the markets are going to repeat in 2014 what they did in 2013. With a uber-high premium valuation and a relatively lower market yield than what many investors may be thinking, GAB makes a good swap for another Gabelli fund that has had even better NAV performance over the years, and yet, trades at a much lower valuation.
The Gabelli Healthcare & WellnessRx Fund (NYSE:GRX) - $10.45 market price, $11.65 NAV, -10.3% discount, 4.6% market yield - is another leveraged, mostly US-stock based CEF that I have endorsed many times over the past couple years. GRX is a much smaller fund at only $200 million in total assets, whereas GAB is 8X larger at $1.6 billion. Indeed, GRX was a spin-off of GAB back in mid-2007 to existing GAB shareholders, and went public at $8. You can read the terms of the spin-off dated June 7, 2007 here. So, GAB and GRX are in many ways tied at the hip despite their valuation difference.
And what a difference that is. Compared to GAB's 10.7% premium valuation, GRX is on the other end of the scale at a -10.3% discount. That's a 21% valuation difference between funds that are from the same fund family and use a similar leveraged strategy. Obviously, GRX is more healthcare-stock weighted, but its benchmark indices would actually be about 50/50 in healthcare and in consumer staples stocks. In other words, GRX's consumer stock portion of its portfolio is geared more towards the nutritional and wellness trend of an aging America. Both healthcare and consumer stocks have been two of the strongest sectors in the market over the past several years, and that is reflected in GRX's superior NAV performance.
At the top of this article, I stressed that valuation is second only to a fund's total return NAV performance in evaluating CEFs. So, let's take a look at GRX's NAV total return compared to GAB's. Remember, total return includes a fund's distribution. So, whether a fund offers a 10% market yield or a 5% market yield, it doesn't matter. What matters is total return.
Here is a side-by-side table showing the quarterly NAV performance of both funds since GRX was spun off from GAB on June 19, 2007, not long before the financial crisis began. All distributions are added back (i.e., not reinvested) to give you a running total return NAV performance by quarter up until February 28, 2014. Note: Green represents up quarters for the overall market, while red represents down quarters.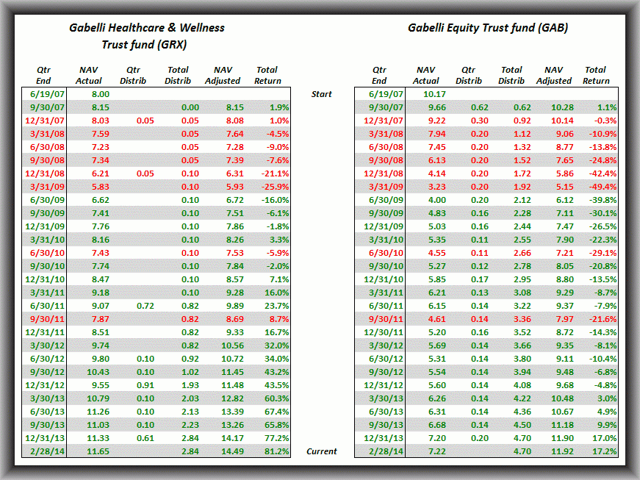 Here you can see that GRX's NAV total return performance has trounced that of GAB's since the spin-off, 81.2% vs. 17.2%. And yet, it's GRX that trades at a -10.3% discount vs. a 10.6% premium for GAB. For comparison, SPY was up 33.1% over the same time period, including all SPY dividends.
What's even more amazing is that GRX had a rights offering last summer that pushed the fund's total assets to about $200 million from $160 million, even though the rights offering served to dilute the NAV because it was priced at $9, well below the NAV at the time. No matter, it hasn't slowed down GRX's NAV one bit, and was actually an incredible offer to existing shareholders at the time. If I included the value of the rights offering in the table above, it would have bumped GRX's distribution another $0.7548/share, and GRX's total return performance since inception would be north of 90%. Not bad, considering GRX's inception was just before the financial crisis hit in 2008. You can see GRX's total annual distributions in this table, GRX Yearly Distributions, from Gabelli's website.
The bottom line is that GRX's NAV total return performance is virtually unmatched by any other equity CEF since it went public as a spin-off from GAB. Some funds have had better NAV performances more recently, including the H&Q Healthcare Investors Fund (NYSE:HQH) and the H&Q Life Sciences Investors Fund (NYSE:HQL), two other healthcare-related CEFs that include private equity, but they also trade at much higher valuations than GRX.
So, why does GRX continue to trade at such a low valuation, as shown in its 3-year Premium/Discount chart below?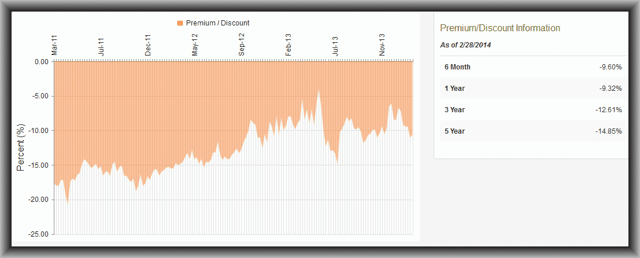 Good question. Certainly, GRX's valuation is improving from earlier years, when it offered a very modest distribution and yield, but now GRX's distribution is rising at a faster clip than any other Gabelli CEF, up 20% this year from $0.10/share per quarter in 2013 to $0.12/share for 2014. You can see GRX's distribution history in the table above, which also includes large capital gains distributions as well. Those large capital gains distributions may spur Gabelli to try and spread out GRX's payments even more in the future. Can you imagine what GRX's valuation might jump to if it offered even close to the NAV yield of GAB?
GRX will have its first $0.12/share distribution when it goes ex-dividend with the rest of the Gabelli funds on 3/13/2014. Based on GRX's current $10.45 market price, that puts GRX's current market yield at 4.6%. Very modest compared to many CEFs, including GAB's 7.5% market yield, but throw in that appreciation potential and I believe GRX offers one of the best risk/rewards of any CEF.
This is not to say I don't like GAB when it trades at a reasonable valuation, since it is actually a more "risk-on" fund than GRX due mostly to its higher use of leverage, but for a market that may face more uncertainty in 2014 than the ramp-up bull market we've seen over the last few years, I would feel much more comfortable in a leveraged fund like GRX at a -10.3% discount, which has proven its worth in all market environments, than GAB at a 10.7% premium.
Conclusion
Because of the length of this article, I'll come back with another comparison of funds from another fund family that I have written about extensively, including one fund that could be on the verge of a major distribution increase in March.
Disclosure: I am long GRX, HQH, HQL, SPY. I wrote this article myself, and it expresses my own opinions. I am not receiving compensation for it (other than from Seeking Alpha). I have no business relationship with any company whose stock is mentioned in this article.
Additional disclosure: Short GAB