More investors are showing signs of nerves about the debt crisis in Europe, and it had the net effect of a broad sell-off in the markets on Thursday. The end result was that the major indexes closed below their long-term trend lines (200-day moving average), and it's a signal you might want to pay attention to.
With Thursday's decline, the S&P 500 and the Nasdaq are now more than 12% off their highs reached last month. Analysts consider drops of more than 10% to be corrections in the market. Here's a one-year chart of the S&P 500 with Thursday's move:
click to enlarge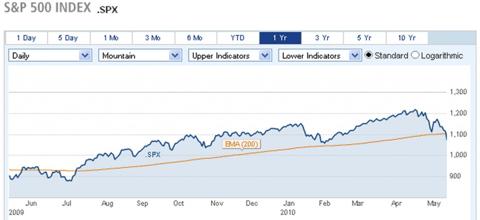 With today's move, the S&P has declined 2.8% below its 200-day moving average. This is a pivotal move for trend following strategists.
Many follow the theory that when the S&P 500 is above its 200-day it's a buy signal, and when it's below, it's considered a sell signal.
It's our major indicator – we believe in the strategy and we use it for our clients.
In our daily stories, we often include charts of the ETFs that we're discussing and always include the current 200-day average in the chart. We post those charts because the 200-day is an important signifier of individual positions and, in the case of the S&P 500, of the broader market.
Now is a good time to look at your portfolio and see which positions you're holding that may be below their long-term trend lines. Although this recent correction may feel troubling, the next uptrend may be right around the corner. In the meantime, consider the 200-day moving average as a comfortable exit strategy to protect your portfolio from further losses.
Since ETFs represent so many different asset classes, there are ETFs that have recently moved above their 200-day moving averages. Consider using ETF Trends' ETF Analyzer to hone in on potential buying opportunities. [How to Follow Trends.]