1 - Introduction.
I own British Petroleum Plc. (NYSE:BP) for over a decade and I even bought more when the Macondo incident happened (Deepwater Horizon oil spill). I remember exactly the day when I bought BP at under $30, and how happy I was able to add at these low levels.
This is a very well-managed and one of the largest oil and gas company. The stock belongs to any value investor portfolio without a shadow of a doubt, and I will not go against this fact in my article.
My concern now, is that this company has reach an expensive valuation by the street and a quick look at the stock price will show why. Technical analysis red signals are flashing an over-bought situation, and predicting a risk of a sudden reversal. I will try to explain it the best I can here, and what the value investor should do to turn this situation to his/her advantage?
Again, from a value investor's perspective who are "long" the company, it is not really a concern and they will hold their BP shares, enjoying a good and secure dividend. But is it reasonable to stay idle?
My answer is NO, and It is important to think about a trading strategy that can maximize your gain (Or reducing your potential loss based on the recent market valuation.), by taking some profit on an obvious excess valuation given to BP by this ever emotional street market. A rapid look at the 3 years chart is important to understand what I mean.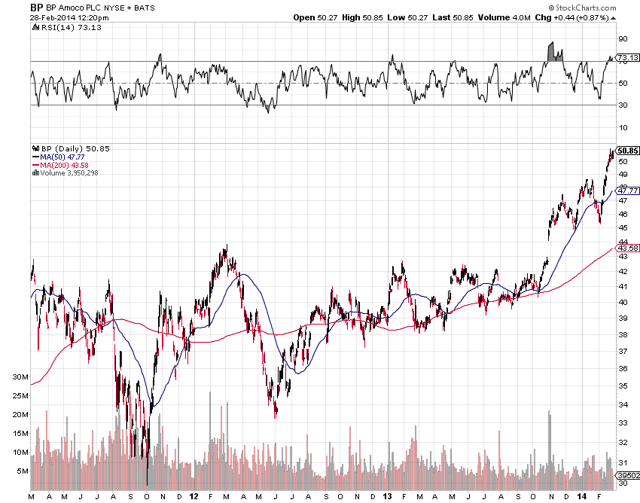 Click to enlarge
2 - British Petroleum Plc. Presentation.
British Petroleum is one of the leading international oil and gas companies. The company not only explores, drills and produces oil and gas in over 80 different countries, but also focuses, manufactures and distributes fuels, lubricants and petrochemicals. A perfect omnipotent company with a wide oil business spectrum. (Click here to reach BP home page.)
British Petroleum business.
| | |
| --- | --- |
| Countries of operation | More than 80 |
| Number of employees | 85,900 |
| Sales and other operating revenues $ billion | 375.8 |
| Cash flow in $ billion | 20.5 |
| Replacement cost profit in $ billion | 11.4 |
| Proved reserves in billion barrels | 17 |
| Refineries owned (wholly or in part) | 15 |
| Retail sites | 20,700 |
| Refining throughput in million barrels per day | 2.354 |
These numbers taken from the home site are telling you how big this company is now.
3 - Some important positive issues.
1. British Petroleum is paying a very good dividend which is now at 2.28 per share a year or 4.58% per annum based on the close Friday at 50.61. A dividend paid very consistently, except for 3 quarters in 2010 where the company suspended the dividends after the "Macondo incident". Since the 4Q 2010 until December 2013 the dividends increased 35.7% from 0.42/Quarter in end of 2010 to now 0.58/Quarter. As you can see, the dividend yield is now averaging over 4% for the past 2 years or so. Dividends are still down 30% compare to the dividends served before the "Macondo incident".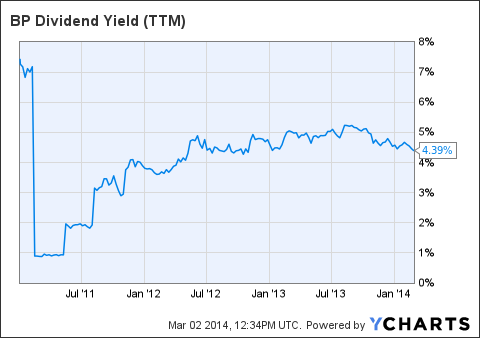 BP Dividend Yield data by YCharts
2. Capital expenditure for British Petroleum is increasing, year to year, and now is at $24.52 billion, up roughly 7% from the precedent year. This is a good healthy sign that will translate to even better earnings by increasing production down the road. Some recent positive developments are:
BP investment in the Gulfof Mexico, BP Plc. begins new oil production in the Gulfof Mexico. , in Alaska by hiking to 25% its investment there, and in Africa (Mozambique, South Africa and Angola.) Azerbaijan, Oman etc.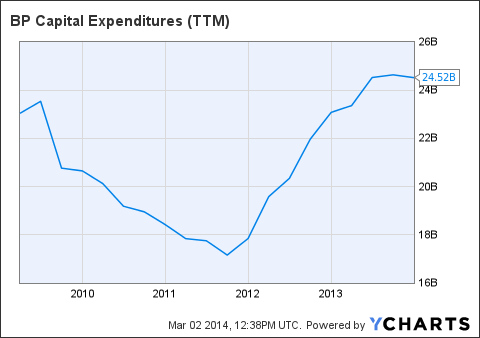 BP Capital Expenditures data by YCharts
3. British Petroleum has recorded positive earnings coupled with an increase in operating cash flows for the past 2 years. Meanwhile, BP paid over $42.7 billion in damage for the "Macondo incident" (will talk about that more in detail later.).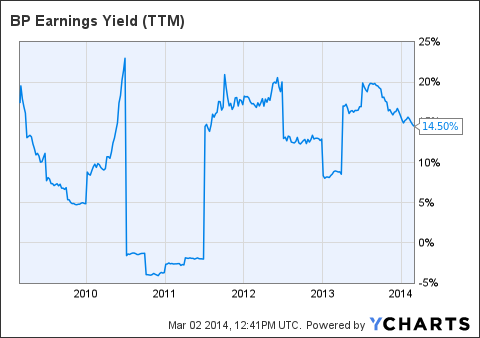 BP plc Earnings Yield data by YChart
4. A low P/E ration with increasing book value.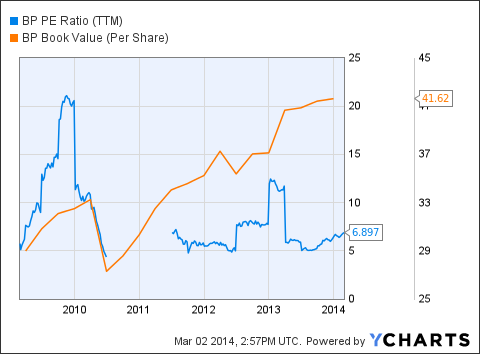 BP PE Ratio (TTM) data by YCharts
4. Some important negative issues.
1. The "Macondo incident" and its elusive cost put some pressure when valuation starts to increase exponentially, which is the case of BP Plc. now. BP has set aside recently another $200 million to deal with "Macondo incident" bringing the total cost to $42.7 billion. This cost increase is not over unfortunately until the New Orleans District Judge assigned to the case will decide whether BP was grossly negligent or not. Depending on the Court decision, BP Plc. is facing a fine up to $17.6 billion in penalties. This problem reminds us all that accident of this level happens and cannot be avoided forever. This simple remark should always be an important element in managing your own portfolio and check the risk/profit ratio.
2. BP Plc. has seen his production going down recently because the company needed to shore-up its balance sheet by selling many assets or a total so far of $38 billion.(Now completed.)
These divestment reduced earnings for the Q4 2013 by 28% or $2.8 billion, and eliminated about 150K barrel of oil per day in production. This explain in part why BP Plc. is increasing capex now. Although quarterly EBITDA and cash from operation keep up a good pace.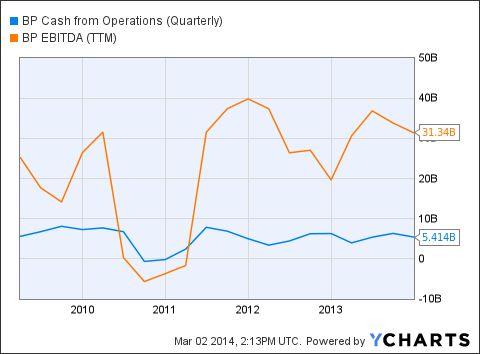 BP Cash from Operations (Quarterly) data by YCharts
3. Profits fell Year to Year. In 2013 they were at $13.4 billion compared with $17.1 billion in 2012 or about 12% down, and correcting recently.
4. A clear over-bought situation for the stock price indicating a possible correction to the 50 moving average.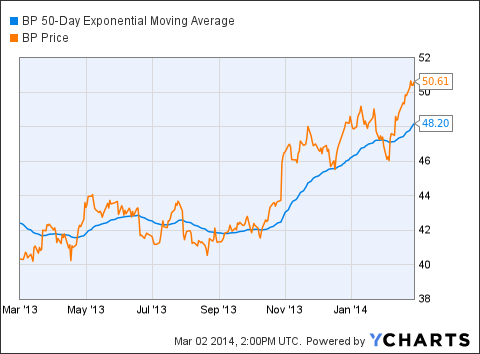 BP 50-Day Exponential Moving Average data by YCharts
5 - Conclusion.
I will try a simple approach here. I believe BP Plc. is an excellent company that should belong to any well-balanced portfolio, no doubt about that. I own BP for many years and enjoyed good dividends along with a tremendous stock appreciation. Although I am bullish for the next 5 to 10 years it is important to signal a over-bought situation and see what a savvy investor should do about that?
This over-bought situation amplify somewhat the Gulfproblem and its long-term impact to production and revenue.
I am a trader/investor and if you look at the RSI which is now at 73.13 for a stock price at 50.85 closing at 50.62 on 07/28/2014 it is obvious that the stock price is trading too high, and will correct at least in the $47 area or even a bit less, in my opinion?
It may have some "legs" and push to $52 or more before retracing?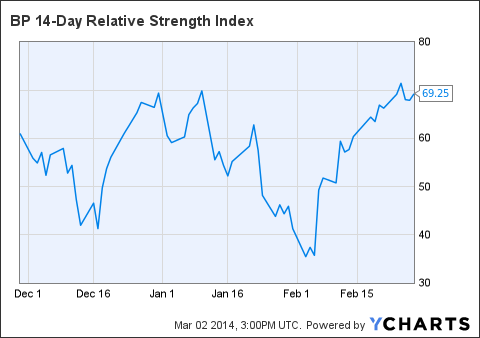 BP 14-Day Relative Strength Index data by YCharts
I would not be short BP Plc. now although it is tempting as a hedge against any possible oil correction (options). The oil sector enjoyed a healthy level for many months now and support a strong valuation for BP going forward. Look at the Brent crude oil 2 year chart: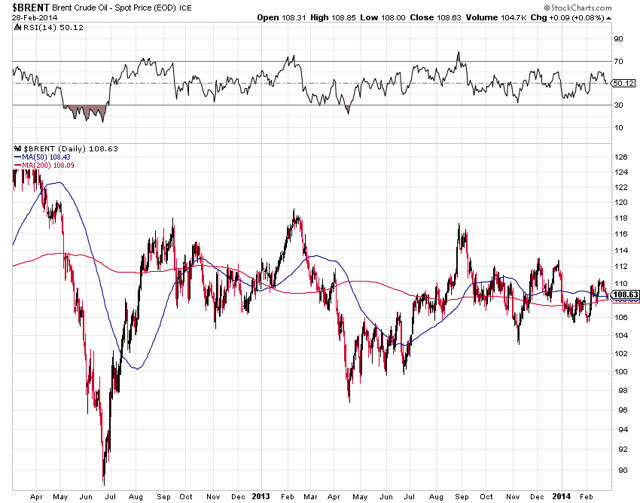 Click to enlarge
I would cut my holding and I did at above $50.80 and will keep selling at $51 or more. Maybe a total of 25% to keep in cash until the stock price will find a better valuation. I maintain a hold to reduce rating now.
Disclosure: I am long BP. I wrote this article myself, and it expresses my own opinions. I am not receiving compensation for it (other than from Seeking Alpha). I have no business relationship with any company whose stock is mentioned in this article.