Executive summary:
Galena Biopharma has stated in multiple SEC filings that its experimental breast cancer vaccine NeuVax received a Special Protocol Assessment, or SPA, from the FDA based on a successful Phase 2 trial.

In reality, NeuVax failed to meet its primary endpoint in a Phase 2 trial, and the SPA could therefore not have been granted based on this criterion.
Galena repeatedly misrepresents a post-hoc analysis as a fully-fledged Phase 2 trial in numerous SEC filings, but oddly reverts to the appropriate scientific vernacular in some filings.
Critical information regarding NeuVax's statistical analysis changes over time, or is withheld from the record altogether, casting doubt on its authenticity.
In sum, Galena has a well-documented history of inconsistent reporting of statistics, material facts, and misrepresenting clinical trial results to investors and patients alike.
In this article, I will use a series of axioms to prove a single point:
Galena Biopharma (NASDAQ:GALE) has materially misled investors and potential clinical trial participants about its experimental breast cancer vaccine, NeuVax.
The evidence
Results of the combined Phase 1/2 study for NeuVax: "The 24-month landmark analysis for disease free survival, or DFS (primary endpoint), was 94.3% in the vaccinated group and 86.8% in the control group (P = .08)."
Results of the combined Phase 1/2 study at 24 months for what Galena/Apthera deem the Intent-to-Treat population: "p = 0.11."
Neither result is significant, based on the widely accepted p ≤ 0.05 criteria established by Sir Ronald Fisher.
Conclusion: The Phase 2 trial failed to meet its primary endpoint of improving DFS.
Galena's claims to the contrary
Galena claims in numerous press releases, SEC filings, and investor presentations that its Special Protocol Assessment, or SPA, with the FDA for NeuVax's ongoing Phase 3 trial was reached because the vaccine's Phase 2 trial was successful (see below).
Galena's claims are not consistent with the drug's history during development.
I was unable to find a single press release from Apthera, which originally owned the rights to NeuVax, stating that NeuVax's SPA was based on a successful Phase 2 study.
By contrast, Apthera's standard press release stated the following:
"Apthera, Inc. announced that it reached an agreement with the U.S. Food and Drug Administration (FDA) under a Special Protocol Assessment (SPA) for its planned Phase III clinical trial of the Company's lead drug, NeuVax. The SPA is a written agreement between the trial's sponsor and the FDA regarding the design, endpoints, and planned statistical analysis of the Phase III trial to be used in support of a Biologics License Application (BLA)."
Nowhere in the press release does it state that the SPA was granted on the basis of a positive Phase 2 result.
By contrast, this claim does not appear in the public record until Galena acquired Apthera, evinced by this initial press release from Galena here.
Turning back to the historical record, here is what Apthera specifically said about NeuVax during its clinical development.
"NeuVax is a HER2/neu peptide-based T-cell immunotherapy aimed at preventing disease recurrence and prolonging survival in cancer patients that have tumors expressing the HER2/neu oncoprotein. To date, clinical study results have demonstrated that NeuVax significantly reduces the rate of cancer recurrence while showing minimal side effects."
It's key to note that Apthera does not use "Phase 1 or 2 results," rather "clinical study results" in its description of NeuVax's progress. Apthera's description is scientifically accurate, although a bit vague.
A look at the record thus shows that Galena changes "clinical study results" to "Phase 2 results," and often misleadingly uses the word "successful" after acquiring NeuVax.
To illustrate my point, let's take a look at Galena's SEC filings regarding NeuVax.
Q3 2013 10-Q: "Based on a successful Phase 2 trial, which achieved its primary endpoint of DFS,"
No mention of "sub-group," "sub-population," or "exploratory analysis" is made.
Results are thus presented as if they are for the full trial that failed.
Q2 2013 10-Q: "Based on a successful Phase 2 trial, which achieved its primary endpoint of disease-free survival (DFS),"
No mention of "sub-group," "sub-population," or "exploratory analysis" is made.
Results are thus presented as if they are for the full trial that failed.
Q1 2013 10-Q: "Based on Phase 2 results, the U.S. Food and Drug Administration (FDA) granted NeuVax a Special Protocol Assessment for a Phase 3 study which began in 2012."
No mention of "sub-group," "sub-population," or "exploratory analysis" is made.
Results are thus presented as if they are for the full trial that failed.
The word "successful" is notably dropped in this filing.
2013 10-K: "Based on a successful Phase 2 trial"
Claims statistical significance at the 60-month landmark analysis for patients that were "optimally dosed." No p-value is provided or sample size info.
No data are presented that enables this result to be independently verified.
New p-values for the sub-group analysis do not correspond to those presented in the 2012 10-K.
New p-value is 10% lower.
Does not specifically state that the Phase 2 trial failed; only provides a p-value on a graph that is never mentioned in the filing's explanation to investors.
Q3 2012 10-Q: "Based on a successful Phase 2 trial, which achieved its primary endpoint of disease free survival "
No mention of "sub-group," "sub-population," or "exploratory analysis" is made.
Results are thus presented as if they are for the full trial that failed.
Q2 2012 10-Q: "Based on a successful Phase 2 trial reported at the American Society of Clinical Oncology (ASCO), which achieved its primary endpoint of disease free survival "
If we look up the data reported at ASCO 2012, here is what we find:
Galena Biopharma's 2012 ASCO Presentation

Abstract:

Background: We have completed accrual and are in the follow up portion of phase I/II clinical trials evaluating the E75 HER2 peptide vaccine. E75 has been proven safe, capable of stimulating HER2 immunity, and effective in decreasing breast cancer recurrence rates. During the conduct of this trial, it was noted that E75-specific immunity waned after the Primary Vaccine Series (PVS) which corresponded with late recurrences. To maintain long-term immunity, a voluntary booster program was started. Here we present analysis of the booster inoculations. Methods: The trial enrolled node-positive or high-risk, node-negative breast cancer patients (pts) with tumors expressing any level of HER2 (IHC 1-3+). HLA-A2/A3+ pts comprised the vaccine group (VG), HLA-A2/A3- pts were followed as the control group (CG). The VG received 4-6 monthly inoculations of E75+GM-CSF. Volunteer booster program pts (BG) received inoculations every 6 months after the PVS. Pts were monitored for toxicities, in vivo responses by local reactions (LR) and DTH, and in vitro responses measured by enumeration of E75 specific cytotoxic T lymphocytes. Results: 53 pts received at least 1 booster, 34 received 2, 24 three, 20 four, 12 five, and 8 at least 6. 24% of pts had no local toxicity, 73% Grade 1 (G1), 3% G2. 74% had no systemic toxicity, 35% G1, 1% G2. LRs increased significantly from the initial vaccine (R1) during PVS to each booster (B) (R1: 59.5±3.1 v B1: 89.2±3.3, p<0.001; v B2: 95.15±5, p<0.001; v B3: 86.63±5.5, p<0.001; v B4: 83.26±4.6, p=<0.001; v B5: 80.67±6.7, p=0.006; v B6: 78.75±9.4, p=0.04). Dimer values increased from the end of PVS to each post-booster value (pre B1:1.29±0.25 v post B1: 1.46±0.38; post B2: 1.41±0.4; post B3: 1.84±0.35; post B4: 2.23±0.4; post B5:1.94±0.31; post B6: 2.73±0.09, p=0.02). At median 60 months, the recurrence rate for BG was 3.8% vs 18.9% in the CG (p=0.01). Conclusions: Booster inoculations are well-tolerated and appear to assist in the maintenance of long term peptide-specific immunity. Boosted pts have improved recurrence rates. Based on the success of this program, we have incorporated the practice of booster inoculations in our current cancer vaccine trials.
This Abstract refers to the follow-up booster program for NeuVax, not the Phase 2 trial results.
No mention of "sub-group," "sub-population," or "exploratory analysis" is made.
Results are thus based on an entirely inappropriate study, misleading investors into believing the Phase 2 results were significant, when they are actually referring to a booster study that was significant.
Q1 2012 10-Q: "Our lead product candidate, NeuVax ™ (E75), targets the HER2 tumor associated antigen peptide and is being developed to prevent or delay breast cancer recurrence in a Phase 3 clinical trial under a US FDA approved SPA (Special Protocol Assessment)"
No claims as to "successful Phase 2 results."
This language is scientifically valid, as it does not make claims unsupported by the actual data.
2012 10-K: "Based on a previous Phase 2 trial of NeuVax that achieved its primary endpoint of disease-free survival"
Mentions entire Phase 2 analysis later, but fails to note the result is non-significant.
No mention of "sub-group," "sub-population," or "exploratory analysis" is made.
Key takeaways
Galena has stated multiple times in various SEC filings that the Phase 2 results were significant and the SPA was granted based on this result. Apthera makes no such claim, to my knowledge. Oddly enough, Galena also fails to consistently make this claim, instead using more appropriate language to describe the basis for NeuVax's clinical and regulatory progress in some filings but not others. Why the language changes over time is an open question, and management provided the author with no answers.
Galena failed in many SEC filings to clearly state that its efficacy claims for NeuVax are based on a post-hoc analysis, using language that could lead a reasonable person to think it was based on the entire Phase 2 trial. This was shown by the lack of any descriptors in the filings, such as "sub-group," "sub-population," or "exploratory analysis." The company thus fails to follow the example of its own peer-reviewed studies that demarcate the Phase 2 results from the sub-group analyses. And the company further ventured away from the scientific record by stating that the Phase 2 trial was "successful." To be clear, the peer-reviewed articles on this matter use softer terms like "suggests" and "warrants further study."
The significance level for Galena's key sub-group analysis also appears to age in a manner similar to fine wine, in that it gets better with the passage of time.
Conclusions
Galena's use of "Phase 2" instead of "post-hoc analysis" is scientifically misleading. A post-hoc analysis, such as this one, is meant for exploratory purposes only. It was neither powered nor designed to examine efficacy. As a result, it cannot be used to infer efficacy in the strictest sense, and was not used this way in the published scientific record. Galena's own published scientific work addresses this issue directly by stating,
"We performed subgroup analyses to determine whether there were specific factors that could identify patients more likely to benefit from vaccination."

(Source)
The published scientific record thus makes no claims that the Phase 2 trial was "successful" based on a post-hoc analysis, or that a post-hoc analysis infers efficacy. The point of these analyses was to identify patients that may benefit from the vaccine, and therefore, should be targeted in another study.
For non-scientific readers, it's important to understand that post-hoc sub-group analyses are used to generate hypotheses, not test them. They are a scientifically valid means to inform researchers about the next step to take in an investigation. However, these results have been misrepresented in Galena's SEC filings as speaking to efficacy (i.e., meeting primary endpoint). Such an analysis cannot, by its nature, examine efficacy because it was not based on an a priori hypothesis, rather it was an a posteriori analysis.
By definition then, this post-hoc analysis cannot show that NeuVax met its primary endpoint. This post-hoc analysis simply suggests that further study is warranted because a sub-population may benefit from the vaccine. Galena is currently marketing NeuVax as if a sub-population did benefit in the Phase 2 study, which is wording that is avoided altogether in the published scientific record.
To hammer this point home, here is what is stated on neuvax.com:
"Based on a successful Phase 2 trial, which achieved its primary endpoint of disease free survival, the Food and Drug Administration (FDA) granted NeuVax a Special Protocol Assessment for its Phase 3 PRESENT (Prevention of Recurrence in Early-Stage, Node-Positive Breast Cancer with Low to Intermediate HER2Expression with NeuVax Treatment) study."
For investors lacking a statistical background, you need to understand that this sub-group analysis could be nothing more than a spurious correlation. Remember, correlation is NOT causation. And the fact that this analysis contained a mere 18 of the vaccinated patients, or less than 17% of patients in the trial that received the vaccine, greatly increases the risk that this marginally significant correlation is indeed due to random chance.
Phase 2 clinical trials are the scientific vehicle used to test a priori hypotheses regarding initial signals of safety and efficacy. NeuVax demonstrably failed this test in terms of its pre-defined primary efficacy endpoint. Any claims otherwise are misleading and fall out of the realm of currently accepted ideas about experimental design, statistical analysis, and hypothesis testing.
What's key to understand is that a Phase 2 trial is a controlled experiment designed to minimize the chances of a spurious association between two variables, such as recurrence rate and being treated with NeuVax. And then, even under the best of experimental conditions, statistical corrections are often applied to lessen the chances of a false positive. Galena's post-hoc test, that is being used to convince investors and potential clinical trial subjects of its efficacy, fails on all of these fronts.
While a posteriori hypothesis testing analyses do exist, investors need to understand the following. Such models are controversial in nature and are rarely, if ever, used for regulatory filings with the FDA. Secondly, these models are rooted in complex simulation analyses that are wholly absent from Galena's statistical treatments of the data. Driving this point home, they are typically reserved for special situations where an a priori test, the preferred method, is difficult or frankly impossible to achieve. As such, there is no logical or scientific basis for Galena, even in the unconventional sense, to claim that NeuVax's Phase 2 trial was "successful."
Bottom line: Galena has failed to label its post-hoc analysis as such in its SEC filings, and inappropriately claims that the Phase 2 study in question was "significant" in the conventional scientific use of the term. NeuVax's former owner and developer, Apthera, made no such claims, to my knowledge, and the published scientific record on the matter also fails to support Galena's assertion. The dubious wording in question is found solely in Galena's press releases, SEC filings, and investor presentations. Investors lacking a scientific background could, therefore, have gained a false impression of the vaccine's clinical trial history, as well as the weight of the evidence used to gain an SPA from the FDA.
The change in p-value over time is also bewildering, especially given that Galena now claims that the 60-month landmark analysis is significant, without offering specifics. How or why the p-value improves in the company's favor by 10% is, at a minimum, an example of poor record-keeping, calling the integrity of the entire dataset into question. At worst, it could indicate that the 60-month landmark analysis is, in fact, not significant, despite Galena's claims to the contrary. Again, I was unable to get a response from the company to shed light on this mystery.
Postscript
Because of the serious nature of the issues discussed here, I felt compelled to contact Galena prior to publishing this piece and hear its side of the story. Perhaps this is all an innocent mistake, or a mistake on this author's part. However, its choice to remain silent is mysterious, to say the least. If my research was erroneous in some way, or I misunderstood the matter entirely, I wanted the company to have the chance to correct my view beforehand. I am human and fully capable of error, after all. Without a response, I can only assume that these disconcerting findings are indeed correct.
In light of the stock promotion scandal that broke recently and the evidence of misleading SEC filings presented here, an ugly truth is bubbling to the surface. In short, Galena appears to have purposely overstated its case regarding NeuVax to order increase the company's share price, and employed dubious promotional groups to aid in this effort - all the while selling millions of dollars' worth of shares to unsuspecting investors to enrich management.
What's particularly notable is that Galena's recent monstrous run had no material catalyst (see figure below). As I mentioned previously, the acquisition and commercial launch of Abstral did nothing to move the stock. And nothing else occurred in the September to November timeframe, when the stock began to shoot up. Simply put, there isn't a single catalyst one can point to that would or should cause a 400%-plus rise in share price over a few short months.
Viewed this way, one has to wonder if the promotional efforts by DreamTeam, coupled to the change in wording were the underlying causes. Although it's impossible to prove beyond a reasonable doubt, they are the only events one can even identify as a potential causative agent. If true, this would mean that these two events generated hundreds of millions in phantom value in Galena shares, to the benefit of the insiders that sold at inflated prices. Indeed, Galena was trading at less than $2 prior to DreamTeam's involvement.
So, why is it worth more now? The answer is that it is not. If anything, Galena is worth less than it was prior to this bull run, i.e. $1.65-$2.00 per share, because of the pending lawsuits and the strong potential for an SEC investigation.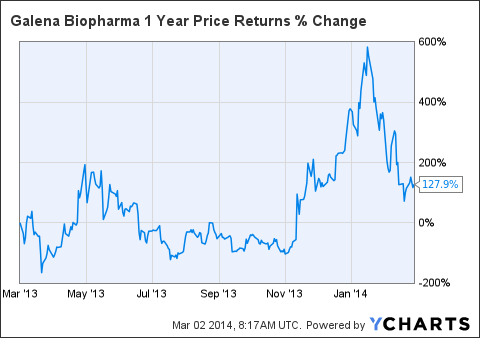 GALE 1 Year Price Returns data by YCharts
Turning back to NeuVax, the stark truth is that there is no scientific evidence supporting the hypothesis that this vaccine benefits breast cancer patients. That hypothesis is being retested in NeuVax's ongoing clinical trials for selected sub-groups, after the initial test failed.
Given the perplexing behavior of Galena's management, however, you certainly have to wonder how much confidence they have in the ongoing trials. It is worth noting that they employed the DreamTeam group several months before NeuVax's interim data readout. If the interim analysis shows NeuVax is working, I have little doubt that Galena's share price would have increased organically. Yet, they felt the need to heavily promote the stock on unfounded scientific claims, and sell millions worth of shares in the process.
And the fact that Galena's CEO, Mark Ahn sold 86% of his shares, and other directors liquidated nearly their entire holdings, should give investors ample reasons to worry.
Oh, and did I mention that Mr. Ahn told a whopper about the amount of holdings he actually sold? Following the initial outbreak of this controversy, Mr. Ahn gave an interview to another Seeking Alpha contribute, where he said this:
"I sold less than 20% of my equity position to diversify for my family. "
Given that I don't believe much anyone says these days, I decided to do what all investors should do and read the Form 4. The record is clear on this matter. He sold 4 times the amount claimed in that interview. But don't blindly take my word for it, read the hyperlinked Form 4 and believe your own lying eyes. I also urge you to read and digest the sales of the other insiders in this time period as well.
On a final note, bad stocks happen to good people all the time, but putting your head in the sand, holding out for hope against hope isn't a viable investing strategy. Galena's risk-to-reward ratio is now heavily skewed towards the risk aspect, and pretending it is not is tantamount to sheer delusion. Holding onto this stock in the face of these glaring problems thus violates one of Warren Buffett's most sacred investing tactics: the margin of safety. Instead of a margin of safety, Galena offers investors a "margin of danger," with potential SEC investigations, investor lawsuits that could soar into the hundreds of millions, and weak-to-no evidence that its flagship experimental vaccine will succeed in clinical testing. Put simply, I believe Galena will fall well below $1 a share this year because of all these major red flags.
Trade accordingly.
Disclosure: I am short GALE. I wrote this article myself, and it expresses my own opinions. I am not receiving compensation for it (other than from Seeking Alpha). I have no business relationship with any company whose stock is mentioned in this article.
Additional disclosure: Prior to submitting this article for publication, I emailed Galena's investor relations to request clarification on the 10% change in significance level over time, and their use of the phrase "successful Phase 2 trial" in SEC filings without explicitly informing investors that this result was actually a post-hoc analysis based on Phase 2 data. Moreover, I sought clarification on why they believe it is justifiable to use hypothesis-generating analyses without informing investors that this approach is controversial and not widely accepted as standard practice in the scientific community. Finally, I requested disclosure on where one can find the exact p-value for the 60-month follow-up analysis, given that Galena has stated this result is now significant but it was not provided in the initial press releases on the matter. I did not receive a reply to any of these issues.