The recent rush to judgment by some Wall Street pundits just might rank among the worst knee-jerk commentary on Groupon (NASDAQ:GRPN) in 2014. Nearly everything I read seemed to be the paraphrased ramblings of the "other guy." Little content and less substance couched in headline grabbing degradation of a company that just reported a stellar Q4 financial report seemed incongruent and unacceptable.
After reviewing and assimilating Groupon's Q4 financial report, which cannot possibly be properly analyze in 1 to 15 minutes after its release, you find yourself questioning the entire decline. Read or listen to the conference call and you really began to question the selling. At some point the facts began to overwhelm the malodorous fear mongering propaganda that is being dished out. Finally, you realize that the selling was irrational, but the damage is done. The positive side, however, is that a buying opportunity has emerged.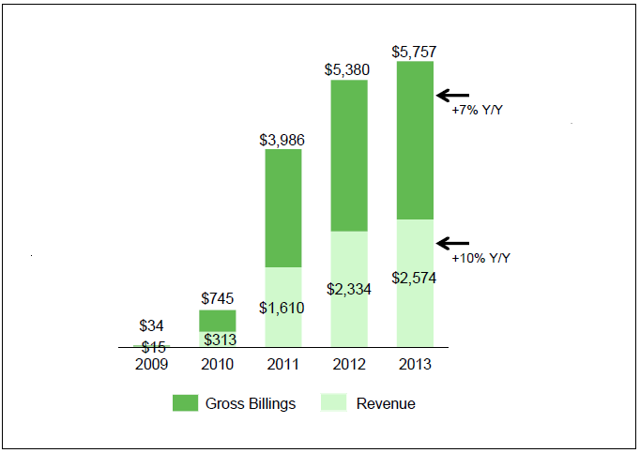 The historical chart to the right records 5 years of growth for Groupon. When you factor in Groupon's recent acquisition of Ticket Monster and Ideeli, you can easily extrapolate future gross revenues and gross billings should substantially rise in 2014. In addition to these acquisitions, management is moving in the right direction by aggressively reinvesting in Groupon's mobile expansion to grow the company's revenues and expand their footprint. CEO Lefkofsky has borrowed a page from Jeff Bezos' playbook on market domination -- gain market share and dominate!
During a recent interview, Lefkofsky shared part of Groupon's strategy for world dominance. Management plans to turn your smartphone into "a shopping mall in your pocket" where you can buy just about anything, anywhere, anytime, at an unbeatable price. Lefkofsky wants consumers to "Groupon it," not "Google it." Mobile e-commerce is exploding beyond imagination and Groupon is the largest mobile e-commerce company in the world.
During the conference call, CEO Lefkofsky said, "our value proposition has never been stronger." Let's take a look at some of the highlights shared during the conference call by Groupon's CEO.
The Q4 Highlights
Groupon finished the quarter with $1.24 billion in cash and equivalents.
Earnings per share beat by $0.02 coming in at $0.04 non-GAAP.
Gross billings increased 5% to $1.6 billion for the quarter and increased 7% to $5.8 billion for the full year.
Revenue increased 20% to $768 million for the quarter and increased 10% to $2.6 billion for the full year.
Billings in North America grew 10% to $789 million, revenue grew 18% to $444 million.
The worldwide mobile business, as measured by transactions, increased significantly to nearly 50% in December, more than a 10% gain in just 90 days.
Over 80% organic app growth with 9 million apps downloaded in Q4, nearly 70 million thus far.
One of the highest rated apps in the market with Q4 having record breaking mobile growth.
December, roughly 8% of our total traffic in North America searched for a deal on our site, a 25% increase in the last quarter alone.

Sequentially, global revenues increased $173 million.
The Assessment
After sitting down with Groupon management for an in depth review yesterday, Deutsche Bank analyst, Ross Sandler, reiterated a BUY rating on Groupon with a $12 price target. He fully expects Q1 2014 to see acceleration. He went on to say:
Importantly, the bear case that everything is falling apart is not valid looking objectively at strong EMEA performance in 4Q, said Sandler.
Northland Captial analyst, Darren Aftahi, reiterated an Outperform rating on Groupon and set a $14.00 price target as the firms new price target, a buck lower than their previous target.
Wunderlich Securities analyst, Blake Harper, maintained their BUY rating with a $13 price target.
Wells Fargo maintained an Outperform rating on Groupon and believes $11 or $12 is a reasonable price target.
We believe management's intent to step on the gas and spend more marketing dollars signals confidence in the stability of the business fundamentals and the quality of the deal marketplace it has built...
Wells Fargo analyst Trisha Dill went on to say that Groupon is making the "right long-term changes in the business model," and believes that Groupon will once again outperform in Q1, which in my opinion is most likely a low-balled estimate.
The Opportunity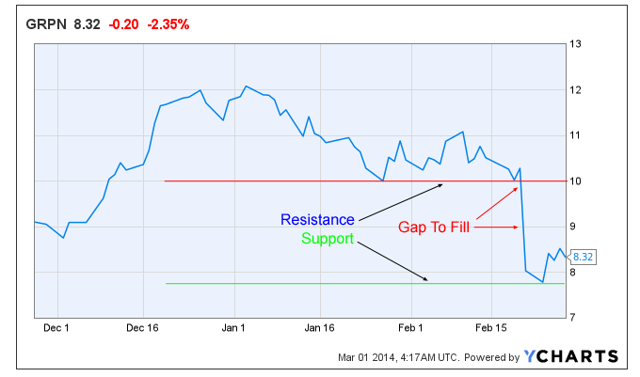 Identifying buying opportunities is key to profitability. In the case of Groupon, the worst case scenario was suggested by RBC with a ultra bearish $7 price target that failed to materialize. Investors eagerly rushed in at the $8 range buying up oversold shares of Groupon. Going forward I suspect to see a choppy but steady appreciation in the share price until the $10 range. The $10 to $12 range will be driven by Q1 results.
Groupon management has been strategically repurchasing their stock during 2013. CFO Jason Child reported that the company has repurchased 4.4 million shares totaling $47 million or approximately $10.68 per share. There remains $253 million under the existing buyback plan. With shares currently trading in this oversold range of $8 to $10, I suspect that CEO Lefkofsky is aggressively repurchasing shares on the open market at the current discounted price.
Getting back to innovations, Groupon has developed a new widget based email system called "Mindstorm" that is expected to enhance revenues. Groupon believes the new enhancements could double or triple revenues in a single email:
We're introducing new forms of merchandising into our email, so that we can create assortments by category or theme instead of by deal, thereby broadening the relevancy of our emails. The power of this technology is amazing, and we believe that over time it could enable us to generate as much revenue through one email as we used to generate with two or three.
Conclusion
I believe Groupon is trading at a very attractive discount. The company is on track for continued growth in 2014 and beyond. The negativity surrounding Groupon is unwarranted. Remember, headlines move stocks, but visionaries build companies. Get the details, get the facts, and do your own research.
Disclosure: I am long GRPN. I wrote this article myself, and it expresses my own opinions. I am not receiving compensation for it (other than from Seeking Alpha). I have no business relationship with any company whose stock is mentioned in this article.