Business Intelligence sees continued growth in all segments of the Global market for internet devices, with personal computers growing slowly while tablets and smartphones show accelerated growth.
That scenario suggests that Intel (NASDAQ:INTC) can rely on a steady base of revenues in the PC space that is not about to fall off a cliff anytime soon. However, growth will require Intel to take a meaningful share of the burgeoning markets for tablets and smartphones, something it has failed at so far.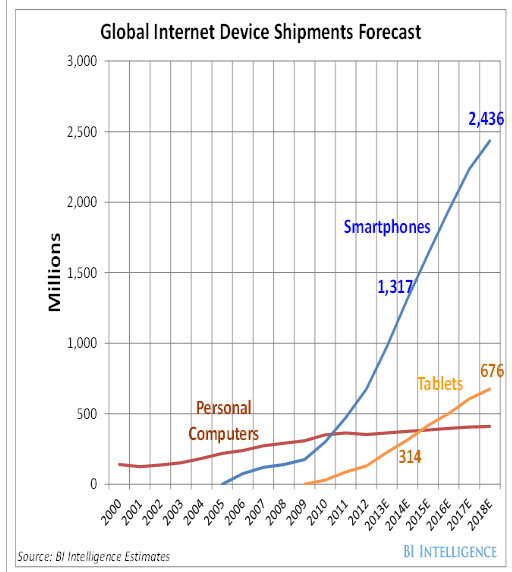 Intel's efforts in the growing non-PC markets have focused initially on Windows tablets. Strategy Analytics reported that Windows tablets reached 11 million in 2013 for a 4.8% share of market, up more than fourfold from 2012.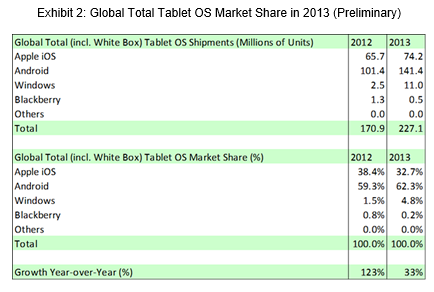 Source: Strategy Analytics
Gartner forecasts that shipments of Windows based devices will grow about 10% in 2014.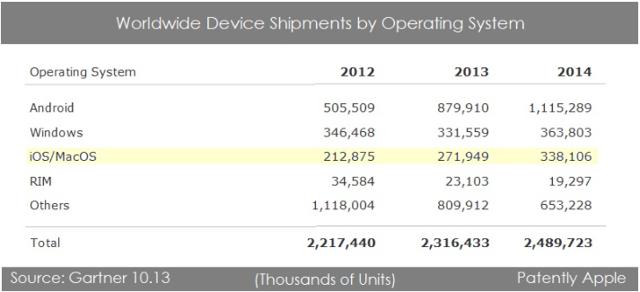 Windows devices are primarily Intel powered. If the Gartner forecast has any substance, the number of devices with "Intel Inside" will grow this year, although most of the growth will be tablet form factor where Intel hopes to ship at least 40 million units.
To really get traction in the tablet space, Intel will have to persuade OEM's to put Intel inside Android OS devices. Tablets alone will not be enough to get Intel growing, it will also need to find a home in some of the fast growing segments of the smartphone market, and the natural progression from any success in tablets will be "phablets".
Intel's first foray into "phablets" saw Lenovo (OTCPK:LNVGF) introduce an Intel powered Android phone known as the K900 in January 2013.
The Lenovo device was followed by the Intel powered Asus 7" Fonepad in September 2013. The device must have enjoyed some success since Asus announced two updated versions powered by Intel with one sporting LTE at Mobile World Congress last week. Both versions of the Asus Fonepad run Android OS and use last year's Intel Atom Z2560 Clover Trail processors.
While the Lenovo K900 seems to have been Intel's first Android "phablet" it was not Intel's first smartphone. That honor went to the Orange San Diego launched in the United Kingdom in the summer of 2012.
The Orange San Diego was followed by another Android based phone, the Xolo X900 launched in India in the fall of 2012. The phone was described as competent but not a clear winner, an assessment seemingly borne out by the lack of evidence of strong sales of the device.
At about the same time, Motorola launched the Intel powered Razr i in the United Kingdom in September 2012. The Razr i with its Intel processor compared favorably to the Snapdragon powered Razr M but the absence of LTE support may have been a factor in Motorola not broadening its market reach worldwide.
In December 2012, ZTE (OTCPK:ZTCOF) launched an Android flagship smartphone powered by Intel called the Grand X. I presume it enjoyed some success since in May of 2013, ZTE introduced another Android phone powered by the Intel Z2580 processor called the Grand X2. A further ZTE Android smartphone powered by Intel called the Geek was introduced in China in July 2013.
Acer also launched an Intel powered Android phone, the liquid C1 using the Atom Z2420, which was offered in Thailand in January of 2013. I presume the smartphone was reasonably well received, since Acer went on to launch the device in Malaysia in March 2013 and went on to offer the phone in India.
In Africa in January 2013 communications provider Safaricom introduced an Intel powered smartphone for budget conscious African users.
In April 2013, Egyptian vendor Etisalat launched an Intel powered Android phone named the E-20. With a subscriber base of only 800,000 the Etislat volumes were never going to make it onto the radar screen regardless of the phone's local attraction.
In August 2013, U.K. phone maker Prestigio launched an Intel powered Android smartphone in the U.K. with the Atom Z2420 processor making up a third Intel powered smartphone to be sold in the United Kingdom.
None of the foregoing smartphones took the world by storm. What they did, however, was establish the fact that Intel was in the smartphone applications processor business in a more serious way than most observers might have thought.
I think the critics of Intel's attempts to penetrate the smartphone space just overlook the fact that it did power some Android OS smartphones and, while the particular phones were otherwise unremarkable, they were part of a growing lineup of Intel powered devices that entered the space with commercial success.
At Mobile World Congress Intel reported that Intel processors would be in 87 tablets this year. Maybe 87 models does not impress everyone but it does impress me. We will find out which models later this year and then be able to gauge how well they will sell.
To the Intel critics I simply say have patience. The early days of Palm, BlackBerry (NASDAQ:BBRY), Motorola and Apple (NASDAQ:AAPL) were not ones of massive immediate growth but rather of steadily growing market acceptance. To expect otherwise from Intel in this competitive space is short-sighted and a bit naive.
I am long Intel.
Disclosure: I am long INTC. I wrote this article myself, and it expresses my own opinions. I am not receiving compensation for it (other than from Seeking Alpha). I have no business relationship with any company whose stock is mentioned in this article.