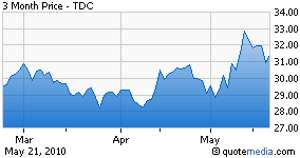 The equity markets have gotten thrashed this month. As of yesterday's close, only 17 stocks in the S&P 500 were up from the end of April. That means 483 stocks in the market index have fallen so far in May, which is incredible.
Teradata Corp. (NYSE:TDC), which was recommended through our Forbes Growth Investor Newsletter towards the end of April, is one of the lucky ones, up 6.5% so far this month.
TDC is a leading global provider of enterprise data warehousing (EDW) solutions. EDW consists of capturing, aggregating, integrating, storing, managing, and analyzing various data, such as customer, financial and operational information, across an enterprise.
TDC's offerings allow customers to take this data and transform it into actionable enterprise intelligence, which can be used to enhance their competitiveness and provide operational advantages. The company serves numerous industries, including banking/financial services, gaming, media, government, insurance, healthcare, manufacturing, retail, telecommunications, transportation, and travel.
Sounds like an okay business to be in, but what makes this stock special enough that it could perform so well in such a brutal downtrend? As it turns out, it is just good old fashion earnings. The stock first came to our attention due to its high ranking in the quantitative model we employ for the newsletter. The ranking was, in part, due to the company's recent history of outperforming earnings expectations and increasing earnings guidance, as well as analyst upgrade activity.
A closer look at the company strongly indicated to us that this outperformance would continue due to a number of favorable factors, such as improving order activity stemming from a rebound in corporate IT spending and the introduction of next-generation products that offer significant improvement over their predecessors.
This was indeed the case when TDC reported record fiscal Q1 results earlier this month (see conference call transcript here). Revenues jumped 16.9% YOY to $429 million. All regions grew by double digits, lead by the Americas, which climbed an impressive 23%. The operating margin expanded 369 basis points YOY to 20.04%. Net income grew 48.9% to $67 million or 39 cents per share — 8 cents above analysts' estimates.
TDC also raised guidance for the full year. It now expects revenue growth of 8-10%, up from the 7-9% previously projected. It also increased earnings guidance by 6 cents to $1.60-1.70 per share. Not surprisingly, these results also led to another analyst upgrade — this time by Oppenheimer & Co., who slapped a $38 price target on the company.
The company also has an exceptionally strong balance sheet with no debt and a growing cash balance that currently stands at $712 million or more than $4 per share.
As with the guidance provided with the company's 2009 Q4 results back in February, we believe the current guidance is likely conservative. Based on the favorable outlook for the remainder of the year and the ongoing strength in order activity, we expect TDC to continue outperforming.
Disclosure: No positions