After a big surprise to the downside last month, today's release of the ISM Manufacturing report for the month of February came in stronger than expected. While economists were expecting a level of 52.3, the actual reading came in at 53.2. While January's report was a big miss relative to expectations, February's beat represents the eighth time in the last nine months that the ISM Manufacturing report came in better than expected.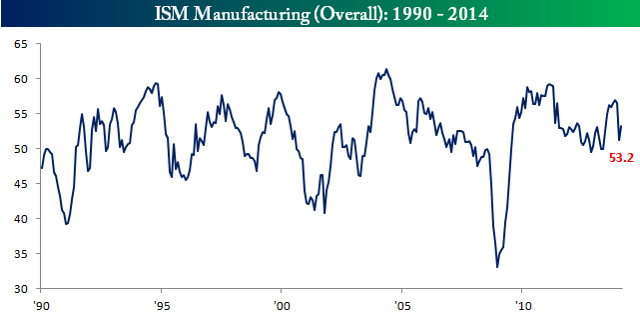 The table below breaks down the monthly ISM Manufacturing report based on each of the index's components and compares the current levels to last month and last year. Of the ten subcomponents, three declined relative to last month, two were unchanged, and five rose. Compared to a year ago, February's reading was less positive as five components declined, three rose, and two were unchanged. Of the components that saw declines this month, Production saw the largest decline falling 6.6 points down to 48.2. This is the first sub 50 reading in this component since August 2012, and the lowest reading since May 2009.
On the jobs front, the employment component of this month's report was unchanged from January and up just slightly from a year ago (52.2). Investors often like to extrapolate this part of the ISM Manufacturing report to the monthly non farm payrolls report. Unfortunately, there is little in the way of insight to take away from it. At first the unchanged employment component would seem to suggest another weak report on the horizon this Friday. Two things to keep in mind, however, are the fact that manufacturing is a relatively small share of the U.S. economy and also, when the employment component was slightly lower one year ago, the February non-farm payrolls was considerably higher at 280K.