I find Elbit Systems Ltd. (NASDAQ:ESLT) stock to be a good combination of value and growth dividend stock. Although the stock price has risen 44.1% since the beginning of 2013, it is still an excellent buy right now. This is compared to the 30.4% rise of the S&P 500 index and the 42.7% rise of the Nasdaq Composite Index during the same period. In this article, I will explain why, in my opinion, ESLT stock is a remarkably promising long term investment.
The Company
Elbit Systems Ltd. is an international defense electronics company engaged in a wide range of programs throughout the world. The Company operates in the areas of aerospace, land and naval systems, command, control, communications, computers, intelligence surveillance and reconnaissance, unmanned aircraft systems, advanced electro-optics, electro-optic space systems, EW suites, signal intelligence systems, data links and communications systems and radios. The company was founded in 1966 and is based in Haifa, Israel.
Major Development
On March 02, 2014, March 2, 2014, Elbit Systems announced today, in response to press reports regarding the award to its U.S. subsidiary of a $145 million contract by the United States Department of Homeland Security Customs and Border Protection (CBP) for the Integrated Fixed Tower project, that the contract includes a base period quantity and options that CBP may exercise over a multi-year period. Currently, CBP awarded the base period quantity for a portion of the $145 million contract amount, to be implemented over an approximately 12-month period.
According to Reuters, U.S. Senator John McCain of Arizona said in a separate statement:
Arizonans have been waiting more than a decade for the Department of Homeland Security to place the needed technology along our border to support the Border Patrol and fully secure our southern border. If this technology is developed, integrated and fielded correctly, these Integrated Fixed Towers in southern Arizona, coupled with the tremendous work of the Border Patrol, will give our agents the ability to detect, evaluate, and respond to all illegal entries crossing our border.
Valuation Metrics
The table below presents the valuation metrics of ESLT, the data were taken from Yahoo Finance and finviz.com.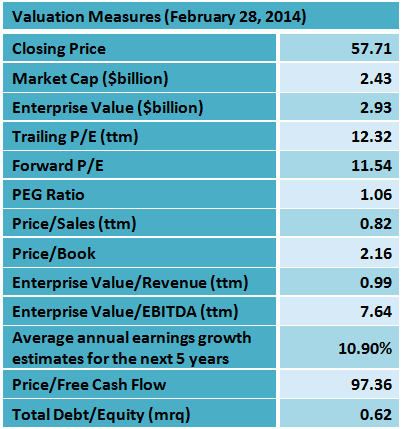 Elbit Systems' valuation metrics are very good; the enterprise value-to-revenue ratio is very low at 0.99 and the enterprise value-to-EBITDA ratio is also very low at 7.64. According to Yahoo Finance, ESLT's next financial year forward P/E is very low at 11.54 and the average annual earnings growth estimates for the next 5 years is quite high at 10.90%. These give a low PEG ratio of 1.06. The PEG Ratio - price/earnings to growth ratio is a widely used indicator of a stock's potential value. It is favored by many investors over the P/E ratio because it also accounts for growth. A lower PEG means that the stock is more undervalued.
Latest Quarter Results
On November 14, 2013, Elbit Systems reported its third-quarter financial results, which beat EPS expectations by $0.03 (2.60%). Revenues were $730.6 million in the third quarter of 2013, as compared to $677.5 million in the third quarter of 2012. The main contributors to the Company's revenues were the Airborne and the C4ISR systems areas of operations. Net income attributable to the Company's ordinary shareholders was $49.6 million (6.8% of revenues) in the third quarter of 2013, as compared to $39.5 million (5.8% of revenues) in the third quarter of 2012. The non-GAAP net income in the third quarter of 2013 was $55.8 million (7.7% of revenues), as compared to $49.4 million (7.3% of revenues) in the third quarter of 2012.
The company's backlog of orders as of September 30, 2013 was $5,697 million, as compared with $5,804 million as of June 30, 2013 and $5,683 million as of December 31, 2012. Approximately 68% of the backlog relates to orders outside of Israel. Approximately 49% of the Company's backlog as of September 30, 2013 is scheduled to be performed during the fourth quarter of 2013 and in 2014.
In the report, Bezhalel Machlis, President and CEO of Elbit Systems, commented:
The solid third quarter results reflect the year-over-year trend of improvements in revenue and profitability resulting from our ongoing focus on efficiency and on realizing the business-wide synergies of our global organization. In line with our decision to further enhance the effectiveness of our technological capabilities, we are placing increased efforts in R&D as well as in sales and marketing, in order to capitalize on the opportunities we are seeing. We are encouraged by the global markets' recognition of our innovative solutions, and we believe that, together with our efficiency measures, will maintain future growth.
Next Quarter Results
Elbit Systems will report its fourth-quarter and full year 2013 financial results on March 19, 2014. ESLT is expected to post a profit for the fourth-quarter of $1.41 a share, a 57% rise from the company's actual earnings for the same quarter a year ago.
Dividend
Elbit Systems has been paying uninterrupted dividends since 1997. The forward annual dividend yield is at 2.08%, and the payout ratio is only 25%.
Elbit Systems' dividend is paid every quarter, as shown in the table below.

Competitors and Group Comparison
A comparison of key fundamental data between Elbit Systems and its main competitors is shown in the table below.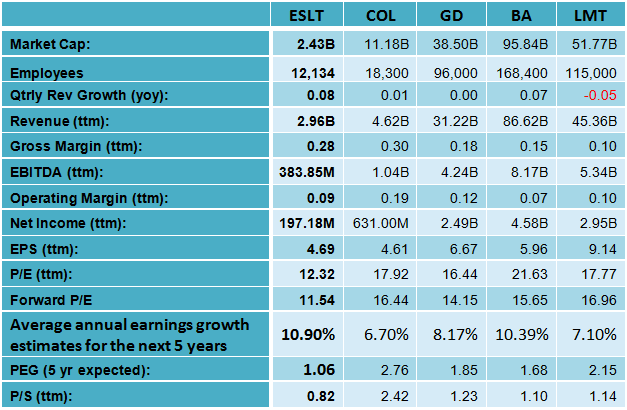 Source: Yahoo Finance
Elbit Systems' valuation metrics look better than those of its main competitors. Elbit Systems has the strongest earnings growth prospects, the lowest forward P/E ratio, and by far the lowest PEG ratio among the group.
Elbit Systems' return on capital parameters have been much better than its industry median, its sector median and the S&P 500 median, as shown in the table below.

Source: Portfolio123
Technical Analysis
Personally I am using only fundamental analysis for my investment decisions. After many years of experience, and after having tried all kinds of decisions making including technical analysis, I have reached the conclusion that relying on fundamental information is giving me the highest return. Nevertheless, some investors are successfully using technical analysis to find the proper moment to start an investment (I am not talking about traders, my analysis is only for investors). The charts below give some technical analysis information.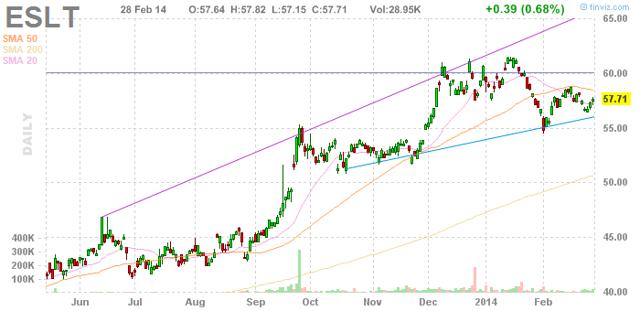 Chart: finviz.com
The ESLT stock price is 0.73% above its 20-day simple moving average, 1.47% below its 50-day simple moving average and 14.01% above its 200-day simple moving average. That indicates a long-term uptrend.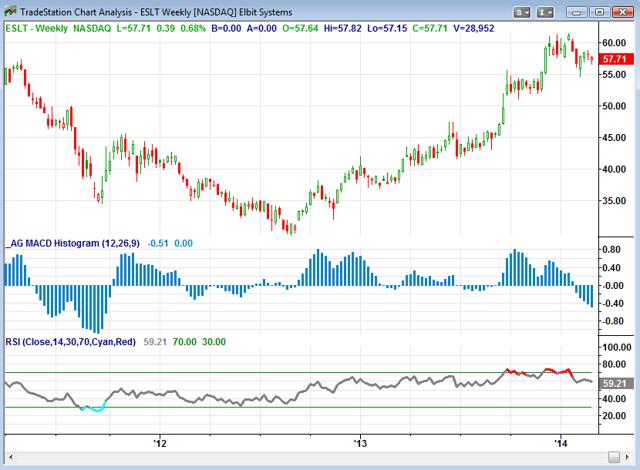 Chart: TradeStation Group, Inc.
The weekly MACD histogram, a particularly valuable indicator by technicians, is negative at 0.51 and descending, which is bearish (a rising MACD histogram and crossing the zero line from below is considered an extremely bullish signal). The RSI oscillator is at 59.21 which do not indicate oversold or overbought conditions.
My Take
In my opinion, the award of the new contract, by the United States Department of Homeland Security Customs and Border Protection for the Integrated Fixed Tower project, is extremely promising for Elbit Systems. The fact that giant companies like the previous contractor The Boeing Company (NYSE:BA) and Lockheed Martin Corporation (NYSE:LMT), General Dynamics Corp. (NYSE:GD) and Raytheon Co. (NYSE:RTN) have competed for the contract demonstrates the importance of this contract. If this first contract turns out to be successful, it will create a lot of more orders since the U.S. encounters an enormous difficulty to control its long border with Mexico.
Risk
Elbit Systems derives most of its revenues directly or indirectly from government agencies, mainly the Israeli Ministry of Defense, the U.S. Department of Defense and defense ministries of certain other countries, pursuant to contracts awarded to it under defense-related programs. The funding of these programs is subject to government budgeting decisions affected by numerous factors, including geo-political events and macro-economic conditions that are beyond the company's control. Government spending under such contracts may cease or may be reduced, which would cause a negative effect on Elbit Systems' revenues, results of operations, cash flow and financial condition.
Conclusion
Elbit Systems has compelling valuation metrics and strong earnings growth prospects, its PEG ratio is only 1.06. Furthermore, its valuation metrics are much better than those of its main competitors; its enterprise value-to-revenue ratio is extremely low at 0.99 and the enterprise value-to-EBITDA ratio is also remarkably low at 7.64. The company's latest quarter results were better than expectations, and it is expected to report in the current quarter a profit of $1.41 a share, a 57% rise from the company's actual earnings for the same quarter a year ago.
All these factors lead me to the conclusion that ESLT stock is a smart long-term investment.
Disclosure: I have no positions in any stocks mentioned, but may initiate a long position in ESLT over the next 72 hours. I wrote this article myself, and it expresses my own opinions. I am not receiving compensation for it (other than from Seeking Alpha). I have no business relationship with any company whose stock is mentioned in this article.