(This is in regard to Questcor's 8-K filed this morning, available for viewing in its entirety here).
Longs won't hate this article, so you don't have to stop reading now and go immediately to the comments to harangue me.
It's by no means an admission of being wrong, but it's definitely the biggest point I've seen for longs of Questcor since I've started writing about the recent controversy of Citron's lab reports.
But, let's just focus solely on the company's 8-K this morning.
Aside from the usual boilerplate language against the "unnamed" short sellers, where Questcor (QCOR) is obviously talking about Citron, there was really only one other very interesting point in Questcor's 8-K in response to Citron this morning. This whole "deamidated vs. pure" argument is going to come to rest at some point soon, I'm guessing, when the FDA offers their obligatory statement on this whole debacle.
The entire key to Questcor's exoneration from the most recent allegations here lies in these three paragraphs, with notable sentences in bold:
The most recent attempt to drive down the Company's share price centered on a purported finding that Questcor's primary product, H.P. Acthar ® Gel, was not meeting FDA specifications and contained "deamidated corticotropin."

Following Questcor's 2001 acquisition of Acthar from Aventis, the FDA reviewed and approved the transfer of the manufacturing process, final formulation and fill process, packaging, release specifications and bioassays required for testing and release of Acthar Active Pharmaceutical Ingredient, or API, and Acthar finished vials. Acthar manufacturing processes and specifications have remained unchanged since these approvals were granted. Based on FDA-approved testing requirements, each lot of Acthar meets FDA-mandated specifications, including specifications for potency, which have not changed over several decades.

Regarding Acthar containing "deamidated corticotropin", this peptide has been listed for many years in the FDA-approved Acthar package inserts. The amino acid sequence for "ACTH" provided in the Description section of the current FDA-approved Acthar package insert and the FDA-approved package inserts before and after Questcor's 2001 acquisition of Acthar is, in fact, porcine deamindated ACTH(1-39) or what has been referred to by others as "deamidated corticotropin." Therefore, what the short sellers' research firm claims to have found appears to be consistent with what is specified on the FDA-approved Acthar package insert.
What Questcor is saying, after seemingly spelling deamidated wrong ("deamindated") in their own 8-K, is that Citron's lab results are likely correct. We can almost say with certainty that Citron's lab results are correct. Why isn't that earth-shattering? That isn't really the issue anymore. Basically, they're taking the stance that they are selling deamidated ACTH, but they've been approved to do so all along. Therein is going to lie our answer about Questcor, depending on what the FDA thinks.
The issue because whether or not the FDA knows that Questcor is selling deamidated ACTH, and whether or not they're okay with both the way it's being marketed, labeled, and promoted.
According to Questcor, they do and it's without issue. They're claiming that it states that on the FDA-approved package inserts. If that's the truth, it's a win for Questcor longs, and I admit I'm wrong.
If they don't, the beat to this argument goes on.
If you do a search of Acthar's label (which you can view here), the word deamidated simply doesn't show up and the word "porcine" shows up three times - none of which are talking about deamidated ACTH.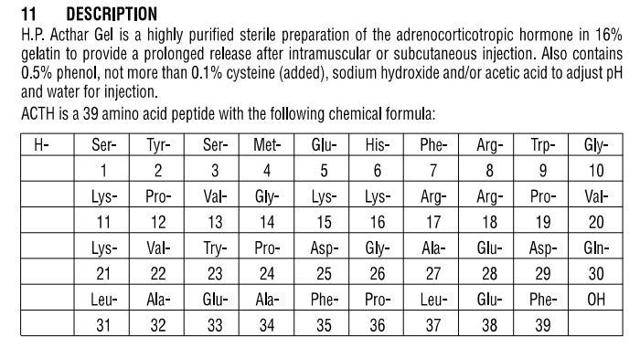 However, the very interesting thing is that point 11, thought it doesn't mention deamidation, it shows an ASP in the sequence. So, yes, it is actually possible that the FDA did approve the product as tested by Citron. Then, it becomes a case about simply whether or not the product has been mislabeled.
Which again leads to me the point: if Questcor is misrepresenting the drug as "highly purified" and there isn't any of the active ingredients in it, why do they not have to run clinical trials on it? How can you serve up a drug to someone with the active ingredients seemingly listed wrong and without full and firm cognition of what is making it work? The drug was grandfathered in under the basis of ACTH being the active ingredient - no questions asked. How is Questcor allowed to just come out and say, "Oh, we've found some other stuff in it that's making it work, too" and continue to keep their previous indication without running more clinical trials? Especially when the synthetic version of the drug, which sells for tens of thousands of dollars less per vial, hasn't been shown to have major clinical advantage over the deamidized drug itself?
And again, without knowing with absolute certainty what's making it work, how do insurance companies feel about having to pay the $28,000 markup per vial, while company insiders make money hand over fist?
If the FDA acknowledges that all is good and well here, Questcor is no doubt going back towards the $80 mark. However, there is still major risk of the FDA stepping in and commenting on either the labeling or the chemistry of the product going forward.
If the company is found to have misrepresented what they are shipping through promotion/marketing, it could still be an issue.
No one is right or wrong here yet, until the FDA weighs in. As such, I've hedged my in the money puts with some out of the money calls, in case the FDA comes around in favor of the company. I remain short through a leveraged option spread position.
Time will tell the tale here, there's no doubt the FDA will weigh in.
Disclosure: I am short QCOR. I wrote this article myself, and it expresses my own opinions. I am not receiving compensation for it (other than from Seeking Alpha). I have no business relationship with any company whose stock is mentioned in this article.
Additional disclosure: I hold QCOR puts and calls, with a current ratio of 5:2.