Ostensibly, US stocks topped out on April 23, 2010. That gives us an opportunity to look at the approximate 1-month performance of different sectors in a very ugly corrective process.
Since the primary driver of the massive May selling has been endless European questions, it's particularly intriguing to see which economic segments have had the toughest time coping. And, by extension, would these same segments be the ones to "buy" if Europe is able to stabilize the euro and get its collective act together?
7 Best Sector ETFs From Market Top Through Friday, May 21
Market Vectors Gold Miners (NYSEARCA:GDX)
-0.84%
SPDR Pharmaceuticals (NYSEARCA:XPH)
-4.91%
iShares NAREIT Residential (NYSEARCA:REZ)
-5.01%
SPDR Select Consumer Staples (NYSEARCA:XLP)
-5.80%
Vanguard Telecom (NYSEARCA:VOX)
-6.10%
SPDR Select Utilities (NYSEARCA:XLU)
-6.59%
iShares Medical Devices (NYSEARCA:IHI)
-7.50%
7 Worst Sector ETFs From Market Top Through Friday, May 21
iShares Global Energy (NYSEARCA:IXC)
-14.81%
iShares Global Financials (NYSEARCA:IXG)
-15.00%
PowerShares Private Equity (NYSEARCA:PSP)
-15.50%
First Trust Rever Nat Gas (NYSEARCA:FCG)
-16.02%
SPDR Metals and Mining (NYSEARCA:XME)
-16.19%
Market Vectors Steel (NYSEARCA:SLX)
-20.31%
Oil Service HOLDRs (NYSEARCA:OIH)
-20.63%
Most of the top performers -- those that have lost less than the broader market -- have benefited from traditional safer haven equity status. Pharma (XPH) and Med Devices (IHI) represent healthcare; Staples (XLP) and Utilities (XLU) are traditional "go-to" investments in times of trouble.
Where things become a little more tricky can be seen in the Gold Miners (GDX). Over 6 months, GDX had been decidedly weak, losing ground where most individual segments had gained ground; however, gold breaking through $1200 per ounce for the first time ever clearly helped precious metal mining.
The story could not be any different for broad-based miners in SPDR Metals and Mining (XME). China tightening policies are potentially hindering demand for base metals. The rising dollar is hurting the bulk of commodity prices. And the fear that demand will weaken in Europe is sealing the deal.
The strangest "success" rests with Residential REITs. I've stayed away from the lower-yielding real estate trusts altogether. Granted, industry consolidation as well as an ability for large REITs to secure credit can explain some of the enthusiasm off the bottom, I'm simply not a fan going forward.
Most of the "losers" are tied to energy/resources/materials. This is the same stuff that fueled the global growth story — the same story that pulled market-based securities out of the hopelessness of the bear's claws back in March of '09.
Between the BP oil spill, China tightening and Europe reeling, it's difficult to see these segments playing a leadership role in the near-term. However, their natural volatility makes them a prime candidate for "market performance" or slightly-above "market performance" should a European solution be met with less consternation.
Keep an eye on Global Financials (IXG). It's almost as if the market believes a big bank "over there" will need a bailout. Without IXG reclaiming its 200-Day, developed world/global exposure may continue to drag on overall portfolio performance.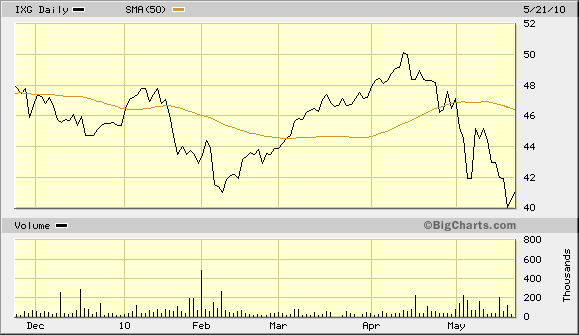 (Click to enlarge)
Disclosure: No positions