Editors' Note: This article covers a stock trading at less than $1 per share and/or with less than a $100 million market cap. Please be aware of the risks associated with these stocks.
Some love him, some hate him, but all know him. Carl Icahn has undoubtedly etched his place in history, recently termed as "one of the shrewdest investors on the planet."
Icahn is a private equity investor and chairman of publicly traded Icahn Enterprises (NYSE:IEP). The firm is a holding company that invests in rail cars, real estate, metals and auto companies. He is what is better known as an activist investor, known for taking large positions in companies and pushing their boards to make changes focused on increasing shareholder value. He has engaged in very public battles with firms including Time Warner (NYSE:TWX), Yahoo (NASDAQ:YHOO), Lions Gate Entertainment (LGF), Apple (NASDAQ:AAPL) and many others. No opponent appears too large or daunting for Icahn.
In March 2011, he announced he would return outside investors' money in his $7 billion hedge funds, but said he would continue investing his own money. Icahn has had his hand in almost every major story in corporate America over the last year. He battled it out with Michael Dell, helped oust Aubrey McClendon from Chesapeake Energy (NYSE:CHK), made an amazing trade on Netflix (NFLX), fought with William Ackman over Herbalife (NYSE:HLF), and "not so quietly" lobbied for Apple to repurchase more of its stock.
In just the last year, shares of his publicly-trade Icahn Enterprises have soared by more than 70%. Icahn's investment fund returned 31% in 2013. His brand of activist investing is more popular than ever.
Chart courtesy of stockcharts.com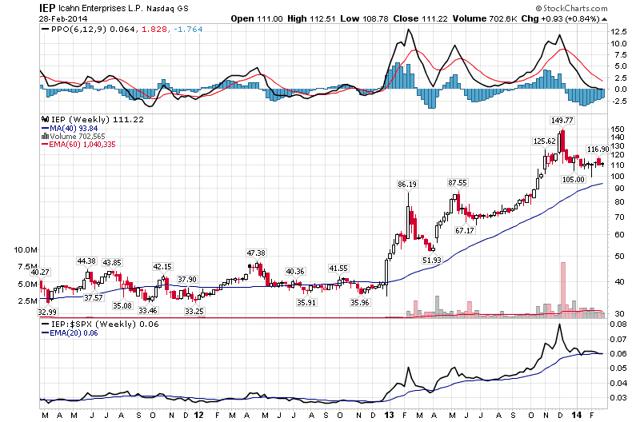 In just recent weeks, Icahn is at it again. This time he has eBay (NASDAQ:EBAY) in his crosshairs, having amassed a 2% position in the company, he is urging it to spin off PayPal into its own company.
"I think PayPal might be acquired and that would make it even better for shareholders," Icahn told The Wall Street Journal. "And it's a shame to have it held back by eBay and that I think is what's happening." Icahn is not alone. PayPal cofounder Elon Musk agrees PayPal should be independent of eBay. As Musk said in the recent Forbes cover story: "It doesn't make sense that a global payment system is a subsidiary of an auction website… It's as if Target owned Visa or something." Musk went on to say that PayPal "will get cut to pieces by Amazon payments or by other systems like Apple and by start-ups if it continues to be part of eBay… It will either wither or be spun out…Carl Icahn can see it, and he's not exactly super tech savvy."
eBay CEO John Donahoe told Forbes, "Ebay and PayPal are better together: Ebay has accelerated and enhanced PayPal's success, allowing it to be more aggressive, bolder and to take more risk than if it was separate." PayPal President, David Marcus, echoed Donahoe's thoughts: "We are growing faster in this configuration than we would in any other."
This all brings me to my original point, Icahn is absolutely right! In my opinion, eBay is like an anchor around the neck of PayPal.
PayPal is an embedded player in online commerce and a payments company. PayPal makes money off of the interchange and other fees collected every time a merchant sells a product to a consumer either through their online retail and auction site or through the thousands of web merchants who accept PayPal customers. The bulk of their business comes from traditional payments through Visa (NYSE:V), MasterCard (NYSE:MA), or American Express (NYSE:AXP) or their process of funding PayPal merchant and consumer accounts through these traditional forms plus ACH and debit.
The core value of PayPal, which is essentially the core value of eBay, resides in its powerful payment platform. PayPal is a processor for payments, the end of a successful online interaction, and the part of the value chain that means they receive a little of a lot of transactions…. a lot of transactions. During the financial crisis of 2008 the value of being a processor was magnified as some of the largest processors sold off their profit engines to pay off TARP debts.
One of those banks was Bank of America (NYSE:BAC) who at the time was the largest Visa and MasterCard acquirer in the World. Acquiring means Bank of America accepted applications for merchants to accept Visa and MasterCard in their retail locations both physical and virtual, owned the merchant relationship, and therefore received a little of a lot of transactions from their 250,000 merchants.
The company formed Bank of America Merchant Services, which remains the 800 lb. gorilla of merchant acquirers and merchant processors (through First Data) in the US.
Another example of a profitable spinoff is a company called Evertec, Inc. (NYSE:EVTC) who recently spun out of Banco Popular creating the largest processor in Latin America and a $2 billion cash cow for investors.
The value Icahn is looking to leverage and maximize is the value of owning a Payment Service Provider "PSP," the processing engine with the ability to underwrite, manage risk, manage settlement, and take a little piece of a lot of transactions. Successful interactions caused by advertising, marketing, etc, either eCommerce or mCommerce, end with a transaction.
PayPal and Icahn both want a piece of those interactions and rightfully so, it's where the big money is. PayPal on its own has the potential of dwarfing eBay in terms of ultimate revenues, profits and valuation. It will be interesting to see if Icahn is successful in his efforts, regardless I categorically believe he is 100% correct in his pursuit.
So while Icahn continues slugging it out with eBay's management and board of directors, how can the average retail investor also get in on the opportunity to profit from investing in a PSP? I would suggest investors consider buying shares of Spindle Inc. (OTCQB:OTCQB:SPDL), a small up and coming PSP sympathy play with a potentially very large future.
Spindle is a company I previously wrote about here at Seeking Alpha. To the best of my research, it is the only small publicly traded pure play PSP opportunity that someone like me can currently invest in and it trades at a valuation just a mere fraction of many of its venture capital counterparts.
Spindle is a mobile commerce company that leverages its propriety platform for mobile marketing and payments to help other companies enter the mobile economy without the stress and confusion of mastering technology and trends. The company has been in the forefront of developing and distributing their technology for the past 19 months culminating with the launch of their MeNetwork 360 product at the Money2020 show last October in Las Vegas. Recently the company issued news that it had acquired Yowza!!. Currently the company is integrating the two platforms, which now boasts almost 2 million consumer downloads, and approximately 95,000 merchant locations.
Spindle, from a 30,000-foot view, has PayPal, Braintree (both now owned by eBay ), Foursquare, and Groupon (NASDAQ:GRPN) features and perhaps more. Spindle is not a daily deals or a display ad tool, but rather a merchant tool for consumers to discover merchants, by allowing them to publish desirable incentives and promotions to consumers in real time.
It was just a short few months ago that eBay bought Braintree for $800M. While Spindle does not currently generate comparable revenues to Braintree, my research indicates it does offer far more functionality and value to an ultimate acquirer as Braintree itself in not a PSP. Spindle also has a much more comprehensive and attractive solution for merchants, with the inclusion of mobile marketing.
Combining their payment technology with mobile marketing creates their concept of "brilliantly simple" commerce. Model companies such as eBay, Amazon (NASDAQ:AMZN), and others have been successful with online, but have struggled from a mobile perspective along with Google (NASDAQ:GOOG), ISIS, and others. These companies seem to be consistently evolving their go-to-market strategy based on large retail rollouts, while Spindle focuses on the largest business sector in the United States: small to medium businesses (SMB). SMBs represent over 99% of firms, 86% of business locations, 55% of employees, and 43% of sales receipts.
A player such as Spindle can focus on the challenges of a smaller business and be agile to changing behaviors. Part of Spindle's positioning however is in its proprietary financial services platform architected and developed in-house.
Carl Icahn indeed gets it! While he is trying to stake his claim and own a part of a PSP in PayPal, I too am staking my own little claim in Spindle for all the same reasons. I believe it is merely a matter of time before the company attracts the interest of what could be numerous potential acquirers.
As Square decides to IPO or not IPO in 2014 one can use their valuation to get an idea what PayPal might be worth if it was spun out. Square was recently valued at over $5B and their latest estimates for revenues are around $100M for the last year. That would give them a 50-1 valuation against revenues and of course still generating losses. PayPal did over $6.6B in revenues last year and using the same valuation of 50-1 would put their market cap at well over $300B, which dwarfs the current eBay market cap of $76B. Which would you rather own?
While I'll likely never grace the cover of the Wall Street Journal or be termed "the world's shrewdest investor," not even by my wife or kids, I do expect my own portfolio to handsomely benefit because of both my investment in Spindle, and my fundamental understanding of just why Icahn is 100% correct in his efforts to divide PayPal from eBay, unleashing its true value.
Disclosure: I am long SPDL. I wrote this article myself, and it expresses my own opinions. I am not receiving compensation for it. I have no business relationship with any company whose stock is mentioned in this article.