MANDALAY DIGITAL UNDERVALUED ON CURRENT METRICS WITH HUGE GROWTH POTENTIAL
Author's Note: This article covers a stock trading at less than $5 a share and with less than $150 million market cap. The Focused Stock Trader has reviewed the available public information and has determined that MNDL is worth of a review for investors in micro-cap securities. Please be aware of the risks associated with these stocks.
Company Description
Mandalay Digital Group (MNDL) ($4.86) is at the convergence of Internet media content and mobile communications. It delivers a mobile services platform that works with mobile operators and third-party publishers to offer portal management, user interface, content development and billing technology that enables the responsible distribution of mobile entertainment. Headquartered in Los Angeles, Mandalay Digital has offices in Australia, Germany and Israel.
Products
Mandalay Digital has broadened its product suite through a number of acquisitions.
On June 21, 2010, the company retained all assets and liabilities of Twistbox. Twistbox is a mobile solutions company recognized for its pioneering content standards and classification efforts, providing the most widely used content standards matrix in the industry. The company offers a broad range of services helping partners monetize their brands and services responsibly, and leverage their traffic successfully.
On December 28, 2011, Mandalay Digital acquired the assets of Digital Turbine Group, LLC, the developer of Digital Turbine, a technology platform that allows media companies, mobile carriers, and their OEM handset partners to take advantage of multiple mobile operating systems across multiple networks, and offers solutions allowing them to maintain their own branding and personalized, one-to-one relationships with each end-user.
On September 13, 2012, the Company completed the acquisition of Logia Group. Logia is a mobile content development and management solutions provider of mobile monetization solutions. It provides solutions for top-tier mobile operators and content providers, including device application management solutions, white label app and media stores, app-based value added services, and mobile social music and TV offerings.
On April 12, 2013, the company acquired the MIA Group. MIA is a leading mobile solutions provider based in Australia. MIA has extensive content licenses with major brands, as well as a proprietary content management and billing integration system ("Sphere"). MIA enables experiences on connected devices by enabling the delivery of content and applications to multiple devices, across any network, in any format. The Sphere platform enables carriers, media companies and brands to work together.
The company's current product offering includes Ignite, Digital IQ, content management, and Digital IQ. Ignite is an app management service helping carriers and OEMs better monetize their subscriber base by allowing better control of applications installed on smartphones. Ignite controls the entire installing process for internal or third-party apps allowing mobile operators and OEMs opportunities to generate more advertising revenues. Mandalay offers customized packages with full analysis and reporting tools.
Digital IQ is a cross-platform content management system. Being cross-platform, it is able to sit atop various operating systems and integrated the mobile experience (web, device, carrier deck, apps and contacts). Digital IQ offers an intelligent recommendation engine, brand pages supporting merchandise and ticket prices and a one-click purchasing system. It filters the vast amount of content available to users for easier use and increases revenues through highly focused marketing.
Content Management is an alternative app and content platform. It is the only marketplace dedicated to carriers and OEMs competing with Google Play and iTunes. It has over 100,000 applications serving over 200 million customers in more than 50 countries. It is the #2 music retailer in Australia. It has a streaming music product, similar to Spotify. Users have access to 2 million eBook titles, plus reader. Carriers and OEMs also get platform, ingestion, content management, and reporting provided as a managed service. Mandalay Content Management customers include many tier-one operators such as Vodafone (NASDAQ:VOD), Telstra (OTCPK:TLSYY), SingTel (OTCPK:SGAPY), Telecom Italia (NYSE:TI.A), and Cellcom (NYSE:CEL).
DT Pay is a payment system connecting carriers and OEMs to content providers. Mandalay describes it as the "Visa" for processing mobile content transactions. It attract to content providers as it allows them directly to a customer's mobile bill. It initially launched in Australia is being rolled out to other markets.
Revenue by Product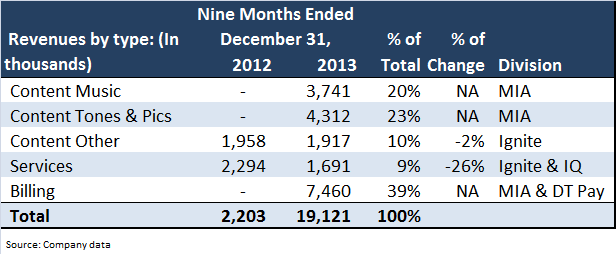 Traditional Content declined year over year due mainly to the shift of content purchases off the carriers' portal. With DT's Ignite and IQ products, Mandalay anticipates higher revenues in Service and Content revenue streams.
Customers
Including the recent contract with Verizon (VZ), Mandalay's customers have over 700 million subscribers, as illustrate below.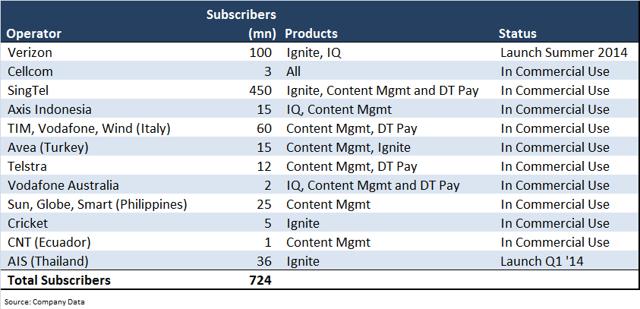 Click to enlarge
On a January 22nd, 2014 conference call, Mandalay announced a multi-year contract with Verizon, Mandalay's first US contract. Given Verizon's size, the contract should add credibility to Mandalay's product offering and be helpful in picking up new contracts. Given the number of products pitched to Verizon that are turned down for Mandalay's products to be utilized, the product must offer significant value. Mandalay's largest customer is SingTel with over 450mn customers. Advanced Information Service (OTCPK:AVIFY), a SingTel subsidiary and largest telecom operator in Thailand, will be rolling out Mandalay solutions in the first half of 2014. Thailand is the third market SingTel is using Mandalay's products.
Product Economics
Let's look at the economics behind Mandalay's products. For IQ and Content Management, when a customer purchases a $1.00 application the operator receives $0.30, the content publisher receives $0.50 and Mandalay's subsidiary Digital Turbine will receive $0.20 with the operator paying sales/VAT tax.
For Ignite, operators pay a setup fee for between $100k and $500K. Mandalay receives revenue on a sliding scale for each pre-loaded device regardless of customer behavior or spending, with $0.25 being the average amount received.
Management Team
Mandalay has a very experienced management team and board with significant experience in the telecommunications industry. Mandalay's CEO Peter Adderton founded Boost Mobile in Australia in 2000. Boost Mobile expanded beyond Australia to New Zealand, Canada and the United States. Boost Mobile is one of the fastest growing mobile brands in the United States with over $1 billion in revenue. Nextel purchased Boost Mobile in 2004. Mr. Adderton also founded Amp's Mobile. Mr. Adderton owns 9% of the company as of 2013 10K.
Bill Stone, Chief Operating Officer of Mandalay and CEO of Digital Turbine was previously Senior VP at Qualcomm (NASDAQ:QCOM) and President of its subsidiary FLO TV from 2009-2011. Prior to Qualcomm, Mr. Stone was the CEO and President of the smartphone application storefront provider, Handango from 2007 to 2009. Appia Inc. acquired Handango. Mr. Stone also held a variety of global executive positions with various operators such as Verizon, Vodafone and J-Phone Japan.
Peter Gruber has been a board member since 2007. Mr. Gruber's experience in the entertainment/content industry is extremely valuable to the company. Peter Gruber is the Chairman of Board, a Film Producer and CEO of Mandalay Entertainment. Mr. Gruber produced a number of blockbuster movies including The Color Purple, Batman, Rain Man and many others. He co-owns the Golden State Warriors and the Los Angeles Dodgers. Mr. Gruber owns 16.8% of the company.
Chris Rogers has been a member of our Board of Directors since May 2012. Mr. Rogers served as a Senior Vice President, Corporate Development and Spectrum, of Sprint Nextel Corporation, where he evaluated and executed strategic initiatives, including mergers, acquisitions, divestitures, equity investments and joint ventures within the mobile communication and e-commerce sectors. He also was responsible for management and oversight of wireless spectrum licenses and Sprint (NYSE:S) Nextel's investment portfolio of emerging technology start-ups. Prior to its merger with Sprint in 2005, Mr. Rogers was Co-Founder and Senior Vice President of Nextel Communications, Inc. as well as Co-Founder of FleetCall Communications, the predecessor to Nextel Communications, and Founder and Chairman of Dispatch Communications, Inc., which was sold to Fleet Call/Nextel in 1993.
Jeffrey Karish joined our Board of Directors on May 23, 2013. Mr. Karish now serves as President of Windsor Media, Inc., after having served as Executive Vice President and acting General Counsel of that company. Windsor Media's principal lines of business include a private equity fund, a venture capital fund and fixed income management. Previously, Mr. Karish was Head of Media Strategy and Corporate Development at Yahoo!, Inc. (NASDAQ:YHOO). Before Yahoo, he was a management consultant at McKinsey & Company, and a key member of McKinsey's West Coast Media and Technology practice. Mr. Karish has been a director of the First Pactrust Bancorp, Inc. since 2011.
Mandalay has a very impressive management team and board of directors with a significant experience in telecommunications, entertainment and content industries.
Shareholders
Mandalay Digital has a very large insider ownership with 47.5% of the company owned by insiders. Insiders' incentives are aligned with shareholders providing additional evidence that minority shareholders are looked after.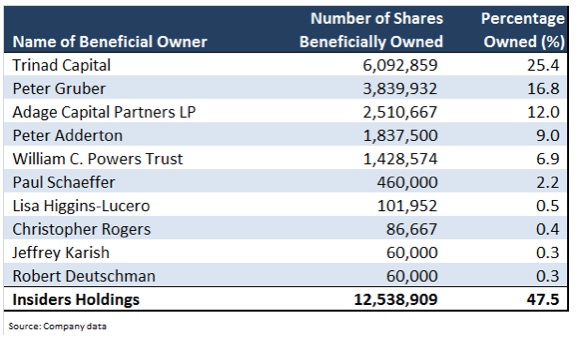 Robert Ellin, the founder of the Mandalay, runs Trinad Capital. He left the board in the past 6 months.
Value Proposition
Within the mobile ecosystem, Telecom Carriers such as Verizon, SingTel and Cellcom are trying to capture more of the value within the value chain. Carriers attempted to create app stores and sell content directly to subscribers but failed with Apple (NASDAQ:AAPL) and Google (NASDAQ:GOOG) capturing most app revenues. Customers spent over $10 billion in Apple's App Store in 2013 up from $7 billion in 2012. Apple's App Store had more than 1 million apps at the end of 2013 compared to 775,000 at the end of 2012. According to the Wall Street Journal, Google Play revenues were half of Apple with the current number of Android apps is over 1.1 million. Apple made 30% of total app sales while the developer receives 70%. For every $1 of app sales at Google Play, Google receives $0.80 while the developer receives $0.20.
Apple and Google have a much large subscriber base then Carriers as they sell their products globally while Telecom Carriers typically operate on a national level. With the network business model of app stores, the more users you have the more developers you will have which will be a self-fulfilling cycle for the app store as more users = more developers and more developers = more apps. This means for an app store to compete it needs to compete on a global level, which Carriers cannot do given their national scale, therefore it makes tremendous sense for a company to provide a bridge to Carriers and OEMs to try to generate global scale to compete with Apple and Google's app stores and allowing them to extract more value from the supply chain. Carriers have tremendous power in the supply chain as they control the customer relationship. If there is an opportunity for them to extract more value from the supply chain they will be proponents of the product and have the power to implement it.
In addition, subscriber analytics are not provided to Carriers from Apple, Google or other operating system providers. Mandalay's products, particularly Ignite, help Carriers better understand subscribers and generate more revenues from subscribers.
Carriers now receive minimal revenue from mobile advertising. Given Carriers are the gatekeepers given their ability to connect with the customer they should generate much more mobile ad revenues. Mandalay's product suite allows Carriers to better understand customers allowing for more tailored advertising which lead to more effective advertising and more valuable advertising.
Vodafone Australia integrated Mandalay Digital's Content and Pay solutions giving their 2 million subscribers access to the industry's latest music and games. With Mandalay's products Vodafone launched a Music and Games service in 6 weeks. This increased content revenues by 40% in 3 months after integration. Vodafone was also able to create new revenues streams, increase margins and streamline the billing process.
Israeli-based Cellcom implemented Mandalay's total solution for value added services, which includes all content. Mandalay's products were able to increase revenues from content sales by 40%.
Market Opportunity
Total Global Smartphone market is current 6 billion units and growing. Mandalay's current addressable market is over 700 million subscribers meaning there is significant room to grow its addressable market. Excluding Verizon and AIS subscribers (587.5 million subscribers), for the first 6 months of 2013, Mandalay generated $0.0206 per subscriber. As Mandalay's products and relationships mature this revenue per potential subscriber will increase dramatically as will its addressable market.
What is this opportunity worth?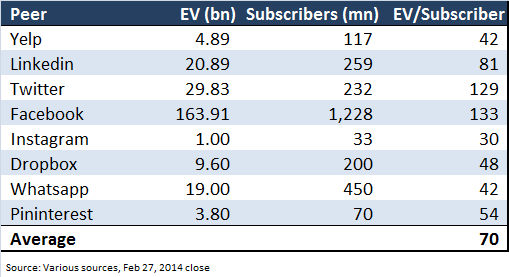 The table above illustrates the valued placed on a number of mobile companies both public and private based on their latest valuation (Public = market price & private = latest transaction). The average value placed on each subscriber is $70, with the high being $148 per subscriber at Twitter and the low being $30 per subscriber at Instagram.
Mandalay had it programs on an average of 2.25 million unique devices in the January 2014. Placing the $70 multiple leads to a total enterprise value of $157 million or a per share equity value of $5.28 representing 9% upside. This is a very conservative valuation as the subscriber number should grow exponentially as Mandalay's relationships mature and Carrier subscribers refresh their products.

Looking at EV/Sales, Mandalay Digital's mobile peers are trading at an average EV/Sales of almost 31x. Valuing Mandalay on a 31x sales multiple leads to an equity value per share of $15.93. Using a more conservative figure of 15x sales, Mandalay equity value per share is $7.88 (62% upside) increasing to $13.92 (186% upside) using FY2014 sales guidance mid-point.
Using very conservative valuation metrics, Mandalay is significantly undervalued.
Technical Analysis by Harry Boxer (TheTechTrader.com)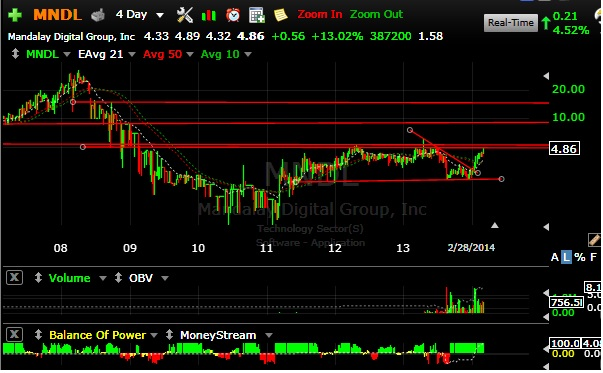 Mandalay traded in the low $30's in early 2008 but saw its stock decline sharply during the bear market to under $1 on two occasions in 2010 & 2011. The stock then experienced a more than 6 fold increase off the double bottom to near $6 by April of last year before backing off to retest technical support near $2.10-2.25 zone. Once again the stock has surged back over the last 2 months to retest key resistance near the $4.90-5.20 zone, where it currently stands. This time the move was accompanied with very strong relative volume and The Tech Trader believes MNDL it possibly on the verge of an explosive phase that could reach price objectives at $6 then $8.50-8.75. Longer term low to mid teens may be possible.
Conclusion
Mandalay Digital is providing an extremely valuable service to Telecom Carriers and OEMs. The company has a huge addressable market that is barely touched with the management team to take advantage of the opportunities in front of them. The company is also undervalued on current metrics so the growth opportunities are not priced in. In my opinion, Mandalay Digital should provide strong shareholder returns over the next few years.
Disclosure: I have no positions in any stocks mentioned, and no plans to initiate any positions within the next 72 hours. I wrote this article myself, and it expresses my own opinions. I am not receiving compensation for it. I have no business relationship with any company whose stock is mentioned in this article. I was assisted in preparing this article by my associate Marc Melendez