Among my favorite kinds of investments are those with a high level of predictability. I like small, unknown, high yielding stocks that have a consistent dividend growth history, excellent management and a large moat around their business. While putting together an experimental real world High Yield portfolio (which can be seen here), I came across a company that meets this description to a "T".
Company Overview
Brookfield Infrastructure Partners (NYSE:BIP) is a recent MLP created by its General Partner, Brookfield Asset Management (NYSE:BAM) in 2008. It specializes in long life, hard to replicate utility and infrastructure assets with long term service contracts. 90% of revenues are derived from long term or regulated prices, with 70% of revenue indexed to inflation. To quote the company from its most recent annual earnings supplemental:
OUR MISSION

To own and operate a globally diversified portfolio of high quality infrastructure assets that will generate sustainable and growing dividends over the long term for our unitholders.
The company operates under several unitholder friendly principles:
Investments are to achieve a target return on invested capital [ROIC] of 12-15%.
Investments are to be capable of growth through organic cash flow generation as well as further investment and expansion capabilities.
The company judges their performance through growth in Adjusted Funds From Operations, [AFFO] and AFFO/unit, which is a better method of measuring an MLP's ability to generate cash and pay distributions to unit holders, the primary purpose of an MLP.
Distribution payout ratio (as percentage of FFO/unit) is 60-70%. At the end of 2013, it was 52%, rising to 58% after the recently announced 12% distribution increase.
The Company operates in 3 main units:
Utilities:
Virtually all businesses in this segment run on long term or regulated contracts. Inflation indexing is built into contracts and regulation agreements. Some of the assets the partnership operates in this unit include:
The world's largest coal terminal in Australia, capable of shipping 85 million tons/year.
9,900 KM of electrical transmission lines in North and South America. The partnership owns 98% of Chile's electricity distribution lines.
Distribution of Electricity and Natural Gas to 2.1 million customers in the UK.
In 2013, this unit generated $350 million in AFFO, resulting in an 11% return.
Of interest to investors is the capital backlog for this unit. Capital backlog is investment projects approved by regulators or contractual counter parties for expanding existing operations. At the end of 2013, the backlog in the utilities segment stood at $348 million. These investments will be completed over the next 2-3 years.
"Networks that provide transportation for freight, bulk commodities and passengers, for which we are paid an access fee" The partnership owns:
The sole rail provider in West and South-Western Australia, with 5,800 KM of track.
28 ports in the UK and across Europe
3,200 KM of toll roads across Brazil and Chile
In 2013, the partnership invested $212 million into this unit and received an Adjusted EBITDA return of 47%. This indicates very profitable investment returns from this unit and resulted in AFFO growth of 114% from $123 million in 2012 to $263 million in 2013.
On December 23, 2013, management announced a $350 million investment in Brazilian infrastructure in the form of a 27% equity stake in VLI, which is one of Brazil's largest rail and port providers.
VLI possesses: 4,000 KM of rail, 17,100 railcars, 680 locomotives, 5 inland terminals and 3 ports in 8 Brazilian states that represent 60% of the nation's GDP. The terms of the deal ensure a minimum return on investment for a period of 6 years that begins in mid 2014, when the deal is expected to close.
This latest investment in South American infrastructure represents the kind of disciplined, well thought-out, long-term projects management is famous for. It is also why the partnership has performed so well for investors, which I will cover later.
The capital backlog for this unit stands at $373 million, including:
$108 million to strengthen rail lines, allowing longer and faster trains to run over them.
$245 million to widen toll roll lanes
$20 million to deepen port births
Systems that provide energy transportation, storage and distribution services.
This unit is broken up into 2 segments.
Energy Transmission, Distribution & Storage:
15,500 kilometers of transmission pipelines, over 50,000 gas distribution customers and 300 billion cubic feet of natural gas storage capacity in the U.S. and Canada.
Heating plants capable of delivering 1,905,000 pounds per hour of steam and 136,800 tons of cooling capacity sourced primarily from deep lake water system.
In 2013, the partnership invested $15 million in this unit and achieved an Adjusted EBITDA return of 42%. This unit delivered $31 million in AFFO compared to $39 million last year due to challenging conditions in the natural gas markets.
Management foresees continued weakness in the natural gas distribution business in 2014 and is considering selling the lower margin segment of the business. Meanwhile District Energy is growing quickly, delivering $5 million in FFO compared to $1 million in 2012. Management expects continued strong operations in 2014 out of this segment.
General Partner
Brookfield Asset Management is the general partner of Brookfield Infrastructure partners and receives a base management fee of 1.25% of market cap. The General Partner was founded in 1899 and operates in 20 countries with $181 billion in assets under management. They are experts in real estate, energy, utilities and finances. Their track record for growing investors wealth is excellent.
Incentive Distribution Rights (IDR) is something all MLPs who still posses a general partner operate under. Most general partners are entitled to 50% of FFO after the distribution has reached a certain limit. Brookfield Infrastructure Partners has a 25% IDR, indicating that 75% of future FFO will accrue to them. This is a major benefit over most MLPs, and given the quality of management over at Brookfield Asset Management, it is a major advantage for investors.
Total General and Administrative expenses for 2013 were $9 million. This is up $1 million from 2012. Management is expecting 2014 expenses of $10 million which represents just 0.38% of 2014 projected revenues. In the world of MLPs, this kind of G&A expenses as a proportion of revenue is very low and further represents the value proposition of this investment.
Future Growth:
In 2013, the partnership invested $500 million into growth projects. Yet they also increased their backlog of future projects by $600 million. This means that Brookfield has approximately $5.1 billion in future investment in organic growth, not counting future acquisitions.
This news should excite investors, because management has proven itself excellent at maximizing ROIC and growing AFFO/unit through its disciplined acquisitions and investments. Management reported nearly $2.582 billion in liquidity at the end of 2013, compared to $763 million at the end of 2012. This liquidity consists of $500 million in cash and $1.4 billion in committed corporate credit.
In addition to the high liquidity, in 2013, Brookfield did $4.5 billion in financing deals to lower their interest expenses, increase their average loan length to 10 years and hedged 80% of FFOs for the next 2 years.
What this means for the partnership is excellent growth opportunities in 2014, with greater liquidity than ever before to make well disciplined and profitable long-term investments. The most recent $350 million investment in VLI is a sign that management is constantly looking for future growth prospects, and if the project works out as expected, they may increase their stake in the project, as they have done with past South American assets.
Past Performance:
Brookfield Infrastructure Partners has exhibited strong and sustained growth over its brief 5 year existence.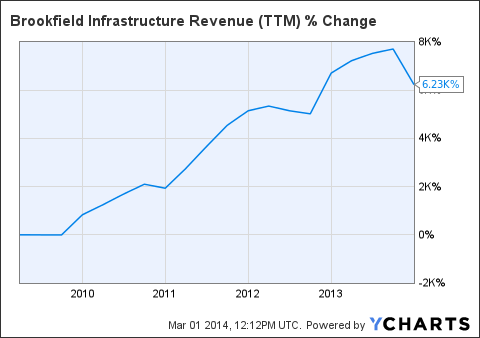 Revenues have grown at an astounding 140% annually since the partnership's spinning off in 2008 through 2015 projections. Revenues have grown from $32 million in 2008 to a projected $2.8 billion in 2015.
While FFO/unit has increased an amazing 16.5% CAGR, growing from $1.54 in 2008 to $3.30 in 2014. In 2013 alone, it grew at 37%. This has fueled the growth of the distribution at 16.3% CAGR. Distribution increases in the 2012 and 2013 were 14.3% and 12% respectively. Yet despite the strong growth in distributions, the FFO payout ratio is still at 58%, lower than managements 60-70% target range.
The total returns experienced by investors have been exceptional.
Investors in Brookfield Infrastructure Partners have received 21% CAGR, a figure that rises to 27.2% taking into account dividend reinvestment.
Valuation
As wonderful as Brookfield's past performance has been, what investors need to know is what is the partnership worth today? More importantly, what kind of performance can investors expect going forward, over the next 10, 15, 20 years?
There are several ways to model Brookfield. We can use a Discounted Cash flow model with the following assumptions:
substitute FFO for EPS
12.5% 5 year FFO growth
10% long term FFO growth, (per management's guidance) over next 10 years
9% discount rate, long term CAGR for stock market from 1871-2013
Using these assumptions, we get a present day fair value of $58.81, indicating that Brookfield is trading at a 36% margin of safety as is very undervalued at today's price.
To model future returns, we need to look at the distribution, which is the primary reason for investing in an MLP. The FFO/unit is what drives the distribution, so we need to model that, long-term, and apply the stated 60-70% FFO payout ratio.
In the last 5 years, management has grown FFO/unit at 16.5% CAGR. Last year, it grew 37% on the back of strong acquisitions and heavy investment in organic growth. That trend is likely to continue as seen in the recent VLI investment and last year's record cap-ex investment in organic growth. In addition the $5.1 billion backlog of organic investment opportunities indicates that the partnership has at least a decade of strong growth ahead.
However, let us be conservative and assume that the FFO/unit growth will drop to 12.5% annually over the next 5 years. After that, it declines to the terminal rate of 10%, which management has indicated is their realistic long term FFO growth rate.
Under these assumptions, I model 2018 FFO/unit of $5.95 and 2023 FFO/unit of $9.58
Applying the 60-70% payout ratio, I model 2018 distributions of $3.57-$4.16/unit. In 2023, I anticipate $5.75-$6.7/unit of distributions.
To determine the unit price from these anticipated distributions, we look at the historical yield.
Over the last 5 years, Brookfield Infrastructure Partners' yield has averaged 5.1%. Assuming this will be similar in 5 and 10 years, I model a 2018 unit price of $69.96-$81.57. To this, we need to add the distributions we expect to receive over the next 5 years. The CAGR of the distribution over the next 5 years, according to my model, is 11.6-13.3%. Taking the average of 12.45%, we expect to receive $12.31 in distributions. This makes our units worth $82.27-$93.88. This represents a total return of 17.1%-20.2% CAGR, rising to 23%-26.4% if dividends are reinvested.
While those returns are certainly mouth watering, when we look out to a ten year time horizon, we truly see the amazing potential of Brookfield.
My model projects 2023 annual distributions/unit of $5.75-$6.7. Again, assuming a 5.1% yield at that time, that would value each unit at $112.67-$131.45. Over the next 10 years, investors can expect approximately $34.44 in distributions. Note that this is nearly paying for the price of shares today. This brings the total 2023 unit value to $147.11-$165.89. This represents a 10 year CAGR of 14.7-16.1%, rising to 20.5%-22% CAGR with dividend reinvestment. Since Brookfield offers a Dividend Reinvestment Plan, [DRIP] this makes oversized returns for patient, long-term investors easier than ever.
This model's 10 year projected returns also allows us to estimate the present fair value of shares and compare it to the DCF analysis done earlier.
Discounting by 9%/year means dividing the 2023 total unit value by 2.37. This gives a present fair value of $62.14-$70.07/unit. This represents a 40%-46.5% margin of safety, which is indicates that units are even more undervalued than my initial DCF analysis indicated.
Modeling performance further than 10 years is even easier. With management guiding for 10% terminal FFO/unit growth and a steady payout ratio of 60-70%, one can expect distribution growth past 2023 to be about 10%. With a yield of 5.1%, total returns should equal yield +distribution growth or 15%, (20% with dividend reinvestment) annually beyond 2023. This is about double what the stock market has delivered over the long term, including dividends reinvested.
Technical Analysis
The technical signals for Brookfield are neutral short and medium term. There is mild support at $37.05 with equally moderate resistance at $39.18. This means that there is no indication of strong price movements in the immediate future - which long term investors should view as a signal to buy.
Summary
Of all the investments I have ever studied, Brookfield Infrastructure Partners is one of my all time favorites. Its portfolio of irreplaceable, long lived assets, provide steady and growing cash flows in both good economic conditions and bad. Management is among the best in the business and has a strong track record of excellent capital allocation and disciplined acquisitions. This in turn fuels a strong and dependably growing distribution that will power the unit price upwards to deliver long term investors 20% CAGR total returns over the next 10 years with 15% annual returns after that. Long term investors should have no qualms about purchasing units at their current valuation. Given the caliber of this partnerships current assets, best in class management and stellar future prospects, Brookfield Infrastructure Partners is a definite and strong "Buy Now".
Disclosure: I have no positions in any stocks mentioned, and no plans to initiate any positions within the next 72 hours. I wrote this article myself, and it expresses my own opinions. I am not receiving compensation for it (other than from Seeking Alpha). I have no business relationship with any company whose stock is mentioned in this article.