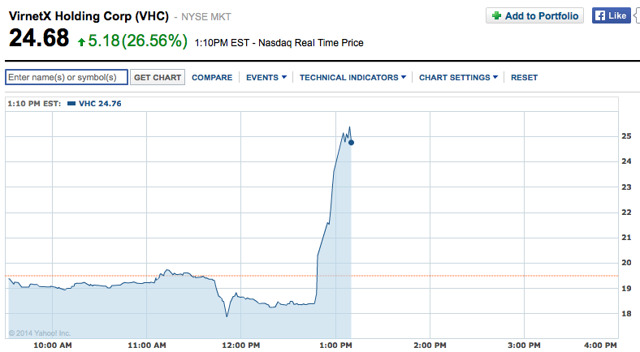 Click to enlarge
(Source: Yahoo Finance)
After some interesting volatility that sparked a sell-off this morning, shares of VirnetX (NYSEMKT:VHC) are now soaring on huge volume. The company received a very important and much-anticipated ruling out of the Eastern District of Texas in its case against Apple (NASDAQ:AAPL). VirnetX has been a complex investment for many to grasp, although this is a very positive development.
In the ruling, VirnetX was awarded an on-going royalty rate of 0.98% on adjudicated products and products not colorably different from those adjudicated at trial that incorporate any of the FaceTime or VPN on Demand features found to infringe. This is excellent news for two reasons - the on-going royalty rate is significant, and it also includes products that are not more than colorably different than those argued at trial.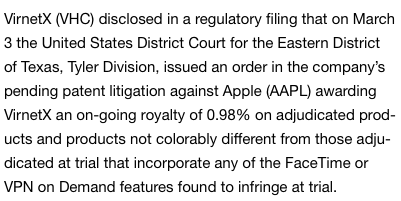 (Source)
A 0.98% royalty rate on Apple's smallest saleable unit of infringing products is huge, and results in an annual award in the hundreds of millions of dollars - roughly $500M-plus. This is in addition the $368M award the company won against Apple two Novembers ago, that has since grown to over $440M with post-judgment interest.
Judge Davis has included products that are not more than colorably different from those originally argued at trial. This was thought to be a stretch win at first, although it is a major victory for VirnetX. This is due to the fact that newer products are infringing in the same way as past products. Also, this avoids a second trial to deal with Apple's newer products and adds these products to the ongoing royalty rate award for VirnetX.
Investors in VirnetX have been in limbo since the Summer, debating when a judgment would be passed down. This ruling is on the same day as the CAFC hearing between the two parties, but it does not mean anything important. The decision just happened to come down today.
With this large on-going royalty in VirnetX's hands, subject to appeals, it may be just what it takes to bring Apple to the negotiation table. After New Bay's IPRs were shot down and Apple's as well, a favorable judgment for damages on past infringement and now an on-going royalty rate on products, including those not more than colorably different than those found to be infringing - Apple may want to settle.
Investors should be reminded that IP investments are very complex in nature. Rulings are subject to appeals, and the investments themselves are tied to many mediums, such as the Federal Court System, a company's execution and the USPTO. I am waiting for the court document itself to become available on PACER so I can have more information to the events that have unfolded.
Investors in VirnetX should be applauded for their steadfastness in their investment backed by their extensive due diligence on the company. All aboard the short squeeze express, but then again - what exactly was the compelling short thesis anyway?
Disclosure: I am long VHC. I wrote this article myself, and it expresses my own opinions. I am not receiving compensation for it (other than from Seeking Alpha). I have no business relationship with any company whose stock is mentioned in this article.
Additional disclosure: This article is informational and in my own personal opinion only. Always contact a financial professional before executing any trades or investments.