The last time I wrote about SandRidge Energy (NYSE:SD) was at the beginning of January when its stock price still seemed to be directionless. SandRidge Energy was quoting at $5.82 at the time of my previous writing (here), and I recommended the stock mainly because of its impressive production growth in the Mississippian region and because of Leon Cooperman's endorsement. Leon Cooperman is a renowned investor who I follow closely for his approach to value investing.
Share performance
SandRidge Energy's shares have been quite volatile during 2013, but have made investors 12% richer over the last twelve month and 8% year-to-date. The stock has also recovered nicely after a sell-off in October 2013, which drove the shares down by 24%. SandRidge Energy now quotes just below the $6.50 mark and might even be able to push beyond its 52-week High of $6.96.
(Source: Yahoo Finance)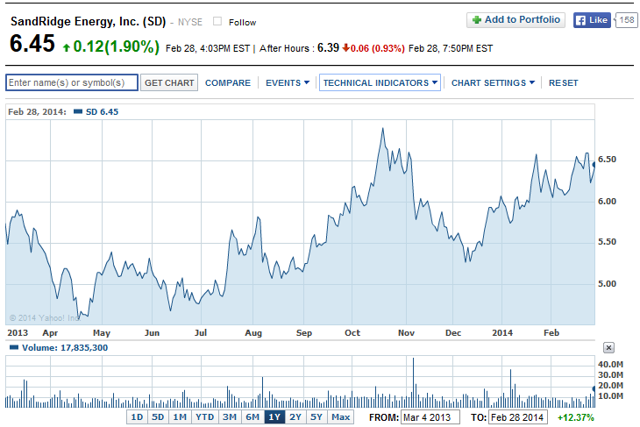 Click to enlarge
Production guidance outperformed
The most important take-away from SandRidge Energy's results release last week was that the company exceeded its own previous production guidance by 1%. SandRidge Energy's total 2013 production stood at 33.8 MMBoe (of which 11.25 MMBoe relate to divested assets in the Permian region and the Gulf of Mexico) compared to a production guidance of 33.6 MMBoe. SandRidge's Mid-Continent production kept surging in the fourth quarter: The exploration company reported an 8% sequential increase in production to 51.7 MBoe per day.
SandRidge's Chief Executive Officer and President commented on its progress in the Mid-Continent:
We are already producing from six oil rich zones in the Mid-Continent focus area. Consistent execution and continued improvements have increased our Mississippian type curve EUR by 3% over 2012, while reserve replacement was 434%. As an example of appraisal success, we've now added Sumner County, Kansas, where we have over 100,000 acres, to our focus area. We look forward to giving more detail on all of this, introducing our three year production outlook as well as discussing our ideas to unlock the value of our water disposal business, at our New York City analyst day March 4.
At the same time, SandRidge Energy showed capital discipline and reported capital expenditures of $1.42 billion versus a guidance of $1.45 billion.
2014 production guidance
There is one thing that is particularly attractive about SandRidge Energy and will largely determine the direction of its share price: The growth of SandRidge's Mid-Continent/Mississippian operations.
In 2013 SandRidge Energy had a total underlying production of 22.5 MMBoe (not accounting for divested assets in the Permian and Gulf of Mexico) which is forecasted to grow to 28.3 MMBoe in 2014: A staggering projected y-o-y increase of 25.8% in recurring production. Since SandRidge Energy primarily runs on its Mid-Continent operations, it is not surprising that the majority of projected production growth happens right there. SandRidge Energy is set to increase total production in its core operating region from 17.0 MMBoe in 2013 to 23.2 MMBoe in 2014: A whopping increase of 36.5%.
(Source: SandRidge Energy 4Q 2013 and YE 2013 Investor Presentation)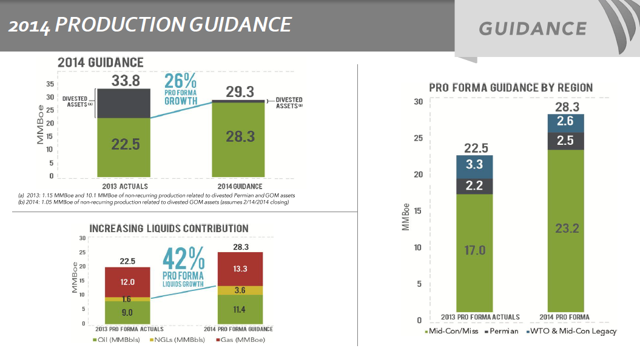 Click to enlarge
SandRidge Energy forecasts Mid-Continent/Mississippian production of 63.5 MBoe per day which compares to 46.7 MBoe per day in 2013: a y-o-y increase of 36.0%. Oil production is expected to increase from 19.0 MBoe per day in 2013 to 25.0 MBoe per day in 2014 (an increase of 31.6%), NGLs are expected to rise 152.8% from 3.6 MBoe per day in 2013 to 9.1 MBoe per day in 2014 and gas production is forecasted to rise from 24.0 MBoe per day to 29.4 MBoe per day this year (a plus of 22.5%).
(Source: SandRidge Energy 4Q 2013 and YE 2013 Investor Presentation)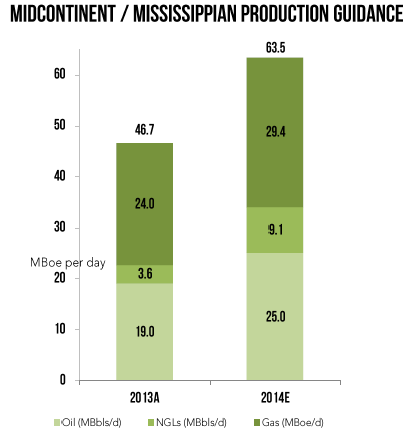 Conclusion
SandRidge Energy is transforming its business and operations profile in order to become an oil and gas player focused on the Mid-Continent/Mississippian region where underlying production growth prospects are the most attractive. Asset sales in the Permian and Gulf of Mexico were major accomplishments by SandRidge Energy in 2013, and the company can now focus on pursuing a more concentrated approach to production growth.
SandRidge's business transformation and a concentration on high-impact production areas are the best things management can do to create long-term value for shareholders. Given SandRidge's concentration efforts and strong production guidance for 2014, I think SandRidge is still an attractive bet for long-term shareholders.
Disclosure: I am long SD. I wrote this article myself, and it expresses my own opinions. I am not receiving compensation for it (other than from Seeking Alpha). I have no business relationship with any company whose stock is mentioned in this article.