Background
During J. C. Penney's (NYSE:JCP) earnings conference call on February 26th, 2014, CEO Myron "Mike" Ullman waxed poetic about his retailer's lower-than-expected, non-GAAP loss of $.68 per share for 2013. And so he should have. The company is now past the embryonic phase of its turnaround, and open waters beckon. According to Ullman:
With the most challenging and expensive parts of the turnaround behind us, we will focus on improving gross margin, managing expense and steadily growing our sales in 2014.
I want to highlight three key points in his statement that I will return to later:
Improve gross margin
Manage expense
Grow sales
J. C. Penney's full year results were better than many had expected in one notable way, accounting for much of the earnings beat - 4th quarter SG&A expenses of just over $1B, 17% lower than the prior year. Seeking Alpha contributor For The Long Run provides a good summary of the complete results here.
JCP stock impervious to "bad" tidings
In a previous Seeking Alpha article on J. C. Penney's prospects, I posited that an SG&A reduction could be just one of many "wild cards" that might come up and bite the shorts, and that JCP stock would shrug off anything negative in the earnings release. Margins of 28.4%, for example, ended up below many analysts' estimates, but this miss didn't even merit blip-on-the-radar status.
We all know the rest of the story. JCP stock rocketed over 25% after hours and held those gains through the following regular session. Was much of the rally just short covering among disgruntled bears in a disorderly exit? Maybe. But there were a lot of longs snapping up shares as well, and I was one of them. "Beep, Beep, Beep" went my truck, as it backed up to load up more shares, adding to my existing long position.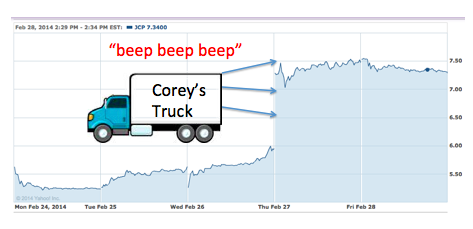 So do I have a horse in the race? You bet! Read on, and I think you'll figure out just one of the reasons why.
Incredulity in the wake of earnings
Not everyone was so sanguine about the earnings report. Jason Bond wrote a very balanced piece questioning how J. C. Penney could possibly suggest it would have around $2B in liquidity at the end of 2014, without some kind of equity raise or other dilutive event.
Sterne Agee analyst Chuck Grom was equally perplexed by management's assertion that the company could continue to cut SG&A while guiding higher on sales.
Such consternations notwithstanding, the longs out-sung the bears in a congratulatory chorus; Mathew Levy provides an excellent bull thesis here.
But Bond and Grom are not unreasonable in their lines of inquiry. So how can J. C. Penney possibly make believers out of the skeptics?
Enter Mike Rogers, The Earl of Omnichannel Retail
What many analysts and commentators may have missed from the earnings call was Ullman's official pronouncement that Mike Rogers, the former CIO of Saks Fifth Avenue, had been anointed "Senior Vice President of Omnichannel Strategy & Execution" (I'd love to see that business card). Said Ullman,
"I believe the future of retail is omnichannel, and we are committed to leading our sector in omnichannel functionality…. As a pioneer in online retail, we believe J.C. Penney can and will help lead the way in the development of true omnichannel experience."
It is my contention that within Ullman's statement lays one of the main catalysts for J. C. Penney's continued turnaround and stock price advance - Omnichannel (a.k.a Omni-Channel) retailing. Mike Rogers is an established practitioner of Omnichannel, having brought the approach to Saks Fifth Avenue, using technology partly sourced from Oracle (NASDAQ:ORCL). Regardless of the technology he will be (or already is) implementing at J. C. Penney, I believe Rogers' influence will be felt very soon, to the chagrin of the bears.
Alright already, what exactly is this Omnichannel thing?
If you want to become thoroughly confused, you can go read the Wikipedia definition. Actually don't bother, let me boil it down for you. My take on Omnichannel retailing is:
Knowing your customers and tailoring offers to them online or in-store
Selling customers the same stuff in the same way on the web, in email, on mobile, in stores, and through social media
Getting customers into the store whenever possible
Shipping product (if necessary) as fast as possible from the most cost effective source
Omnichannel Retailing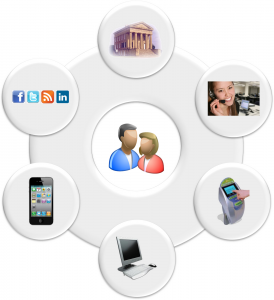 Source: ribaretail.com
Here's a scenario: Amanda needs a new pair of shoes. She goes online to JCP.com because she remembers she got an email from J. C. Penney about a special on shoes that match her past purchasing behaviors. She's also seen some JCP ads on Facebook and television. The shoes are in stock, but she sees a button for "find in local store" (which JCP already has BTW). She wants them now! (Don't we all?)
Amanda heads into the store. A "greeter" named Nancy welcomes her, swipes her JCP card on an iPad (excuse me, a "tablet"), walks her over to the shoe department, and on the way lets Amanda know about several other specials that match her desires, based on her past buying behavior and customer segmentation data.
Alternatively, with a swipe of her loyalty card, a kiosk near the entrance provides Amanda with instant coupons for high margin goods that "the system" knows she wants. Amanda walks out with her shoes... but also a belt, some makeup from Sephora, and a new comforter. And a purse. And a… You get the picture. By the way, if she did end up ordering online, the shoes could be drop-shipped from the distributor or even directly from a store; whatever costs less and ships the fastest. Order management is critical.
It's all about the stores…. oh yeah, and inventory
Omnichannel retailing is the "Amazon killer" because of its focus on getting customers into stores. Amazon (NASDAQ:AMZN) may even have to take notice, as there's been a lot of talk about the online retailer needing to establish a brick and mortar presence, for example by snapping up RadioShack (NYSE:RSH), another turnaround play I'm long.
What would Amazon want with a brick and mortar presence? If a loyal, existing, in-store customer spends $5 for every $1 they do online, and Mike Rogers made this happen at Saks, imagine what he will do for J. C. Penney!
I believe J. C. Penney will significantly increase the average purchase of loyal and new customers through targeted offers and in-store promotions, and increased sales will follow. What kind of sales increases are we talking about? Research shows "Omnichannel customers" spend 35-50% more than single channel shoppers. (#3 above - check)
What about higher margins you ask? Omnichannel techniques and technology can prioritize and amplify the value of higher margin, private label brands, and reduce the need for aggressive discounting. (#1 above - check)
If inventory plays an absolutely critical part of the liquidity equation, how could J. C. Penney optimize its inventory purchases with Omnichannel in a way that would dramatically reduce its capital outlays? Well let's just ask Macy's (NYSE:M), which is apparently one of the Omnichannel benchmarks in the industry.
The funny thing about inventory is that it's both an asset AND an expense. Only by selling the asset can a retailer (or any business) offset the expenses involved in buying it, against the income generated from its sale. But I imagine most retailers would like to avoid unnecessary inventory expenses to begin with, rather than have a rapidly depreciating asset on the books (that then must be marked down).
Mike Rogers' Omnichannel strategy will very likely focus on reducing inventory expense by buying less stock, (#2 above - check) while at the same time being able to sell more goods across channels, thus reducing the need for markdowns (higher margin - #1 above - again - check).
Bottom Line
Even if we err on the conservative side and assume that only 10% of J.C. Penney's 2014 customer base graduates to Omnichannel status (I think it will be much higher), if we take IDC Research's midpoint of 40% higher Omnichannel customer spend, that's 4% sales growth right there, which would account for pretty much all of the company's 2014 sales growth guidance of mid single digits. Add to that other sales growth catalysts such as the continued return of pre-Johnson customers and a possible improvement in retail overall, and you're talking about one heck of an earnings surprise!
Inventory expenses can also be significantly cut - if Macy's is any measure - and margins increased by avoiding markdowns.
But I can just hear the naysayers now:
"This is just fiddling around the margins - JCP's problems are more endemic."
Really? Rogers was faced with a 30% loss in business when he joined Saks. You don't "fiddle" with 30% sales declines.
"It's too late, they will never get Omnichannel in place in time."
Sorry. Cloud-based, packaged solutions like those from MicroStrategy (NASDAQ:MSTR) can be put into place in a matter of weeks, not months or years, as was the case even just a year or two ago. Moreover, Rogers hasn't likely been sitting on his hands since joining almost a month ago.
To Mr. Rogers, I say, "congratulations, and have at it." To the JCP bears and shorts, I say, "Go online, check your smartphone, read your email, check your Twitter feed, or even go into your brokers' office. You'll get the same answer - cover your JCP short position now, before it's too late."
Disclosure: I am long JCP, RSH. I wrote this article myself, and it expresses my own opinions. I am not receiving compensation for it (other than from Seeking Alpha). I have no business relationship with any company whose stock is mentioned in this article.
Disclaimer: Do your own due diligence before investing.