Linn Energy, LLC (LINE), the Texas-based independent oil and gas company, was a little bit in rough water after the exploration company posted a larger-than-expected loss in the most recent quarter. The acquisition-hungry energy company reported a net loss of $784.5 million which compares against a net loss of $187.5 million in the year ago quarter. On a diluted per share basis, Linn Energy's net loss stood at $3.15 compared to $0.83 in the year ago quarter.
For the full-year 2013 Linn Energy reported a net loss of $691.3 million ($2.94 per diluted share) compared to a net loss of $386.6 million ($1.92 per share) in fiscal year 2012.
Oil, natural gas and NGL revenues came in at $584.6 million compared to $461.0 million a year ago - a jump of 26.8%. Fourth quarter total revenues increased by more than 10% to $629.2 million compared to $571.2 million in Q4 2012. Total expenses almost doubled during the same time period: Expenses in Q4 2013 stood at $1,302.7 million versus $656.3 million in the year ago quarter (an increase of 98.5%). The increase in charges has largely been driven by higher asset impairments which burdened fourth quarter results by $790.4 million (which compares to Q4 2012 asset impairments of $276.0 million).
Linn Energy hiked average daily production by 11 percent to 889 MMcfe/d in Q4 2013 compared to 800 MMcfe/d in Q4 2012 (Linn Energy's Berry acquisition contributed 44 MMcfe/d to fourth quarter results).
While the market overall seemed to be disappointed by Linn Energy's financial performance and the large net loss for the most recent quarter, I believe the company has great assets at hand to grow future production and distributions for unitholders.
Linn Energy has been growing strongly over the last decade fueled by a desire to scale its operations footprint and drive production growth. The recent close of Linn Energy's Berry acquisition has also been a major milestone for the company. I do think though that the company needs to take its foot of the mergers and acquisitions gas pedal for the time being and digest the acquisitions it pursued over the last few years.
On December 20, 2013, I have written about Linn Energy:
Linn Energy has been growing aggressively over the last decade and the acquisition of Berry Petroleum Company should provide meaningful tailwinds for further production and distribution growth. The pro forma company now has a reserve base of around 1,107 MMBoe of which approximately 54% relates to liquids. I have previously argued that I think exploration companies with a focus on liquids will do better than natural gas focused companies because the liquids business offers better margins and higher growth potential.

The US oil and gas exploration sector is currently experiencing a boom which is driven by a surge in hydraulic fracturing. Oil and gas companies with large proven oil reserves like Linn Energy should profit from this buoyant momentum in the industry.
CNBC just ran a piece on US energy production confirming my previous view and suggested that the US energy sector is set to increase in relative importance for the US economy:
Could the booming U.S. energy sector assume the mantle that Detroit's big automakers once held in the economy?

Although it's still too early to tell, recent trends suggest soaring energy production may replace automobile manufacturing as an economic powerhouse. Even as the U.S. recovery falters, manufacturing and energy are in the midst of a broad expansion that is helping to generate growth.

Analysts say both sectors are increasingly intertwined. Yet as Detroit's economic influence has waned, soaring shale production - and the cheap energy it provides - is making its presence felt in multiple ways. On Thursday, the Energy Information Administration reported oil production in 2013 surged by nearly a million barrels per day (bpd), its fastest growth rate ever.

In a study released in early February, the Boston Consulting Group said shale gas "will have a greater impact on U.S. manufacturing over the next several years than is commonly assumed," as cheap gas makes manufacturing more competitive - and becomes a major source of jobs and growth in its own right.

"The U.S. is without a doubt a massive leader in fracking," said Hal Sirkin, a senior partner in the Chicago office of BCG, in an interview. "It creates a boom in prices, but at the same time allows exporting technology, and people who make that technology, to other countries."

"This is why our economy is starting to wake up," Sirkin said. "We are looking like a growth country compared to developed countries and emerging markets."
Investors looking for income and capital appreciation will hardly find a better place than the US exploration sector. Linn Energy's expanded presence in California, the Permian Basin, East Texas and the Rockies serves the company in reaching a more diversified asset base and in increasing the amount of promising drilling locations. Long-term investors wanting to ride the secular trend of increasing domestic energy production should take a closer look at Linn Energy.
Linn Energy's distributions are still going strong. The company pays investors a monthly distribution of $0.2416 ($2.90 annually) which translates into a forward dividend yield of 9.1%.
Share performance
Investors clearly didn't like Linn Energy's fourth quarter results and shares sold off immediately after earnings release. However, investors shouldn't panic because of short-term results. Not every quarter can be all sunshine. The company has great long-term assets in place that should provide tailwinds for future production and distribution growth.
(Source: Yahoo Finance)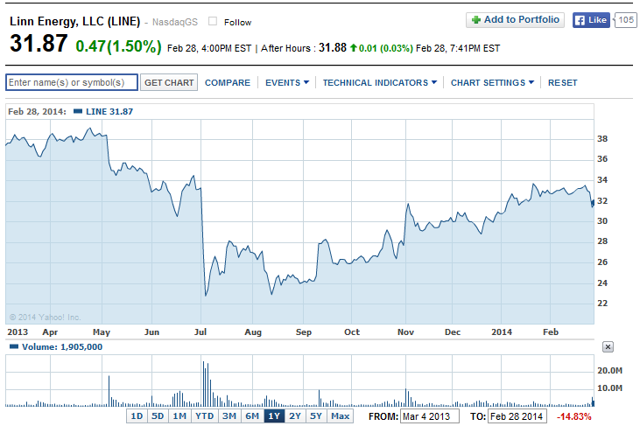 Conclusion
Fourth quarter results contained positive and negative pieces of information: While the market may have been disappointed by asset impairments and a weak financial performance, Linn Energy has also posted strong revenue growth and has achieved major milestones in 2013 (most notably, the close of the Berry acquisition). Besides conducting its daily operations, Linn Energy is now busy exploring strategic alternatives for its 55,000 net acres in the Midland Basin. I believe that Linn Energy's stake in the Midland Basin will be good for a few surprises going forward no matter whether the company pursues an active drilling program, brings in a joint venture partner or conducts a cash sale. Linn Energy is a long-term buy based on its diversified asset footprint, a successful acquisition record, strong y-o-y revenue growth, a great distribution yield and a buoyant US energy sector providing tailwinds for Linn Energy's business.
Disclosure: I am long LINE. I wrote this article myself, and it expresses my own opinions. I am not receiving compensation for it (other than from Seeking Alpha). I have no business relationship with any company whose stock is mentioned in this article.