There is considerable enthusiasm toward chip makers that offer dynamic random-access memory ("DRAM") products. Among the dearth of producers are Samsung (OTC:SSNLF), SK Hynix (OTC:HXSCF), and Micron Technology (NASDAQ:MU). Micron shows merit as an investment and aims to buy back its stock in the future. Maintaining its relationship with Apple (NASDAQ:AAPL), amidst competition from foreign suppliers that appear to have gained an edge, would help.
Micron remains DRAM-driven. It reports four segments, three of them including DRAM products. Its Wireless Solutions Group ("WSG") and DRAM Solutions Group ("DSG") are sizzling. WSG gets its highest percentages of revenues from DRAM. DSG sales are up 198%, in part due to the acquisition of Japan's Elpida Memory.
One of the compelling things about Micron is its $615-million takeunder of Elpida, a producer of DRAM for mobile devices that are increasingly popular, from bankruptcy. Net sales for the first quarter of 2014 increased 120% YoY, primarily due to higher DSG and WSG results from Elpida. (Not only are Elpida's products in demand, but the devalued yen helps). Further, according to Micron's quarterly SEC filing, DRAM is now responsible for 69% of net sales, up from 39% one year ago:

As shown in the following table, Computing and Mobile each account for proportionately high portions of net sales. Computing, now 75% higher at 35% of market concentration, appears to be of slightly greater importance than Mobile. So it is not just Mobile DRAM that is responsible for gains. However, the text at the bottom clearly states that Apple, Micron's only customer specified to account for an important percentage of sales, almost exclusively patronizes the WSG and DSG segments.

It is notable that the Samsung Galaxy S5 is not increasing the amount of DRAM used from 2GB. Yet, there should also be increased DRAM content in low-end Chinese devices. Also, LG (OTC:LGEIY) and Sony's (NYSE:SNE) 2014 products now offer 3GB, as shown in the Sterne Agee graphic below: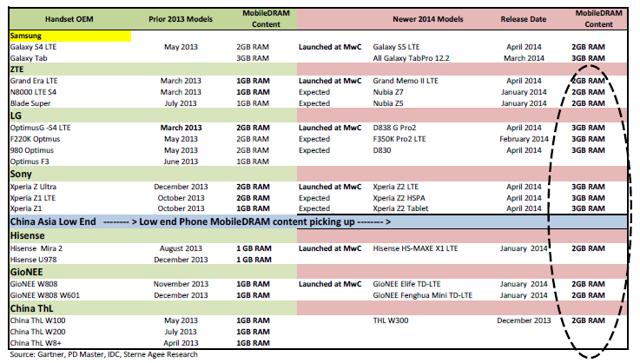 Overall DRAM supply and demand dynamics have created a terrific situation for Micron that can enhance its ability to return capital to shareholders through buybacks. Micron has made it known that it would like to repurchase shares. The transcript of the company's Winter Analyst Meeting records CFO Ron Foster saying:
…We obviously…intend to get to net cash positive and once we do, our other options to optimize shareholder value would include -- probably top of our list, share buybacks...
Meanwhile, there may be concerns about Micron keeping Apple happy. Current products such as the iPhone 5s and iPad Air use only 1GB of LPDDR3 from Elpida. There is much speculation about a Fall launch of an iPhone 6 (I, II, III). Indications are that Apple, with 64-bit graphical processing systems, is moving to LPDDR4, a high-performance memory type that Micron does not yet offer. One source above says LPDDR4 implementation is likely in order to advance Apple's retina display.
Apple, known to exert pressure on suppliers such as Micron in ways that few others can, is responsible for 13% of sales. Additionally, Samsung and SK Hynix have already developed 8GB mobile LPDDR4 products! Doubling or tripling the amounts of mobile DRAM that Micron currently offers would only occur at other manufacturers like Sony; though a relatively inexpensive Apple product for the Chinese market cannot be ruled out entirely. To summarize, there is a risk that Micron is too far behind to keep its biggest customer.
Micron investors are making a calculated gamble that status as an Apple supplier will at least be maintained in the future. However, there is pressure, as Apple might not need to wait for a particular vendor's LPDDR4. Otherwise, Micron is well-positioned in its industry as only one of a paucity of companies producing DRAM. It remains to be seen if the corporation can buy back its stock.
Disclosure: The author is long MU, AAPL. The author wrote this article themselves, and it expresses their own opinions. The author is not receiving compensation for it (other than from Seeking Alpha). The author has no business relationship with any company whose stock is mentioned in this article.