In mid-July, the FDA Tobacco Products Scientific Advisory Committee will meet to discuss dissolvable tobacco products and menthol cigarettes ahead of required reports to the Secretary of Health and Human Services regarding the public health impact of these products. Tobacco industry presentations on menthol in cigarettes will include the following: the characterization of menthol, the clinical effects of menthol, the bio-markers of disease risk, industry marketing data, and the population effects of menthol cigarettes.
The first FDA Tobacco Advisory Panel meeting was held in March to review the health effects of menthol-flavored cigarettes, with a final report expected in March 2011. The debate focused on whether menthol flavoring in cigarettes results in a more addicting product compared to regular cigarettes. Lorillard (NYSE:LO), which markets the top-selling brand of menthol cigarettes as Newport, issued a statement at the time stating that the science is clear that menthol cigarettes do not present an additional health risk.
Earlier this year in February, Star Scientific (NASDAQ:CIGX) filed the inaugural tobacco-related application with the FDA, seeking marketing approval for its Ariva-BDL as a "modified risk" tobacco product (MRTP) under the Family Smoking Prevention and Tobacco Control Act of 2009. The MRTP submission represents the first application filed with the Tobacco Products Center of the FDA, which was established to oversee all aspects of tobacco regulation outlined in the 2009 Act.
Ariva-BDL is a dissolvable tobacco lozenge with wintergreen flavoring that is made with flue-cured tobacco that contains levels of tobacco-specific nitrosamines (TSNAs) that are below detectable limits (BDL) by most current standards of measure. Draft guidance posted at the Agency's website indicates that the preliminary review period for applications of Modified Risk Tobacco Products (pending further guidance or rulemaking) is 360 days, which is twice as long as the six-month priority review and is also longer than the standard, 10-month review designation for new drugs and biological agents.
Click to enlarge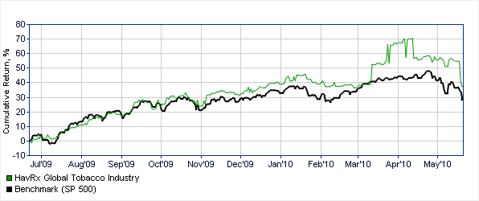 The HavRx Global Tobacco Index tracks the performance of a basket of 21 stocks on an equal-weight basis at Investars YOU since June 2009. The index includes companies that are actively developing and/or derive the majority of revenue from the distribution/manufacturing of any type of tobacco product (e.g. cigarettes, cigars, chewing tobacco), tobacco supplies (e.g. wrapping papers, tobacco leafs, filters), modified risk tobacco products (MRTPs), and electronic cigarettes (e-cigarettes).
The tobacco index has posted a gain of about 38% since 6/21/09, compared to a 26% gain for the S&P 500 Index during the same time frame while the Consumer Staples exchange-traded fund (NYSE:XLP) has posted a 19% gain in the past year. Many of the stocks in the tobacco index have dividend yields in excess of 5%, including Vector Group (NYSE:VGR) (10.2%), British American Tobacco (NYSE: BTI) (7.6%), Altria (NYSE:MO) (6.8%), Reynolds American (NYSE:RAI) (7%), LO (5.3%), and Philip Morris International (NYSE:PM) (5.2%).
Disclosure: No positions