Abbott Labs (NYSE:ABT) is poised to become the top pharmaceutical company in India, following its acquisition of Piramal's healthcare solutions business. The deal follows a collaboration announced last week between Abbott and India-based Zydus Cadila. Abbott also announced the establishment of a stand-alone established products division which accounts for over $5 billion in sales. The established products division consists of branded generics, which represent off-patent products subject to generic competition that are able to retain many of the characteristics of proprietary pharmaceutical products - especially in emerging markets such as India.
Last week, Abbott licensed 24 pharmaceutical products from Zydus that are focused on 15 high-growth emerging markets and the deal includes an option for over 40 additional products. The Piramal acquisition will make Abbott the number one pharmaceutical company in India with 7% market shares and estimated annual sales growth projected at 20% in a market that is expected to generate approximately $8 billion in pharmaceutical sales this year that could double by 2015. Abbott is paying $2.1 billion up-front for Piramal, in addition to $400 million annually over the next four years.
The HavRx Global Generic Drug Index is passively managed and tracks the performance of companies which meet any of the three inclusion criteria outlined below.
1.) Derive either $500 million (USD) or more than 50% of trailing 12-month revenue from the manufacture and sale of any type of generic (off-patent) prescription or over-the-counter (OTC) drug product intended for use by humans, including contract manufacturing services, active pharmaceutical ingredient (API) suppliers, and intermediate product suppliers for drug products and biological agents;
2.) Have one or more compound(s) in active clinical development or have a pending ANDA with the FDA for a generic drug candidate; or
3.) Receive FDA approval for an ANDA within the past 12 months. The index excludes all companies that derive over 50% of trailing 12-month revenue from the sale of patent-protected or legacy brand prescription or OTC drug products.
Click to enlarge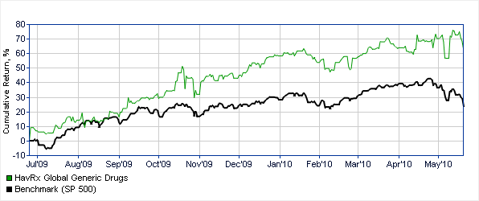 As illustrated in the chart above, the HavRx Global Generic Drug Index has gained about 64% since being tracked on an equal-weight basis at Investars YOU in late June 2009, outpacing the performance of the S&P 500 Index by over 2X. In addition, generic drugs have outpaced existing healthcare, pharmaceutical and even biotech exchange-traded funds (ETFs) over the past year, including the PowerShares Dynamic Pharma (NYSEARCA:PJP) (+27.2%), iShares DJ US Pharma (NYSEARCA:IHE) (+26.7%), Pharma HOLDRs (NYSEARCA:PPH) (+3%), S&P Pharma SPDR (NYSEARCA:XPH) (+45.4%), Healthcare Sector SPDR (NYSEARCA:XLV) (+14%), iShares Nasdaq Biotech (NASDAQ:IBB) (+23.4%), and SPDR S&P Biotech (NYSEARCA:XBI) (+17.4%).
The strong underlying fundamentals for the global generic drug industry are outlined below.
1.) Approximately 70% of all prescriptions in the U.S. are filled with generic drugs;
2.) IMS Health estimates $135 billion in branded drug sales (including $90 billion in U.S.) will face generic competition/patent expiration over the next five years (including blockbusters such as Lipitor and Plavix);
3.) IMS Health estimates $42 billion in global generic drug sales in 2011, representing growth from an expected $28 billion in global sales in 2009 and $17 billion in 2008;
4.) IMS Health estimates that the generic drug industry is growing at 7.8%, which is a faster pace than the worldwide market for pharmaceuticals; and
5.) the National Association of Chain Drug Stores estimates that in 2007 the average retail price of generic prescription drugs was $34.34 as compared to a much higher (over 3X) average price for brand name drugs at $119.51.
Some top-performing US-based stocks in the HavRx Global Generic Drug Index over the past year include Hi-Tech Pharmacal (NASDAQ:HITK) (+188%), Perrigo (NASDAQ:PRGO) (+119%), Mylan (NYSE:MYL) (+53%), Penwest Pharma (NASDAQ:PPCO) (+53%), and Teva Pharma (NASDAQ:TEVA) (+23%).
Approximately 75% of the companies in the HavRx Global Generic Drug Index are based outside of the U.S. (including many small and mid-cap stocks based in emerging markets such as China and India), which strengthens the case for the development and launch of a Global Generic Drug ETF - which would provide both retail and institutional investors a cost-efficient means to trade this globally diversified, growth industry in a single, cost-effective and convenient investment vehicle.

Disclosure: No positions