The Mortgage Bankers Association recently released data on prime loan delinquencies (30 days+) and foreclosures. Both categories reached alarming new highs, as together they represent more than 10.7% of all prime loans. Foreclosures increased at a faster pace than delinquencies, up 37% from the first quarter of 2009 (click to enlarge).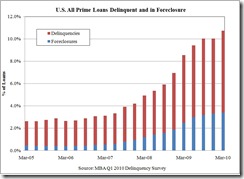 These grave statistics highlight the importance of the loan modification initiatives, like the Home Affordable Modification Program ("HAMP") and the Home Affordable Foreclosure Alternatives Program ("HAFA"), in order to stabilize housing and prevent delinquent loans from migrating to Real Estate Owned ("REO"). However, the programs' importance hinges on whether they can successfully implement their goals. Although their ultimate fate is uncertain, the most recently released results from the HAMP trials look mixed at best. Of the $1.2 billion trial in loans, approximately $278 million were dropped from the program, nearly equal to the $295 million of successful modifications. The HAMP loans that are unable to be modified will have real implications in terms of losses for Fannie Mae (FNM) and Freddie Mac (FRE):
For these loans, HAMP will have effectively delayed the foreclosure process and could increase our losses, to the extent the prices we ultimately receive for the foreclosed properties are less than the prices we could have received had we foreclosed upon the properties earlier, due to continued home price declines. (Freddie Mac 3/31/10 10-Q)
With so many failed modifications, many of these loans will likely transition to REO and hit the market, further pressuring prices. The overhang of shadow inventory is showing up in the FDIC data. The Quarterly Banking Profile for the first quarter of 2010, released this past Thursday, showed a 10-fold increase in REO across all FDIC-insured institutions since 2005 (click to enlarge).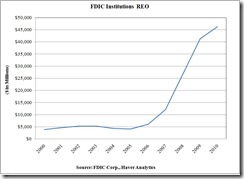 The REO situation at Fannie Mae and Freddie Mac mirrors the rest of the market. They held $17.4 billion in REO combined as of March 31, 2010. The increasing supply of REO held at Fannie Mae and Freddie Mac comes with the cost of maintenance, upkeep and taxes. In order to incentivize individuals to buy properties (and get the REO off of their books), Fannie Mae began providing a 3.5% discount on the purchase of a property in February, which was set to expire May 1. Fannie Mae just pushed the deadline to June 30, 2010. We would expect a rolling deadline until REO improves. As you can see from the graph below (click to enlarge), REO inventory has been steadily building over the last three years and currently stands at 163,927 homes, for both Fannie Mae and Freddie Mac. We would guess that this makes Fannie Mae and Freddie Mac the largest homeowners in the world, in terms of number of properties.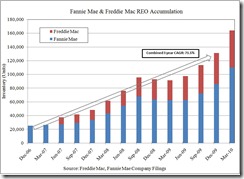 With the tenuous state of the housing market, we believe the potential pipeline of foreclosures, distressed sales and home vacancies may be problems for years to come.