By Sumit Roy

Commodities from gold to oil to natural gas blasted higher today, boosted by the escalating conflict in Eastern Europe. While the two countries in this latest saga—Russia and Ukraine—are important from a geopolitical perspective, they are also significant sources of commodity supplies.
In particular, Russia is one of the top two producers of crude oil, along with Saudi Arabia, and the No. 2 producer of natural gas in the world. At the same time, Ukraine is a large source of grain production; the country is projected to be the third-largest corn producer and the sixth-largest wheat producer this year.

Russian Oil Production (mmbbl/d)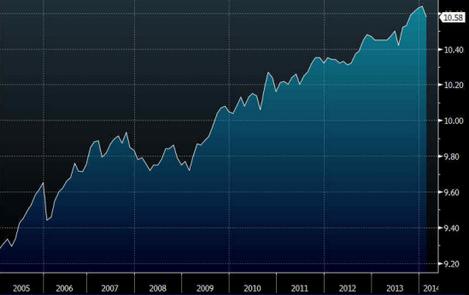 Of course, those supplies could take a hit if the conflict between Russia and Ukraine heats up, or if Western powers place sanctions on Russia's economy and exports. Over the past decade, Russia cut off gas shipments to Ukraine twice regarding payment disputes. Pipelines carrying gas from Russia to Europe run through Ukraine; thus, any disruptions in that country are felt across the continent.

Bracing for the worst, traders bid up European natural gas prices by 10 percent today. The benchmark U.K. contract rose the most since 2011 to last trade at 61.7 pence a therm ($10.28/mmbtu), according to Bloomberg. Importantly, the U.S. natural gas market is largely isolated from the rest of the world, thus the conflict has no impact on the U.S. natural gas prices.

On the other hand, the crude oil market is interconnected, and events in Europe reverberate throughout the globe. Both WTI and Brent—the U.S. and European benchmarks, respectively—were last trading up by close to 2 percent to the highest level in months.

Russia is one of the largest producers of oil in the world, with more than 10 million barrels per day of production. As with natural gas, there is precedent of Russia reducing its oil exports in response to various conflicts. However, given that oil and gas exports account for close to 60 percent of Russia's budget, any reduction in exports is a double-edged sword.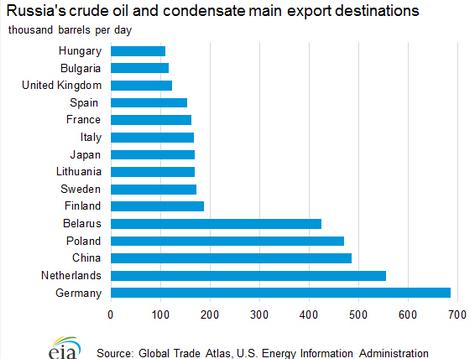 Another threat to Russian exports is sanctions. Western powers have threatened to impose economic penalties on Russia for its recent moves in the Crimea region of Ukraine. If those sanctions come to fruition and involve oil and gas exports, that will obviously have a significant bullish impact on global prices.

Finally, Ukraine is by no means considered an economic power in the global scale, but it is a notable presence in the grain market. According to Reuters, before any impact from this conflict, Ukrainian exports of corn and wheat were expected to total 16 and 17 percent, respectively, of the global total. Concerns that those exports could be reduced have pushed grain prices to multi-month highs.

Finally, gold is another commodity that has benefited from this latest geopolitical event. But while the focus is on supply for other commodities, for gold, the focus is on demand. The yellow metal is seeing a sharp uptick in buying, as traders and investors purchase the yellow metal as a safe haven. If the situation in Eastern Europe takes a turn for the worse, gold will undoubtedly rise further from here.