Costco (NASDAQ:COST) will release their Q4 Financial Earnings report on the 6th of March and investors are excited. There has generally been a bullish approach towards the stock over the last few years. It currently trades at $116.80 per share. With the outstanding shares being 439.72 million, Costco is valued at a market capitalization of 51.36 billion dollars. Costco has been showing increasing revenues year after year during the past four years, as shown by this Google finance table.

It is only logical then that the stock price goes up along with the profit trend.
But has it risen too far? I believe so. This, however, is not exactly a pure long-term sell position promoting article. I want to make a different point. To do so, however, I have to make a case on why I believe that Costco is indeed overvalued at this moment.
Industry wise, I can most closely compare Costco to Target (NYSE:TGT). Yes, Costco is actually unique in its bulk style retail, and its peak revenue periods are different than Target's traditional Christmas period. It also makes a special business involving memberships, which is bringing in extra revenue. But I believe that if any other company is close to Costco in terms of size and revenues (as well as being in the same industry, of course) and thus comparable, that company is Target.
Despite Costco's growing profits, the bigger picture is looking less excitable:
Costco's Price/Earnings ratio is 25.16, much higher than Target's 16.78 and Walmart's (NYSE:WMT) 15.39.
Costco's Price-to-Book ratio, which compares the stock's price with tangible assets, is 4.71, again higher (which is a sign of overvalue) compared to Target's 2.44 and Walmart's 3.18.
Costco's net profit margins are 1.96, while Target's is 4.09 and Walmart's 3.47.
[Data taken from Google Finance. It mostly excludes latest financial report numbers but it is using current price. I have put Walmart there as a buffer to compare to.]
So, why on earth is Target valued at $39.53 billion market capitalization, while Costco is at $51.36 billion? Well, one logical explanation is that Target was the victim of a big security breach in December, in which reportedly around 90 million customers' data has been compromised, that included their credit card numbers, names and addresses. This hassle apparently caused big distress in the company and that has been shown in the 46% drop in Target's net profits in Q4 compared to the same quarter last year.
However and surprisingly enough, on the 10th of December 2013, five days before Target discovered the breach, Target was trading at $63.16. This led to a total market capitalization value of around 40 billion dollars, pretty much the same value as Target is valued at right now!
I can conclude only two things from the analysis. Either Costco is overvalued, or Target is undervalued. Or, more realistically, a little bit of both. Although if you take the pure numbers comparison, the scales seem to tilt more towards Costco being overvalued. Again, this is not the main point I wish to make but I believe that understanding this illogical gap between the two retail giants will help further digest the conclusion that I am aiming for.
I know this is supposed to be a Costco report, but please bear with me, I will get to the point soon enough. As shown by the latest financial report, the actual direct costs of the breach for Target have been minimal compared to revenues. However, there are unrecorded costs on customers who lost their trust because of the event and stopped shopping at Target. A lot of people might have attributed that drop in profits to the breach, and I agree partly, but I don't think that's entirely the case.
I am bringing up the infamous polar vortexes. They apparently hit brick and mortar retail businesses really hard. First, there is this report that mentions that shopper traffic during the winter storms in December 2013 fell 17.7% when compared to December 2012.
Walmart's CEO Bill Simon said, and I quote:
"Comp sales were down in the first two weeks of February due to continued severe winter storms. At the height of the storm, we had more than 200 stores closed."
Macy's (NYSE:M) also attributes sales trouble to the winter freeze. And, of course, we have the Target's large profit drop that I mentioned above, which might not be fully attributable to the security breach.
Costco finally comes into the picture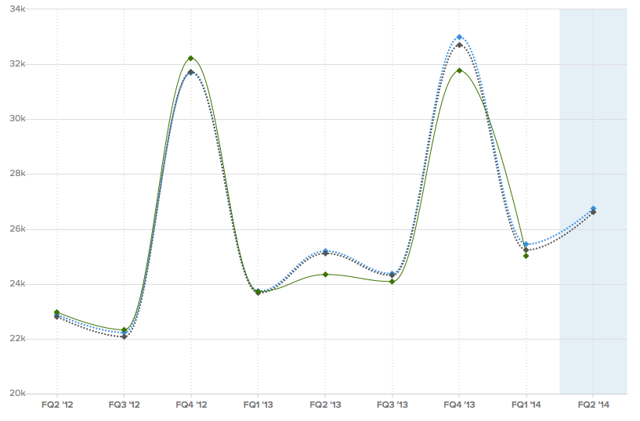 Click to enlargeI am presenting this graph from estimize.com to make some points. The Horizontal axis are the quarter periods, the vertical axis are the revenues. The black and blue curves are estimates from analysts in Wall Street and estimize.com respectively, while the green curve are the actual results. The highlighted portion represents the upcoming financial report results (hence, no green curve).
Given from the graph above, Costco's high sales period isn't during Christmas. But I think it is irrelevant. It's still doing business in December and January. What makes Costco immune to the effect of the winter storms, if all the other mega-retailers have been affected?
Here is some more food for thought about the situation. Costco announced that its December 2013 sales went up 5% and its January 2014 sales went up 6% as well. The actual hike in sales was 3% and 4% if you account for the losses from gasoline price deflation and foreign exchange.
I did some digging and found what happened in December and January, exactly one year ago. In the same format of reporting, December 2012 sales increased 9% (8% if you include the gasoline and forex factors), and in January 2013 they increased by 4% (and stayed 4% if you include the gasoline and forex factors).
The bottom line is that in retrospect, those December 2013 and January 2014 sales increases aren't that impressive. Especially if you consider the fact that those sales increases were comparable with the immediate previous month (December sales to November sales, and January sales to December sales) and not with the corresponding months of the previous period.
Taking all these into account one can wonder what we should be expecting in the upcoming financial announcement. I want to compare FQ2'13 to FQ2'14, as shown on the graph. Compared to the exact period last year, analysts actually expect Costco's revenues to increase. That is incongruent with the data I analyzed above (both the winter storm related reports, and the sales reports). One other thing to note from the graph is that analysts have been overestimating Costco's revenues over the entire past year's quarter periods.
I might be wrong and Costco's revenues have indeed increased. However, if I am right and they did decrease in accordance with the rest of the big retailers (and in disagreement with the analysts), a chain reaction could be triggered amongst Costco stock owners. Put the signs that Costco is overvalued in the mix, and that could cause panic and a slump in the stock. I suppose we will find out on March 6.
Update: March 6 results
Disclosure: I have no positions in any stocks mentioned, and no plans to initiate any positions within the next 72 hours. I wrote this article myself, and it expresses my own opinions. I am not receiving compensation for it (other than from Seeking Alpha). I have no business relationship with any company whose stock is mentioned in this article.
Additional disclosure: If you wish to make a trading decision based on my report (for example, short sell Costco), I suggest you research the situation further. You are responsible for your own decisions.