This is the seventh article I have written about BHP Billiton (NYSE:BBL)(NYSE:BHP). The three below are the most recent and suggested as background for this article.
Introduction - BHP Billiton a Buy
Miner BHP Billiton rose to heights of profit in 2011 before a precipitous decline in earnings of 58% for the six months ended in December 2012. In mid-February of 2012 the release of financials for that period was accompanied by the announcement of a new CEO, Andrew Mackenzie. He made comprehensive changes in the firm's focus, structure and operations in the past year. Now the company goes forward to greater profits boosting gains for its shareholders. This firm, yielding 3.7% with 11 consecutive years of dividend increases, is committed growing its dividends. It has earned a top place in the Materials Sector of dividend growth investors' portfolios.
However, the market has been slow to respond leaving the stock 15% to 20% undervalued. The analyst consensus rating is 1.0, a strong buy. This could be a good time to initiate a position in the stock or add to your current position.
A Change in the Markets - Lower Commodities Prices
When a firm deals in commodities, it has very little, if any, pricing power. While analysis credit BHP Billiton with having an economic moat, it is because the firm is a low cost producer due to economies of scale. While expanding capacity is in general a good thing, matching it with future demand is difficult. Miners are susceptible to varying demand that follows worldwide macroeconomic forces. A miner, especially a leading miner, must always be matching production and capacity with present and anticipated future demand. This is complicated when the major consumer is China, always reticent to disclose current inventories and future demand for iron ore, copper and coal. The price of these commodities hit its zenith in early 2011.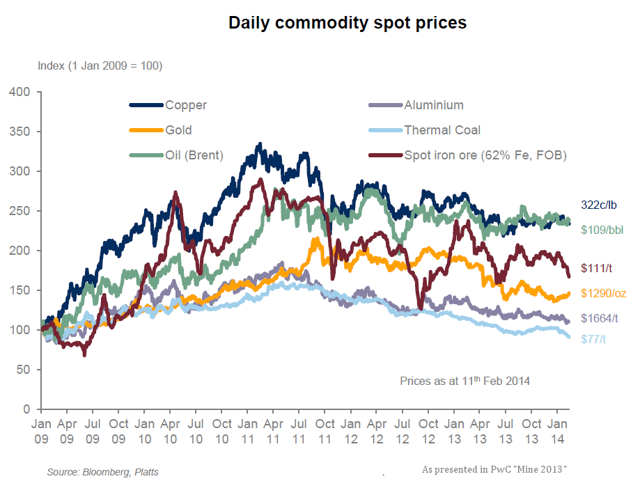 Growth - At Nearly Any Cost
As demand and profits grew in the mining industry, miners scrambled to add capacity and reap higher profits. By 2011, BHP Billiton had spent billions acquiring other miners and was planning a huge open pit mine at Olympic Dam in Australia. This mine would unearth the world's fourth largest copper deposit, the largest uranium deposit on earth and a significant source of gold and silver. Plans for infrastructure, including a desalination plant, a gas fired power station, a rail line, an airport, port facilities and a village for workers were included in the expansion. This would be the biggest mine in the world and the capital expenditure would total $27 billion.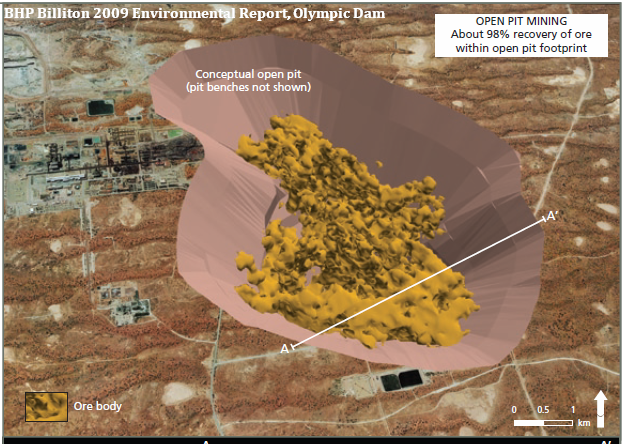 Aside from the infrastructure that would need to be constructed, it is important to note that the ore does not start until a depth of 340 meters (1,100 feet) and the pit totals about 4.5km by 6.0km. Removal of the sand and rock overburden would take 5 to 6 years. Only after that would the mine start producing revenue.
It was not to be.
The largest shareholder questioned investing in a project with such a protracted payback. BlackRock held about 5.7% of the miner in its $14 billion World Mining Fund. It trimmed holdings in BHP Billiton after expressing concerns that the company's Olympic Dam project, as well as recent shale gas purchases, might curb returns. Catherine Raw, who headed the BlackRock fund said, "Some of the decisions they are making are very good in terms of long-term strategy but are you going to make money from it in the next three years, which is our investment horizon?" She added, "I struggle to understand how they are going to do that."
PwC named its annual mining report, "Mine 2013: A Confidence Crisis." The below is from that report and summarizes the reasons the market was, and still is, skeptical about mining stocks.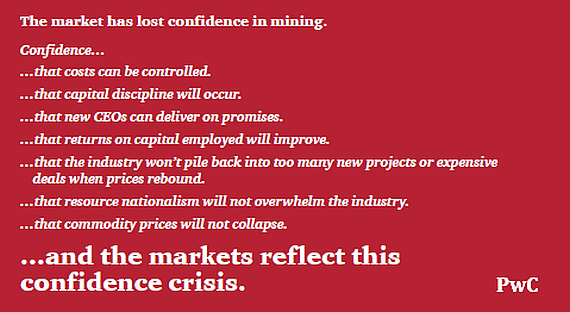 New Priorities - Focus, Divestments, Productivity
The previous CEO, Marius Kloppers, had begun some austerity. In one of his last official statements he said, "In response to the prevailing market conditions, over the past year we have implemented prudent measures that will safely and substantially reduce operational costs and non-essential expenditure across our entire business." However, the new emphasis is not only on austerity but also on increases in productivity. Rather than simply cutting capex, the use of available capital is competitive, vied for by the various mining groups. Development now focuses on brownfield locations with existing infrastructure and probable reserves, greatly lowering development risks and costs.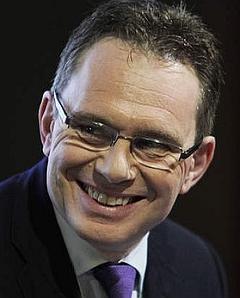 In September of 2013, CEO Andrew Mackenzie said, "We continue to actively manage our portfolio and have increased our focus on our major businesses: Iron ore, petroleum, copper and coal, which, together with potash, provide optimum diversification. Divestments totaling US$6.5 billion were either announced or completed during FY2013, representing a premium over average market valuations." In addition, the organization was flattened, eliminating one layer of management and increasing efficiency.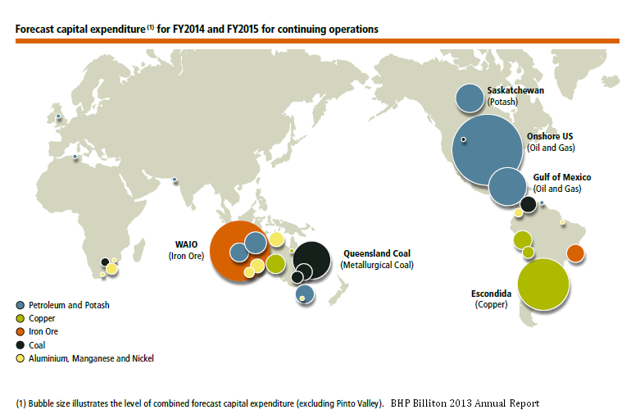 Industry Context
Growth in demand has been slower than the growth in supply
Added supply has come online in copper and iron ore
Commodity prices have dropped from their 2011 levels
Costs have increased further crimping margins
BHP Billiton is the world's largest miner and has a market cap of $171 Billion. Rio Tinto (NYSE:RIO) at $105 billion follows it in size, and is a diversified global miner. The third largest firm is Vale (NYSE:VALE), the Brazilian miner, a leading iron ore supplier. The issues that shook up BHP Billiton are not unlike the forces that shook the entire mining industry. Over the last 18 months, five of the 10 largest miners replaced their CEOs. On average, the new CEOs are five years older than their predecessors and have backgrounds in operations. M&A activity has all but dried up.
Rio Tinto presents a close parallel where Sam Walsh replaced Tom Albanese. Walsh is committed to improving performance by reducing costs while increasing production. He is strengthening the balance sheet through increased cash flow, decreased capital expenditure and selling non-productive assets. Like BHP Billiton, RIO has taken significant impairments stemming from acquisitions made in headier times of high profit. The "Outlook" section of the 2013 RIO report states,
A key feature of the mining industry in 2013 has been a renewed focus on managing margin compression through operating cost reductions. Heightened risk aversion and capital constraints are also resulting in capital expenditure rationalization. For existing operations, there is a greater attention on costs and driving productivity improvements.
All in all, BHP Billiton entered the commodities downturn with the strongest balance sheet, the fewest troubled operations and the strongest depth of management. They were, and are, the industry leader by any measure.
Rio Tinto is making great progress, but the numbers include a P/E of 28, a yield of 3.19% with a 580% payout ratio, a negative 5 year DGR of -2.9, an ROA of 0.50% and an ROE of 1.3%. RIO continues to be plagued by the indecision of the Mongolian government at the planned copper mine expansion at Oyu Tolgoi, a difficult venue in the Gobi Desert.
A time when the market lacks confidence in miners is exactly the time for a value-oriented buyer to act. BHP Billiton is an unparalleled opportunity in the sector.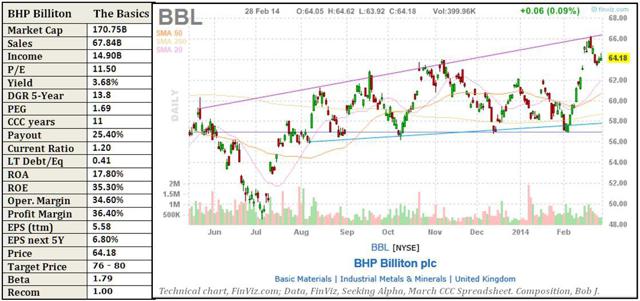 Current Results - Earnings Up
BHP Billiton announced a 31% increase in profits for the half year ended December 31, 2013. This was attributed to a substantial improvement in productivity and additional volume from its low risk, largely brownfield investment program. This sustainable increase in productivity supported a 9% increase in the group's underlying EBIT margin to 38% and a strong improvement in the group's underlying return on capital to 22%.
In addition, BHP Billiton reported a 65% increase in net operating cash flow and a 25% reduction in cash outflows from investing activities. That led to a US$7.8 billion increase in free cash flow. The progressive base dividend, which increased by 3.5% to 59 US cents per share, is comfortably covered by internal cash flow and the payout ratio is only 25%.
This chart from Morningstar clearly shows the relationship of earnings to the stock's price over the past several years. A continuing increase in earnings will result in higher stock prices.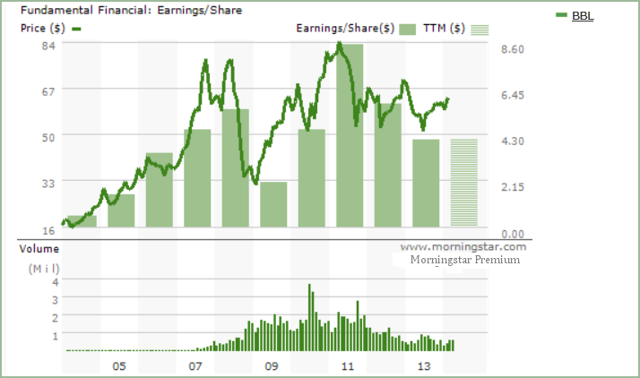 Morningstar notes that "BHP Billiton owns a very substantial proportion of the planet's long-life, low-cost, export-oriented, expandable mining assets. Many of these are effectively irreplaceable, with low sovereign risk and proximity to key Asian markets. The assets can grow to meet the world's long-term increase in demand for natural resources."
I am confident that the diverse mix of products that BHP Billiton produces at a low cost will ensure continued profitability. They have the strongest balance sheet in the industry and an unparalleled depth of management expertise. The firm will continue to be very profitable in the best of times, while maintaining a discipline that preserves profitability throughout the inevitable business cycles. The growing dividend will continue to fund my retirement and I am confident the longer-term prospects of the company will contribute to my grandchildren's prosperity.
I enjoy saying that I am often right. However, the implication that I am not always right is a correct one. Therefore, I urge you to be a skeptic and do your own due diligence. Good luck!
Disclosure: I am long BBL. I wrote this article myself, and it expresses my own opinions. I am not receiving compensation for it (other than from Seeking Alpha). I have no business relationship with any company whose stock is mentioned in this article.