Despite better-than-expected first quarter results, shares of Spectra Energy Corporation (NYSE:SE) have tumbled more than 15% since its announcement of the quarterly results. While the current unfavorable sentiment on commodity prices are the main reasons behind this fall, the company said that it is on track to meet its financial goals for the year.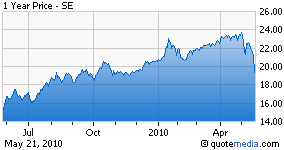 Earnings Review

Net income from operations in the first quarter was 53 cents per share, above the Zacks Consensus Estimate of 47 cents and year-earlier net income of 33 cents.

Revenues increased nearly 7% year over year to $1.5 billion in the first quarter. The increase was due to increased production volumes and higher realized prices.

We have discussed the quarterly results at length here: Spectra Tops on Stronger Prices

Agreement of Analysts

The overall trend in annual estimates remains on the positive side, with 5 out of 15 analysts covering the stock having raised estimates for 2010 in the last 30 days. However, no downside movements were made. No up and downside movements were noticed in the last 7 days either.

For 2011, there were 2 upward revisions in the last 30 days, while one out of 14 analysts revised the estimate in the opposite direction. However, during the last 7 days, we noticed that only one analyst raised his/her estimate and none moved in the opposite direction.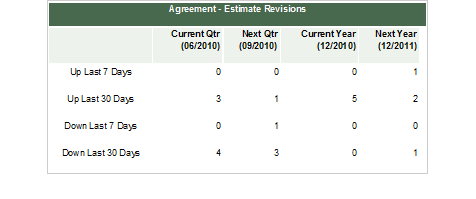 Magnitude of Estimate Revisions

Given the positive tone of the revisions, the earnings estimate for fiscal 2010 increased 3 cents over the past month and was essentially flat compared with a week ago. Earnings estimates for fiscal 2011 rose by a penny from the past month and were flat compared with a week ago. The current Zacks Consensus Estimates are $1.54 and $1.75 for 2010 and 2011, respectively.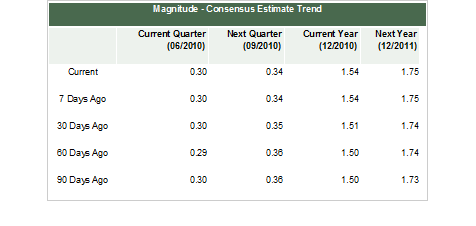 Neutral Maintained

Despite the recent downturn in Spectra shares, we believe that the company's underlying fundamentals remain strong, based on its core fee-based businesses of storage, transmission, distribution, Canadian gathering and processing, and capital expansion projects. All these have the potential to move the company towards solid earnings and cash flow growth.

The company foresees value-creating investment opportunities ahead. With these, Spectra expects more than 20% earnings growth this year and a compounded annual EPS growth rate in the range of 8% to 12% for 2010–2012. All these positives, however, are already accounted for in the company's valuation, leaving little room for any upside from the current level. Consequently, we maintain our Zacks #3 Rank and Neutral recommendation on the stock.