Twitter (NYSE:TWTR) has had a rough ride since Christmas eve when it traded north of $70.00 a share - a price which gave the young company a massive market capitalization approaching $35 billion. Markets know the company is on to something important but putting a value on that is a challenge.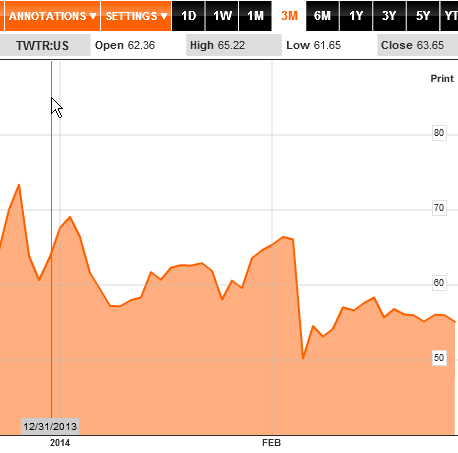 Source: Bloomberg
Analysts can create an enormous number of ways to value a hot stock - price to sales (if they have sales); price to book value; price to earnings growth (if they have earnings); price to cash flows; price to non-GAAP earnings (whatever those are) and in the case of fast growing but still unprofitable social media companies, the latest metric - price to monthly average users ("MAU"). The theory is that value is in direct proportion to the number of users since either by charging a fee or being paid for advertisements or selling something of value, the number of users will eventually determine the economic success of the entity.
In May 2012, PBT Consulting published an article containing wonderful graphic from Infographics.com. The article questioned whether Facebook (NASDAQ:FB) was worth $110 per user and the Infographic included Twitter, at that time valued at $57 per user or about $12 or $13 billion.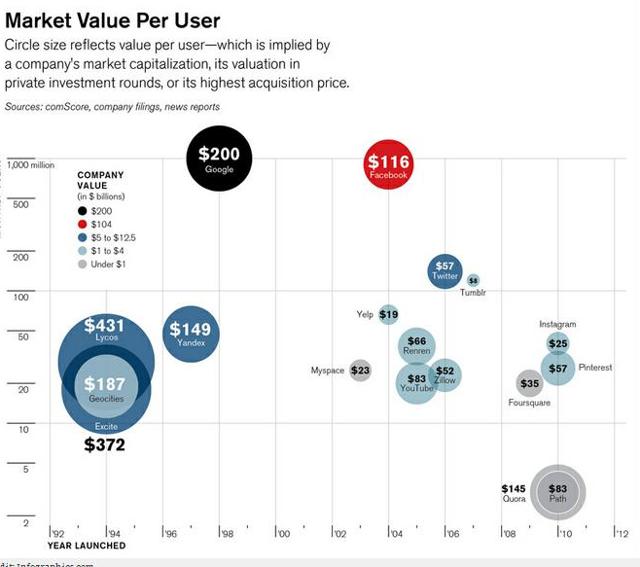 Source: PBT Consulting, graphic credit - Infographic.com
Of course the number of users on its own may not be the whole story in valuing these companies - user "engagement" might also be a factor. Another wonderful Infographic based on Comscore data and published in the online Wall Street Journal from January 2012 depicted user engagement on social sites by average number of minutes per visitor. At that time, Facebook's "engagement" metric was about 20 times that of Twitter.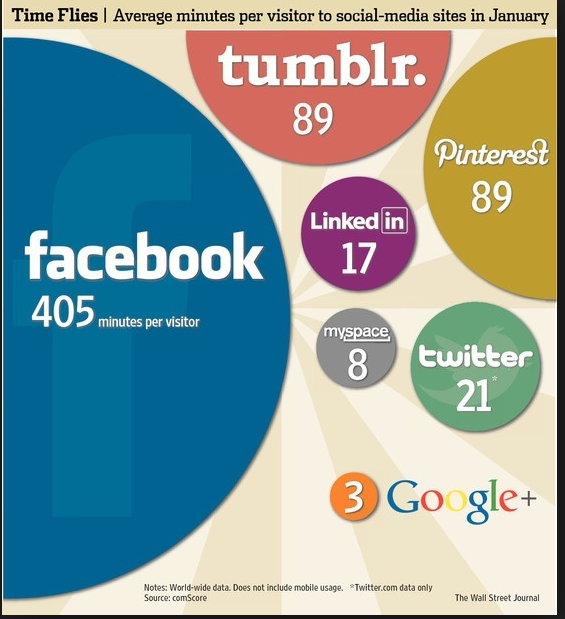 One of the great things about a stock market is its ability to put a value on just about anything. A long time business partner of mine years ago, Christopher Ondaatje, used to marvel at the phenomenon. I recall him saying to me: "Just give them a piece of paper and they will put a value on it" or words to that effect.
In any event, once the market keys in on a metric investors react to it as if it were net income after taxes. If the company beats the metric, investors bid up the stock and if it misses, the stock may be punished.
Twitter in my opinion is the best news source on the planet. If you want to know what is happening in real time check Twitter. I think the major news media all check Twitter as the source of news as well as a way to disseminate it. It is remarkable and powerful in what it has become and how central it is to the worldwide distribution of news.
It therefore must be valuable and the markets seem to have decided that in the absence of another measure - like profits or cash flows - Twitter is valuable because of its growing number of users.
On November 7, 2013, the Wall Street Journal wrestled with Twitter's valuation in an article "Getting a handle on Twitter's Value" and suggesting investors look "beyond the basics." That article was not all that helpful.
On the same date, Forbes ran an article referring to the suggestion that Twitter be valued on the basis of the value it delivered to its users, a concept introduced by SA Author Felix Salmon. Salmon is a genius but I think all he was really saying is that Twitter must be valuable and at the time he was suggesting it was probably worth $10 billion. Twitter is valuable, without doubt in my mind.
On February 6, 2014, in an article in the Telegraph by Katherine Rushton, Ms. Rushton commented on the $8 billion drop in Twitter's market value following Twitter's first earnings report as a public company saying the stock's fall came "amid fears that it could become another dotcom disaster." Twitter had reported a doubling of sales but what was noted as cause for concern was that user growth had slowed to just 30% from 39% in 2012. No one seemed concerned about the reported loss of some $600 million or so, probably because the loss was entirely a result of management stock based compensation, an odious trend where the young and talented managers of new and exciting companies help themselves to hundreds of millions at the expense of shareholders while promising to make it up in future earnings but bear no risk that those earnings fail to emerge.
It seems that the market metric of most concern was user growth after all. So how is that working out for Twitter?
On the one hand, the massive following of the "selfie' tweeted by Ellen Degeneres on Oscar night suggested no shortage of users but some limitation of Twitter systems which reportedly "crashed" when the photo was tweeted.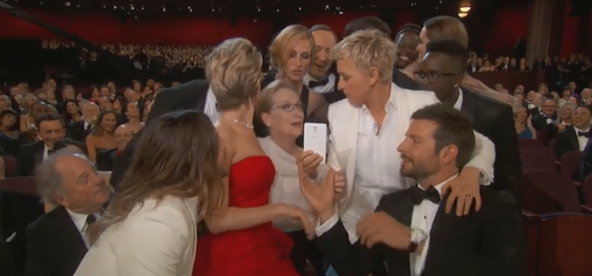 Alas, that moment in the sun has passed and the fact is that Twitter is suffering an alarming decline in user growth.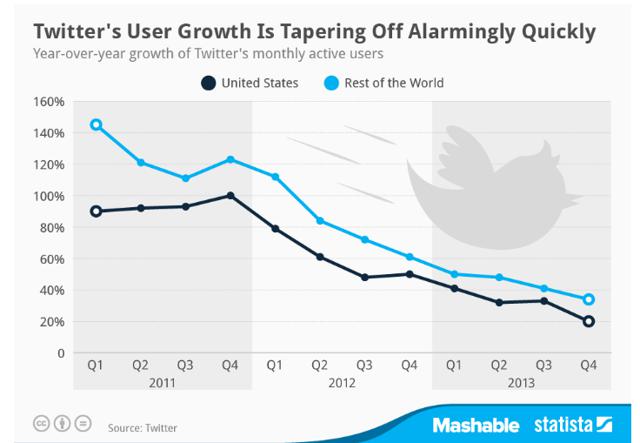 That trend indicates to me that Twitter is going to turn from a company valued based on absurd metrics like the number of users to a company valued by how much money it is earning and how much it is likely to earn going forward, as boring and conventional as that sounds.
That valuation is very likely to be a lot below the current $30 billion or so Twitter is valued at today. Twitter has some 241 million MAU (now I get to use the acronym!) and growth seems to have stalled. On its Q4 earnings call, Twitter CEO Dick Costolo was asked but would not answer how many people signed up for Twitter and then abandoned it. I am guessing quite a few.
The stock is a great place to find news but a terrible place to put your money, in my opinion. There is not much doubt it is both important and valuable, but my view is that value is a lot closer to $10 to $15 billion than $30 billion. Management probably thought the same thing when they priced the IPO at about that level. That would value the company somewhere close to where the market values News Corporation.
I would avoid the stock.
Disclosure: I have no positions in any stocks mentioned, and no plans to initiate any positions within the next 72 hours. I wrote this article myself, and it expresses my own opinions. I am not receiving compensation for it (other than from Seeking Alpha). I have no business relationship with any company whose stock is mentioned in this article.