This article will be the 2nd of a 6 part dividend analysis aimed at identifying the top dividend stock in each of the following sectors:
1. Big Oil
2. Utility Companies
3. Technology
4. Consumer Staples
5. Big Tobacco
6. Dividend Cornerstones
Investing in utility companies is about as exciting as watching paint dry, but these stocks have become an integral part in many dividend income portfolios. While there are many publicly traded utility companies to choose from, I've narrowed this analysis to include Duke Energy (NYSE:DUK), Southern Co. (NYSE:SO), Consolidated Edison (NYSE:ED), American Electric Power (NYSE:AEP), PG&E Corp. (NYSE:PCG) and PPL Corp. (NYSE:PPL). These companies are large cap stocks with long track records of dividend payments. The fairly predictable nature of the utility companies makes these stocks great cornerstone investments for the investor who wants a steady income stream without the fluctuation of riskier dividend stocks.
| | | | | | |
| --- | --- | --- | --- | --- | --- |
| Company | Market Cap. ($billions) | P/E (TTM) | Fwd. P/E | Fwd. Dividend Yield | Beta |
| Duke Energy | $ 50.0 | 18.8 | 14.9 | 4.4% | 0.23 |
| Southern Co. | $ 37.6 | 22.6 | 14.8 | 4.8% | 0.07 |
| Consolidated Edison | $ 16.4 | 15.5 | 14.5 | 4.5% | 0.17 |
| American Electric Power | $ 24.5 | 16.5 | 14.5 | 4.0% | 0.29 |
| PG&E Corp. | $ 20.2 | 24.1 | 14.0 | 4.1% | 0.25 |
| PPL Corp. | $ 20.4 | 18.3 | 14.7 | 4.6% | 0.26 |
Source: CNBC
Beta
Beta is the measure of volatility (or systematic risk) of a stock in comparison to the market as a whole. A beta of 1 means the stock price will move in line with the market. A beta of less than 1 means the stock is less volatile than the market and a beta above 1 generally means the stock price is more volatile than the market. Utility companies are known for their low betas making them ideal for the conservative dividend investors. As seen in the table above, all the companies in this analysis have betas well below 1. Southern Co. has a beta of almost zero, meaning it has nearly no correlation to market movements and very little systemic risk. While these stocks won't keep up with bull market returns, they are very attractive investments during bear markets because of their low risk.
Dividend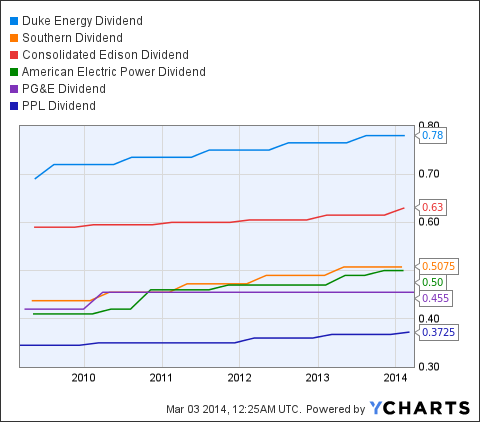 A stock that has a strong dividend track record is absolutely essential when considering adding it to your portfolio. This is exactly the strong suit of these utility companies. Over the past 5 years, every company in this analysis has sustained and increased their dividend payout without a single dividend cut. With the exception on PG&E Corp., all the stocks have raised dividends consistently over the past 5 years. Duke Energy, Southern Co. and Consolidated Ed. all have predictable dividend patterns, where they raise dividends at the same time every year. It's hard to find another sector that has an as strong and consistent track record as utility stocks when it comes to dividend payments.
Dividend Yield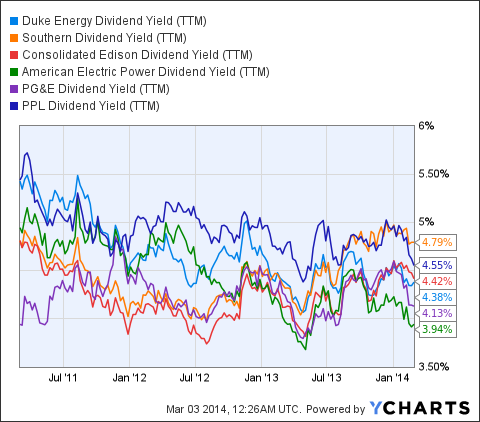 The dividend yield chart is pretty hard to sift through, but that's exactly why it's so appealing. Due to low betas and consistent dividends, dividend yields tend to stay within a tight margin over time. While big dividend yield swings are not uncommon in MLPs and REITs, utilities offer stability during rough market times. Utilities may not be sexy, but they will help you sleep at night.
It's hard to identify a real winner in this category because all the stocks operate in such a close margin, but Southern Co. has the highest yield at 4.8% and hasn't dropped below 4% in over 10 years.
Payout Ratio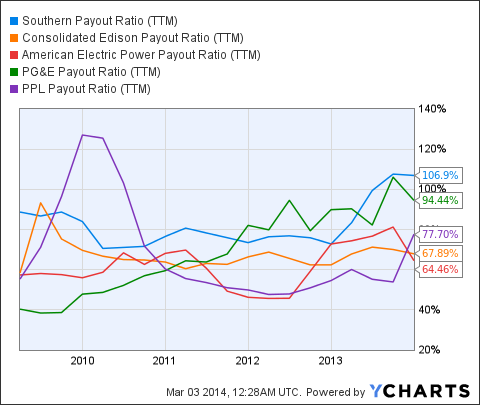 *Duke Energy was not included in the chart, because of an error found in the data used by Y-charts which skewed the data
Payout Ratio measures what percent of earnings a company dedicates to their dividend payout. The lower the payout ratio, the easier it is for a company to sustain or increase a dividend. Utility companies generally rely on dividends to create shareholder value, so high payout ratios aren't uncommon for utility stocks. In this category, Consolidated Edison and American Electric Power have healthy payout ratios that rarely exceed 80%. Duke Energy's current payout ratio is 82%.
Conclusion
Utility companies should be included in any dividend income portfolio. Investors who rely on dividend payments as their main source of income should absolutely have utility stocks because of their defensive nature in down markets. However, utilities have been performing very well as of late with 4 of the 6 stocks in this analysis out gaining the S&P 500 over the past 3 months.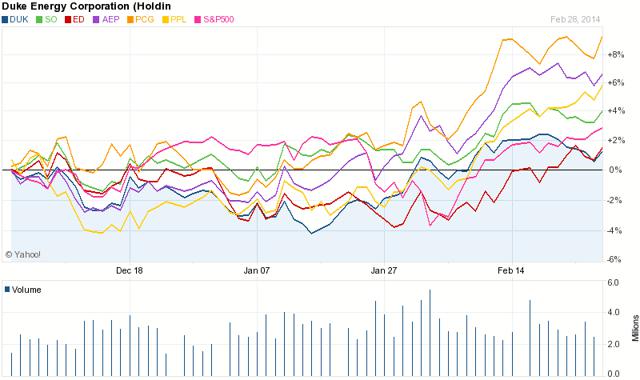 Investors wanting to enter into a new position in the utility sector may want to wait for a pull back in prices. However, long-term investors looking at this sector purely for dividends can still enter into a new position and enjoy attractive dividends with low risk.
In this analysis, Southern Co. and Edison are my favorites. These 2 stocks have the lowest beta and some of the highest dividend yields. Even more impressive are their dividend payouts. Southern Co has raised its dividend 11 consecutive years and Consolidated Edison has increased dividends an incredible 40 consecutive years.
It's hard to go wrong with any of these stocks as a part of a dividend income portfolio. They all offer protection during down years in the market while providing safe and predictable income. Utilities may not be sexy or exciting, but that's exactly why they make such a good long-term investment for the conservative investor.
Disclosure: I have no positions in any stocks mentioned, and no plans to initiate any positions within the next 72 hours. I wrote this article myself, and it expresses my own opinions. I am not receiving compensation for it (other than from Seeking Alpha). I have no business relationship with any company whose stock is mentioned in this article.