SanDisk Corporation (SNDK) is a company based in the silicon-valley and more than half of its sales are derived from markets outside of the U.S. SanDisk has a wide reaching distribution network around the world with more than 260,000 retail locations in more than 100 countries. The company has manufacturing facilities in China and Japan. SanDisk is well known for its design, development, and manufacturing of flash memory storage. SanDisk's product portfolio includes solid-state drives and caching software for laptops, PCs and enterprise applications; USB flash drives, memory cards for smartphones and cameras; embedded flash drives for mobile phones and tablets, USB flash drives; and other flash-based products.
Financial Performance Highlights
SanDisk performed very well for the fourth quarter and full year of 2013. The revenues for 2013 increased quite impressively by 22% to $6.18 billion compared to $5.05 billion in 2012. For the fourth quarter the revenues were $1.73 billion reflecting a YOY increase of 12%, however the non-GAAP net income of $390 million increased significantly by 52%. The diluted earnings per share of $1.45 increased from per share earnings of $0.87 in the fourth quarter of 2012. The revenues from iNAND and MCP iNAND due to rapid adaptation in entry-level and mid-level mobiles contributed towards total growth. Additionally, SanDisk's revenues from retail channels represented 38% of the fourth quarter revenues and increased 18% year over year driven by growth in USBs, SSDs and memory chips. For the fourth quarter client and SSD sales increased sequentially to account for 21% of total revenues. The enterprise SSD did well with new record revenues in the fourth quarter and strong customer adaptation of lightning SAS drives.
SanDisk has cash and short-term investments worth $2.91 billion compared to $2.04 billion in the previous quarter and for dividend-seeking investors that would be satisfactory. The company generated $616.8 million in cash from operating activities compared to $382.4 million from the previous quarter. SanDisk repurchased stocks worth $150 million and paid dividends amounting to $50.6 million.
ULLtarDIMM SSD and iNAND Extreme Would Perform Well for SanDisk
The explosive growth and consumption of data in cloud computing and data centers is increasingly requiring network architectures to build products that can enable low latency while providing fast and reliable access to information. SanDisk serves this segment with its enterprise SSD and enterprise software products. SanDisk has recently introduced its new solid state drive aimed at the enterprise server market boosting ultra-low latency for quicker applications response. SanDisk has developed the ULLtarDIMM SSD in partnership with Diablo Technologies by embedding flash technology into the DRAM memory channel. It is available in 200GB and 400GB capacities. The storage solution uses the DIMM form factor and offers scalability without impacting latency making it ideal for high-frequency trading, transaction processing, virtualization, and cloud computing. As SanDisk continues to innovate its SSD product line brighter chances are emerging for the company to grow and this addition would help the company to further boost its earnings.
Tablets and ultrabooks have certain requirements for manufacturers and technology suppliers, such as instant functionality, durability, and low-power consumption. Because of these requirements, flash memory has become the main storage technology for these computing devices. SanDisk supplies embedded flash drives and removable memory cards to virtually every major tablet and ultrabook manufacturer.
Flash memory has become an essential component in smartphones, tablets and other mobile devices due to its large capacity storage, market price point, and low power consumption with no moving parts. SanDisk provides embedded flash drives and removable memory cards to almost every major smartphone and tablet maker. Recently at Mobile World Congress SanDisk has announced iNAND extreme embedded flash drive for android smartphones and tablets. As the demand for high-performance smartphones and tablets with 64-bit chipset increases the iNAND extreme embedded flash drive will be the ideal option for robust mobile photography as well as video and gaming applications. This flash drive would become a part of smartphones and tablets by mid 2014 and would deliver growing sales for SanDisk.
SanDisk's First Ultra MicroSDXC 128GB
At Mobile World Congress 2014, SanDisk introduced the first ever high-performance 128GB ultra microSDXC memory card thereby strengthening its solid state drive portfolio. Since the high-end smartphones and tablets market is growing rapidly storage requirement is also increasing. Up until now memory card storage was limited to 64GB. The ultra microSDXC card is expected to be the ideal experience for android smartphones and tablets by enhancing overall memory capacity and performance. It will give users the enhanced capacity to capture videos, photos, songs and documents without being worried about storage capacity shortage. SanDisk believes that the drive is capable of delivering a device with high speed, and energy efficient features. SanDisk's decision to market this memory card through BestBuy.com and Amazon.com will be an immediate advantage to the company. It can be expected that SanDisk's microSD card will be very popular and the company's sales volume will grow significantly.
The following graph shows NAND flash demand dynamics and supply dynamics.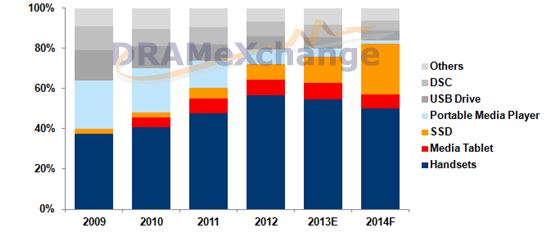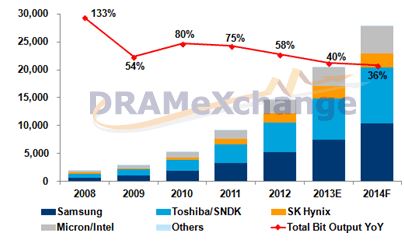 Source: dramexchange
TrendForce predicts that SSD NAND Flash consumption will increase from 13% to 25% in 2014. The growth is likely to be higher than the existing demand for other NAND Flash products. Thus I expect that SanDisk has the potential to secure a 10% to 12% revenue share by 2014. The company expects to continue investing to increase the SSD product portfolio and strengthen its enterprise market strategies. The company expects to increase its wafer capacity by approximately 5%. Moreover, the company expects to return 70% of the free cash flows generated through share repurchases as part of its capital return strategy. The total SSD market is poised for considerable growth and SanDisk is perfectly positioned to gain benefits. I would suggest investors consider SanDisk for their portfolios.
Disclosure: I have no positions in any stocks mentioned, and no plans to initiate any positions within the next 72 hours.
Business relationship disclosure: The article has been written by a Blackstone Equity Research research analyst. Blackstone Equity Research is not receiving compensation for it (other than from Seeking Alpha). Blackstone Equity Research has no business relationship with any company whose stock is mentioned in this article.