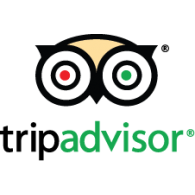 Last week, I did an in-depth analysis of TripAdvisor (NASDAQ:TRIP) as a long-term play and I really liked what I saw. From my perspective, TRIP was able to build an incredibly strong brand, an unmatched travel community that is increasingly the starting point for travelers that are looking for information about destinations, hotels, etc. Two big conclusions were that TRIP needed to:
- Strengthen its "lock-in"
- Strengthen the relationships with its partners around the world
That got me thinking about ways to get there and an obvious way seemed to be acquiring the right type of company. While not perfect, I think OpenTable (NASDAQ:OPEN) would be a great candidate to help take TRIP to the next level.

How OpenTable Would Help
- Daily Usage: One challenge that TripAdvisor faces is how to keep its visitors active throughout the year. Most of us only have a few weeks of vacations per year and we might spend a month or two planning each one. OpenTable is used much more frequently.
- While TripAdvisor does have restaurant listings and reviews, there is no doubt that OpenTable is the leader in this segment, far above everyone else. Such a move would help consolidate that lead as TRIP's international presence would be key in helping OpenTable expand to international markets where it has experienced slower growth than you'd expect. Not only does TRIP have actual offices and staff but it also has experience in dealing with businesses all around the world.
When looking at OpenTable's revenue breakdown, it's striking how poorly it has done outside the US: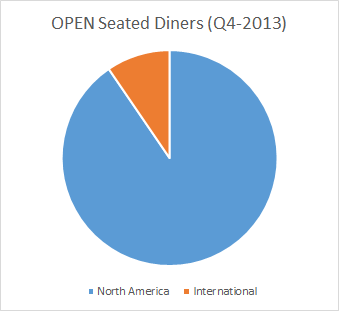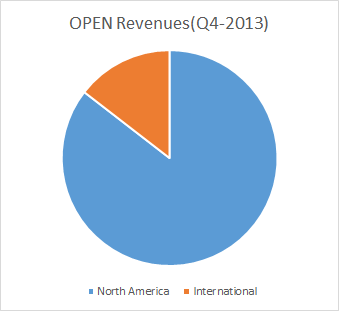 *Data from OpenTable's financial statements
- Integration: As convinced as I am that this move would make a sense for both players, I'm not exactly certain how TripAdvisor would or should integrate OpenTable. Both have strong brands, different types of users and I can't imagine simply folding OpenTable into TRIP. From a user standpoint, I'd likely keep both the same even though that does mean competing together in terms of restaurant reviews. One thing that I think could be merged is back-end of these websites, or the interface that businesses use to manage inventory, answer reviews, advertise their properties, etc. It would help bring in more businesses to a single platform and give them incentives to be more active.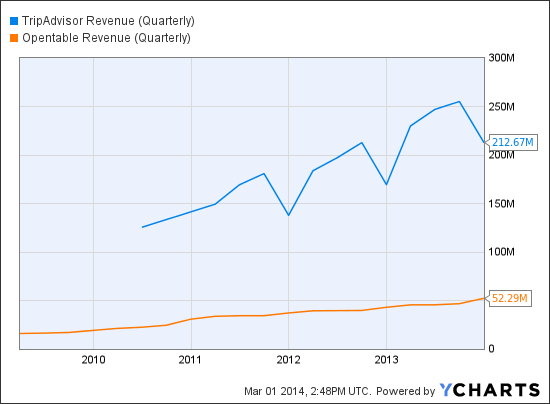 Credit: YCharts.com
Pricing
Big deals are always risky to some extent. OpenTable would likely come at a price between $2-2.5B. That would be almost a fifth of TRIP's value which is very significant. Facebook (NASDAQ:FB) only had to dish out about 10% of its value for its recent WhatsApp acquisition but still came under criticism for risking too much.
Not only is the cost involved significant but on a relative value, OpenTable is a fairly expensive buy. It currently trades at a 56 P/E and a 44 forward P/E based off Bloomberg estimates. TRIP would need to offer a premium over that price to get the deal done.
Buying More Than A Business
I think it's important though to keep in mind that OpenTable would likely be more valuable to TRIP than to any other player out there. It wouldn't only be buying a fast-growing business that complements its own mission. It would also be getting expertise and infrastructure that OPEN has been deploying for several years now.
It would also provide additional leverage in getting restaurants around the world to deal with the clearly dominant platform for reviews, reservations, etc.
Is it a no-brainer? No, I wouldn't go that far when you're talking about a company that is trading at a 55 P/E with moderate growth. Looking at the details though, I think this move would be the right one for TripAdvisor.
Disclosure: I am long TRIP. I wrote this article myself, and it expresses my own opinions. I am not receiving compensation for it (other than from Seeking Alpha). I have no business relationship with any company whose stock is mentioned in this article.