Hewlett-Packard (NYSE:HPQ) delivered better than expected results buoyed by the resurgence in PC sales. Not only were revenues ahead of the consensus at $28.15 billion but the company also delivered a 10% year-over-year growth in non-GAAP diluted earnings per share to $0.90. This was $0.4 higher than the upper-end of the guidance. However, revenues continued to reflect the challenging economic environment across some of its business segments. While services' revenues declined by 7% year over year to $5.95 billion the software division's revenues declined by 4% to $916 billion. However, personal systems and enterprise group's revenues were buoyed by share gains across the hardware segments and grew by 4% and 1%, respectively.
Acceleration in Servers and Cloud Computing Demand
The recent earnings reveled that HP's enterprise group that includes servers, storage, networking and related services made good progress with revenues of $6993 million with a growth rate of 1% year over year. HP has beaten its rival Dell for the top position in the worldwide server market. According to Granter preliminary shipment estimates, HP's worldwide shipment increased by 9.5% year over year during the fourth quarter 2013 compared to the 5.4% drop in the shipments of Dell and 19.5% drop in the shipments of International Business Machines Corporation (NYSE:IBM). HP's worldwide server shipment share for the fourth quarter was 28.2% and increased by 1.4% for the same quarter of the previous year. Dell's worldwide server shipment share was 19.8% down by 1.9% whereas IBM's worldwide shipment share for the fourth quarter was 8.3% down by 2.5% compared to the same quarter of the previous year. In October Dell finished a protracted fight to become a private company in a $24.9 billion leveraged buyout to refocus itself on the enterprise and move away from its traditional PC business. Meanwhile IBM agreed to sell its 86x server business to Lenovo for $2.3 billion. HP's server business growth is at the expense of its two close competitors Dell and IBM.
Sales are expected to rise in 2014 though spurred by the rising shift towards cloud computing. The trend will generate demand for large capacity servers that can handle faster and larger file transfers. It will also allow companies selling servers to start their own cloud computing services where they will be able to charge users for specific storage capacities. With applications and files approaching large capacities, cloud computing provides a solution to those with limited hard disk capacity. HP plans to capitalize on this slow but sure shift towards cloud computing and it would be able to report healthy growth in the coming years.
Growth Opportunity in Enterprise Tablet Market
The number of portable and convertible devices being used at the enterprise level is growing and mainly dominated by iPads. Although the Windows tablets market is small with a share of approximately 3.4% compared to the 60% market share for Android tablets and 35% market share for iPads changing trends might ignite the demand for convertible Windows based tablets at the business level. It is estimated that Windows tablets will successfully grab a 10.2% market share by the end of 2014. HP's management is looking to expand in the tablet market and to penetrate exclusively in the enterprise tablet market. HP recently announced its new business tablets at Mobile World Congress (MWC). The HP ElitePad 1000 is equipped with a 64-bit chipset using an Intel mobile processor and is priced at $739; the other device is the HP ProPad 600. Both of these tablets are running Windows 8.1 and are targeted towards the business world. As the demand for Windows based tablets is expected to grow HP's expansion in the tablet market, particularly enterprise tablet solutions, will hopefully deliver satisfactory results to grab sufficient market share to compete with its rival Lenovo.
Challenging PC Market and HP's Position
Customers' preferences have always changed as technological innovation brings new products and the PC market is suffering from the same downturn as consumers shift towards smartphones and tablets. The growing demand for smartphones and tablets has damaged PC demand in the developed market as well as emerging markets. According to Granter, PC demand has declined for seven consecutive quarters and during the fourth quarter of 2013 the worldwide PC shipment totaled 82.6 million units reflecting a decline of 6.9% compared to the fourth quarter of 2012. HP's market share of 16.4% decreased by 7.2%, however during the first quarter of 2014 the company did well as its personal system group contributed $8530 million towards revenue with a growth rate of around 4% year over year without compromising its margins.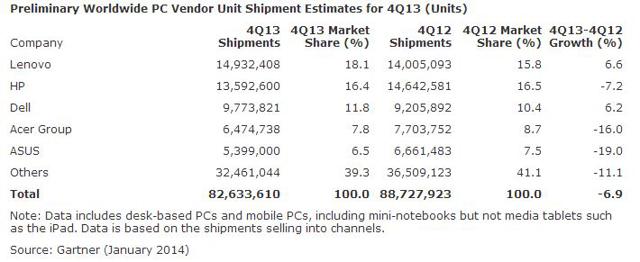 Source: granter
The historical results have shown that HP has maintained a first and second position over the past few years ending 2013 in second with regards to its market share of 16.2% that was slightly lower than the 16.9% market share of Lenovo. The sale of PCs remained low with the indication of little growth beyond replacement of existing systems. The total shipment is expected to decline by 3.8% in 2014 before showing positive growth over the longer term.

Source: Wikipedia
HP is not the only one facing market pressure and the company's performance is quite well compared to IBM and Cisco Systems (NASDAQ:CSCO). The enterprise group of HP that competes with Cisco showed growth whereas Cisco's revenues and adjusted earnings declined by 8% in the last quarter and also expects another decrease in the current quarter. IBM also faced a revenue decline of 5% for the fourth quarter of 2013 as well as a fall in revenues for the full year. The earnings declined by 11% in the last quarter although IBM expects full year adjusted EPS growth of 10%.
The portable PC market will remain in demand in the emerging markets with a growth rate of around 10% and total PC shipments will remain flat by the end of 2017 according to IDC. However, PC demand in the developed markets will continue to decline due to the strong demand for high-end tablets and convertibles. The total shipment will show negative growth of around 8% by the end of 2017.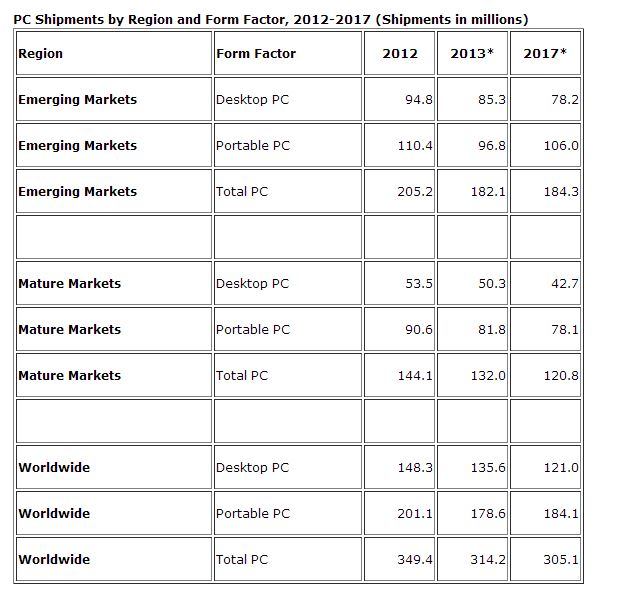 Source: IDC
2014 Outlook and Potential Investment Plan
For the second quarter, HP estimates GAAP diluted net EPS in the range of $0.62 to $0.66 and non-GAAP diluted net EPS in the range of $0.85 to $0.89. For the full year the estimated GAAP diluted net EPS is in the range of $2.85 to $3 and non-GAAP diluted net EPS in the range of $3.6 to $3.75.
Sony has decided to exit from PCs as the PC market has contracted over past two years and it has become harder for market players to generate growing profits. Calculations based on financial results suggest that the average selling price of a PC made by the key manufacturers fell from $614 at the start of 2010 to $544 in the autumn of 2013. Profits per PC for those companies have dropped from $15.71 or 2.6% of the selling price to $14.87.
HP needs a solid strategy to stimulate its earnings growth and for the current year the company intends to focus on the high-growth market segments. According to HP, its personal computing segment company intends to focus on maintaining or strengthening commercial relations along with introducing new devices in the market. It is unlikely that HP will compete in the U.S. smartphone market. HP has launched two phablets in the Indian smartphone market where growth potential is much brighter. The company expects to focus on its personal systems segment as positive results appeared in the recent quarter and HP continues to see traction as the demand for PCs is expected to stabilize over the next few years. During the current year, HP plans to continue to focus on the high-growth market segments by investing in converged systems, converged storage, cloud management platform, software-defined networking, analytics, and their PC business.
Conclusion

Source: ycharts
HP's total return of 54.75% to shareholders from both price appreciation and dividends, assuming dividends are reinvested, has outperformed the S&P 500, Apple (OTC:APPL) and Microsoft (NASDAQ:MSFT) total returns. The stock is trading at $29.75 with an increase of 50% over the last twelve months and recent quarter earnings have given some confidence to investors. I believe HP will find its way to growth through innovation in PCs, 3D printing, cloud computing, and the enterprise tablets market. I suggest investors consider investing in this stock.
Disclosure: I have no positions in any stocks mentioned, and no plans to initiate any positions within the next 72 hours.
Business relationship disclosure: The article has been written by a Blackstone Equity Research research analyst. Blackstone Equity Research is not receiving compensation for it (other than from Seeking Alpha). Blackstone Equity Research has no business relationship with any company whose stock is mentioned in this article.